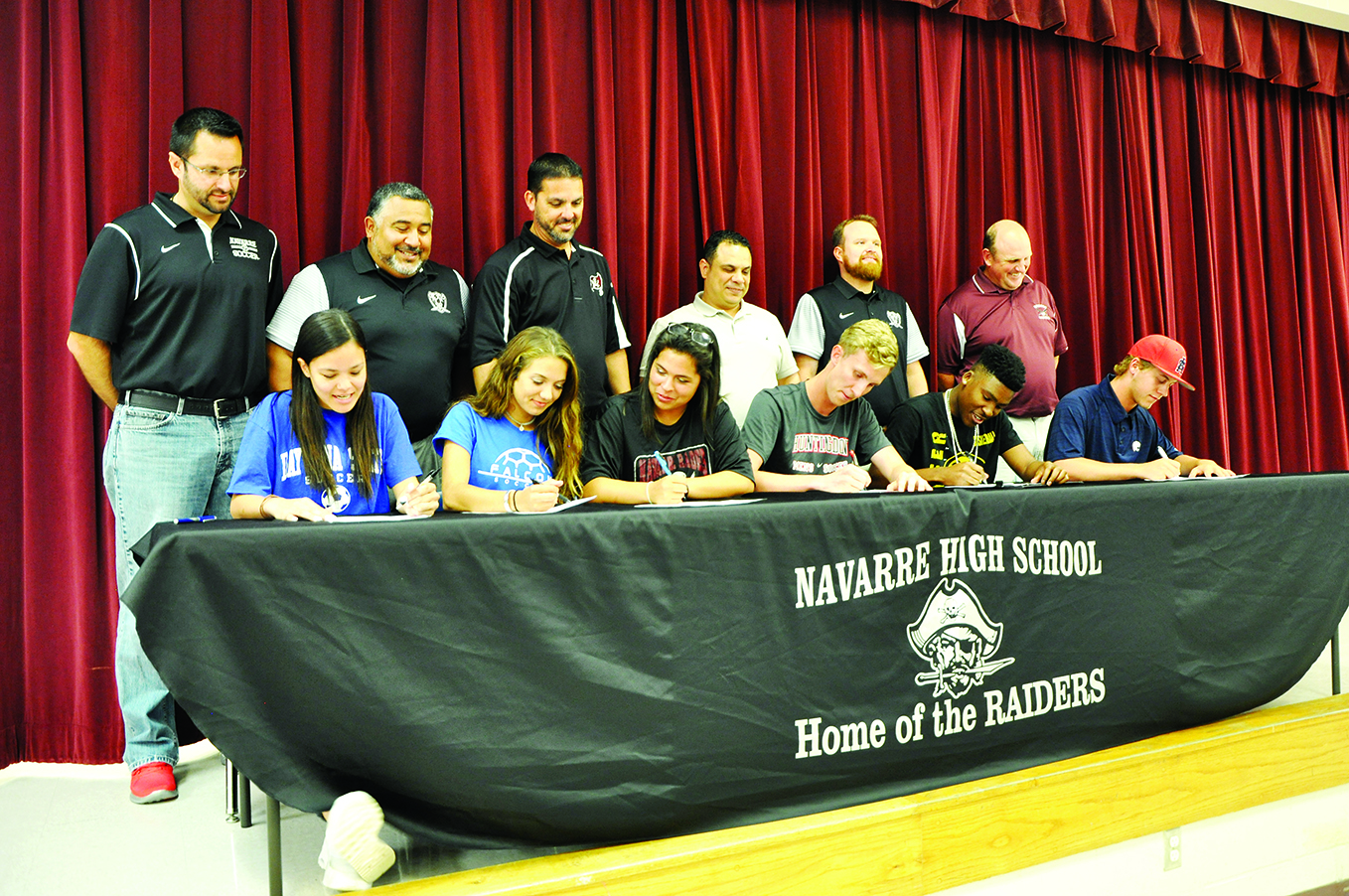 It wasn't National Signing Day, but it sure did feel like it.
Wednesday afternoon, Navarre High School Principal Brian Noack watched as 6 of his seniors signed their letters of intent to play for four different colleges from around the nation.
But before pen went to paper, Noack reflected on a time when NHS students were signing their letters of intent to schools too far and in between.
But that's all changed within recent years, he noted.
"Now we do it in bulk," he said before introducing six Raider seniors who all simultaneously penned their John Hancock to four different schools.
One of the more notable signings was senior Cyrus Grimes who has excelled on the Raider baseball field this season. He made it official with the University of South Alabama on Wednesday signing up to play for their baseball program. Grimes is finishing out his senior year with a 3.8 GPA overall heading to the Mobile, Ala. Division 1 school.
Another star on the field—only a different type of field­— Zach Smith signed his letter of intent to play soccer at Huntingdon College in Montgomery, Ala.
But it wasn't all outdoor athletes who were being given a special opportunity to play past their high school careers. Tyrese Harvey, who towered over the rest of his teammates on the basketball court this past season signed his letter of intent to play for Pfeiffer University in Misenheimer, N.C. for their NCAA Division II basketball team.
And who could forget the girls?
Three girls to be exact.
Haylee Howard, Lizzy Madril and Tori Martino all signed together their letters of intent to play soccer for Daytona State College. The future Falcons signed their letters together and will head off to Daytona Beach after graduation.