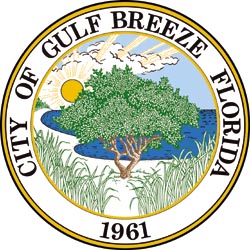 The City of Gulf Breeze is looking to enhance a piece of their property often utilized by locals to launch personal watercraft or to fish, but not in an effort to encourage people to utilize the site to park their vehicles on or around.
The property sits at the end of Navy Cove Boulevard and has access to Pensacola Bay.
According to Ron Pulley, the city's Director of Parks and Recreation, back on Jan. 23, the city's Park Advisory Board met to discuss the future of the site, which has become quite popular in recent years among pedestrians and bicyclists.
Although the property is not "developed" like a city park, people do utilize the property to launch watercraft and also fish from the shoreline.
But the city does not encourage residents to park their vehicles along the street on the site, and have no plans to allow motorists to do so in the future.
During the January Park Advisory Board Meeting, it was recommended that the property continue to offer no vehicle parking and have the area remain a pedestrian and bicycle accessible piece of city property.
The advisory board was encouraged to ask the city to revamp the site, but not in a way to encourage people to park on the roadway or near the water. There main concern was by turning the piece of property into a park, it would cause more problems for nearby neighbors.
According to Pulley, the neighbors on that street are worried that "improvements to the property will encourage less desirable, disruptive activities."
So to keep neighbors happy, Pulley recommended at Wednesday's Executive Committee meeting for the city to utilize inmate workers to clear out dead vegetation on the piece of property and also recommended they have city staff closely monitor the piece of property following the clearing of the vegetation to ensure the property is safe and doesn't encourage unwanted activities or illegal parking.
The city is encouraging residents who see vehicles parked unlawfully on the street to contact the Gulf Breeze Police Department at (850) 934-4050.
"If it produces an increase in undesirable activity, we could allow the vegetation to reclaim the site," Pulley said.
Since 2016, the city has routinely kept up with the property, but their recent push would "enhance safety, including trimming and removal of dead limbs," according to Nathan Ford, Assistant to the City Manager.
The city on Wednesday recommended moving forward with having inmate workers come out to clear out heavy vegetation on the property to make it more accessible and safer.