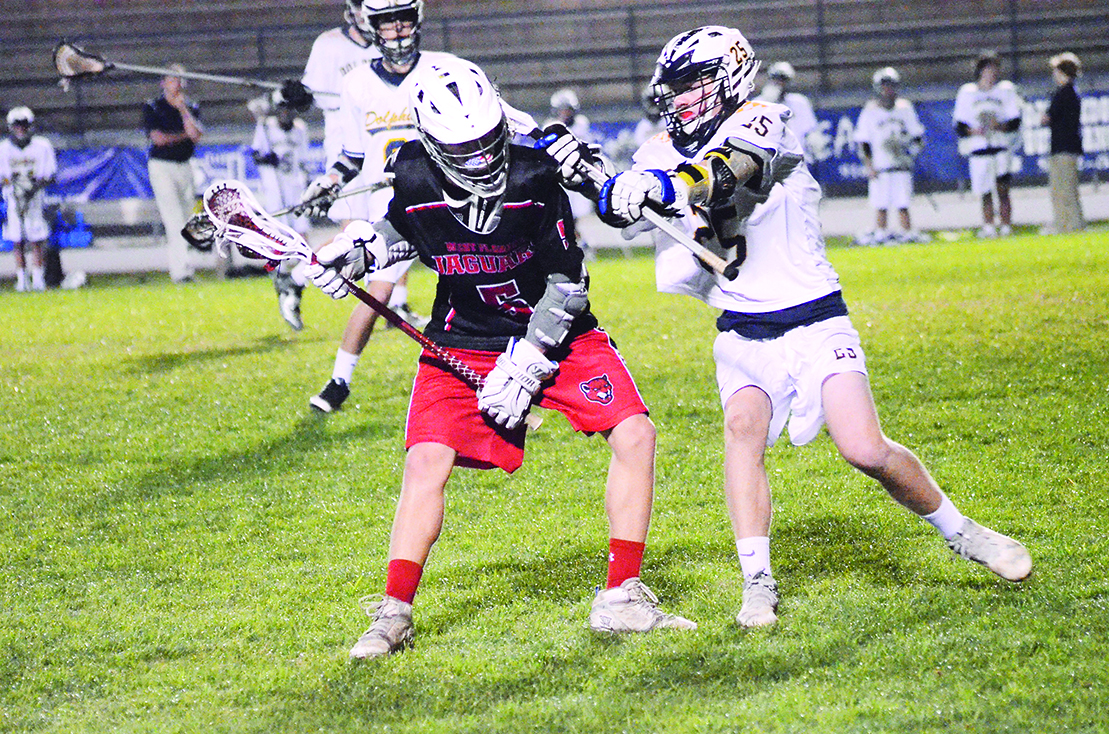 The Gulf Breeze High School boys lacrosse team extended their undefeated record to 6-0 after pulling ahead of West Florida High School of Advanced Technology early in the first half to secure a 14-2 victory over their District 1 opponents back on Feb. 24.
Noah Haas played a key part on offense for Gulf Breeze, scoring the first goal of the night for the Dolphins and firing off one-third of the team's total shots in the first half. Five minutes into the game, Haas got the ball around the top of the box and avoided challenges from Jaguar defensemen Kyle Beine and Alexander Cole for a nice shot on goal — putting the Dolphins on the board and into a 1-0 lead.
Despite the being shut-out in the first half, the West Florida defense put up a rather successful physical challenge to Gulf Breeze's attack. The man-to-man style of defense forced Gulf Breeze to try for every goal and unfortunately for the Jaguars, the Dolphin offense is full of talented shooters that forced 11 saves from West Florida goalkeeper in the first half.
Offensively, the Jaguars failed to trouble the Dolphins all match, when they did get shots they were either off-target or stopped by Gulf Breeze goalkeeper Cole Foster – who saved five out of the six shots on goal, the other coming from Marcus Corry.
The Dolphins hosted Pensacola High School Wednesday night after seeing the girls team secure the first place in the district and followed suite, delivering a crushing 17-4 defeat to the Tigers — who remained winless in District 1.
Gulf Breeze will return to Dolphin Stadium on March 15, when they face off against Pensacola Catholic High School on Senior Night. The Crusaders are biting at the Dolphins heels in the District 1 table, so Gulf Breeze will be looking to lock-in their spot at the top with a win.