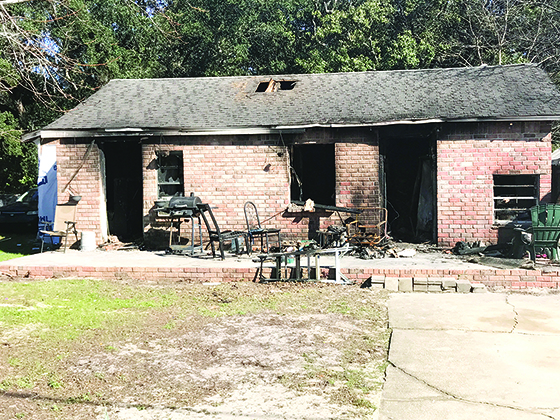 Local fire stations responded to a fire in Tiger Point late last Friday night, which ripped through a home, rendering it a total loss.
The blaze started at around 10:30 p.m. at the brick home, located at the 1500 block of Redfish Point Road, just west of the Garcon Point Bridge.
It quickly tore through the home and all of the people inside of the residence were able to escape unscathed.
Midway Fire District Chief Jonathan Kanzigg said his department was the first on scene.
Midway, Pensacola Beach, Gulf Breeze and Holley-Navarre fire departments all responded to the fire and kept it contained as it threatened a nearby home.
"There were two people in the home, and they were displaced," Kanzigg said.
The two residents were abruptly awoken that night to a popping sound at the foot of their bed. When they awoke to see what the sound was, the foot of their bed was on fire, and they ran out of the residence.
"They had a space heater in proximity to the area where they heard the popping noise," Kanzigg said.
The fire chief said he could not confirm whether the space heater started the blaze, but did confirm it was at the foot of the bed inside of the residence.
The State Fire Marshal's Office is investigating the fire.