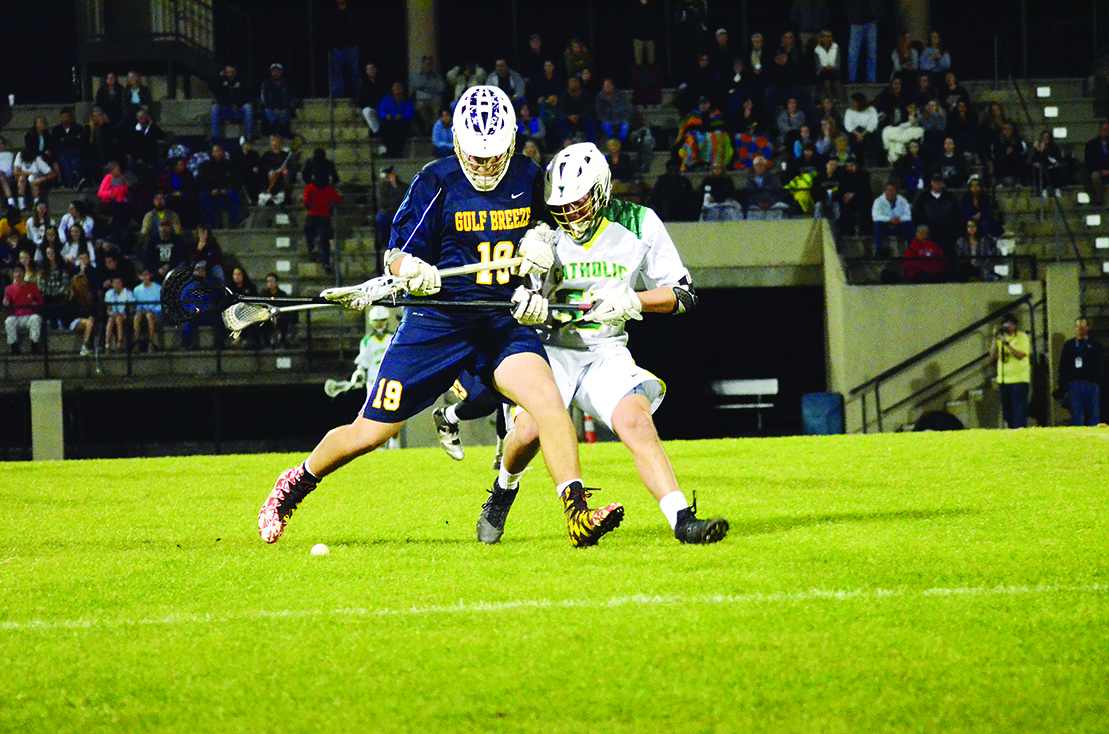 Gulf Breeze High School boys' lacrosse team extended its unbeaten streak to five games in-a-row after the Dolphins rallied from two points down in the first quarter against Pensacola Catholic High School back on Feb. 17 for the first district win of the season 7-5.
The Dolphins began their district campaign as reigning champions of District 1, losing the only conference match last season to Catholic. The Crusaders proved to be a competent match for the district powerhouse and fared better against Gulf Breeze than any other conference team throughout the regular season.
First year head coach Josh Shingleton has found a lot of success early on this season, but recognized the threats that the Crusaders brought to the match.
"We had to finish our shots — they have a great goal keeper Jack Bartkowski , he's awesome," Shingleton said. "I know we had to win our face offs, we have a really good face-off guy TJ Caldwell, so winning the faceoffs and the ground balls is one of our game plans. We are trying to be very patient, settle the ball and have us make that first move," he said.
Catholic began their attack right from the start of the match, quickly recovering from a well-designed play by Gulf Breeze to take an early 1-0 lead. Bryant Mixon caught a pass behind the Dolphin goal two minutes into the match and wrapped the crease, dodging a challenge from Chris Durst before firing a shot past Cole Foster for an early lead.
Patrick Fisher attempted to answer Mixon's goal for Gulf Breeze after Foster blocked another shot from Catholic and flicked a long pass out to Fisher inside the crease, whose shot on goal was denied by a nice save from Jack Bartkowski. The Crusader offense mustered another goal early in the first quarter, but failed to capitalize on the early lead enough to keep the Dolphins at bay.
With about five minutes left in the first quarter, Gulf Breeze finally broke through Catholic's defense, lulling them to sleep by holding possession inside their half before JJ Caldwell tossed a quick pass to Noah Haas — who fired-off a hard shot from a distance to put Gulf Breeze on the board. The goal was the first in a series of seven unanswered points, shutting-out Catholic until the final 12 minutes of the game when the Crusaders looked to make a comeback.
The fourth quarter started off with all the momentum on the side of the Crusaders, who scored with a second goal from Mixon in the final 12 minutes of the game. The goal reinforced Catholic's drive on the attack and resulted in a two-minute onslaught against the Dolphin defense, in which Foster made a trio of saves to keep Gulf Breeze in the lead.