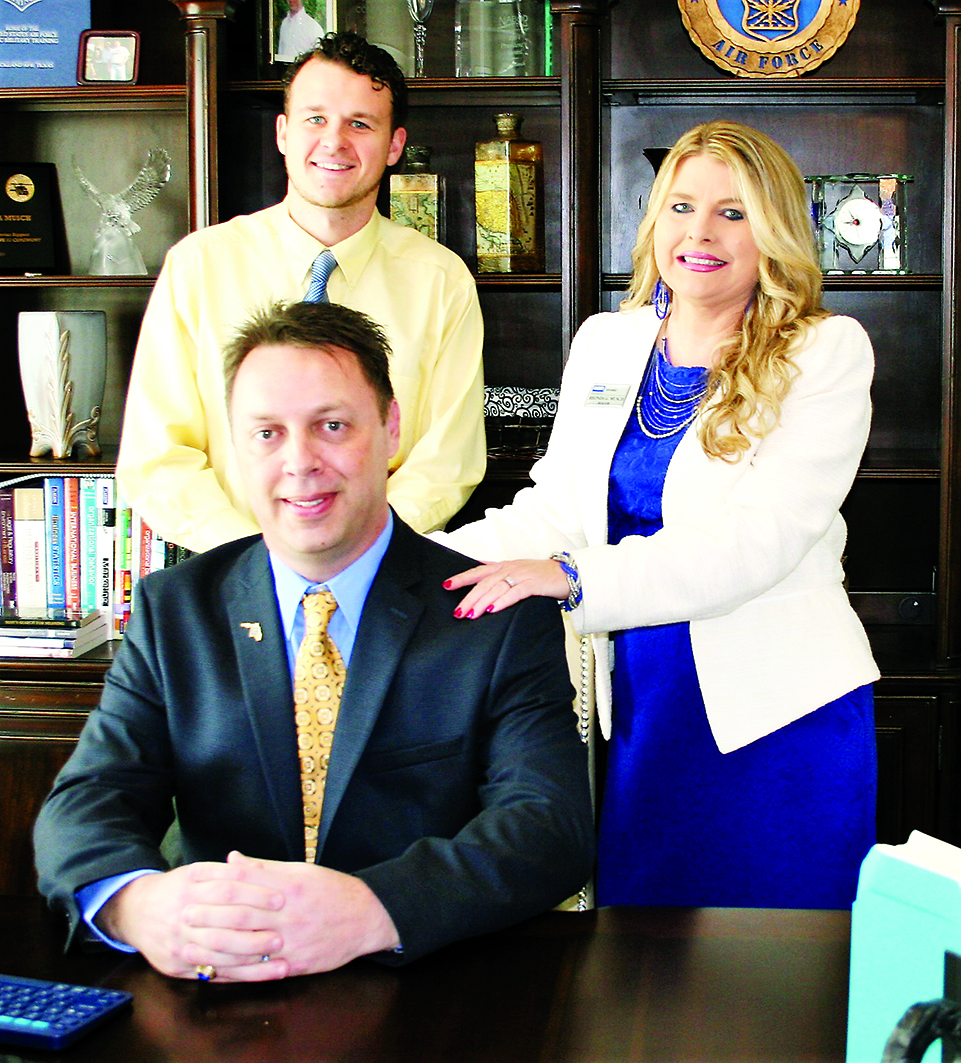 The Navarre Area Board of Realtors on December 7 hosted its 2016 Awards Banquet, and the Eric J Musch family of Navarre took away several top honors.
Eric J Musch, owner/broker of Equity & Trust Realty, was presented the 2016 Community Service Award, which is given to a realtor who impacts multiple community organizations in meaningful ways — someone who does more than just attend meetings.
Musch earned the recognition during the year for not only stepping up and donating a total of $1,500 to NABOR's adopted charity, Healing Paws for Warriors, but he also gave $1,100 for Relay for Life and $2,000 toward the Special Tactics Memorial at Hurlburt Field.
Musch, a veteran who served four years in the United States Air Force, is a strong supporter of the armed forces. In fact, he signed up for National Guard active duty the day after Sept. 11, 2001 and subsequently served overseas.
So Eric didn't hesitate to answer the call when organizers of the Blackhawk Memorial effort also needed help hosting visiting Gold Star families — Musch was assigned to the pilot's family.
"We're all very proud of Eric — not only does he embody the organization's core values of supporting each other and the community we serve, but he's always the very first to volunteer his time and resources when the call goes out," said Angela Campbell, NABOR's Executive Director. "He's definitely earning the reputation of being a 'go-to' person, and if Eric can't physically make it happen, he's a great resource for recruiting others who can assist."
Eric's wife, Rhonda G Musch, also took home a top prize, earning the prestigious 2016 Realtor of the Year Award.
Not only did Rhonda serve on the board and participated in every NABOR committee and weekly tour, but also she has excelled at sales.
"Rhonda has been a pleasure to work with over the past 3 years. She is a hard working agent, her clients always come first for her," Coldwell Residential Real Estate Office Manager Deena Smith said.
"A lot of my success comes from Eric," Rhonda said, pointing out her husband counsels her business approach.
Although Eric only entered the real estate field in 2007, he has taken it by storm and provides Rhonda with advice which she credits toward helping her succeed.
The couple started dating August 18, 2008 after a long pursuit.
"I had to chase him for 17 months to catch him," Rhonda said with a smile. They were married December 14, 2012.
Rhonda was a widow with two sons, and Eric stepped up, serving as a mentor, especially to her oldest son, Rodney Martin Waits, who has used the loss of his father to brain cancer to motivate him to serve the American Cancer Society.
Although Rodney is only 24 years old, following an impassioned speech he gave about his father during last year's Relay For Life event, he was named Navarre Committee Lead. He's also going to be chairman of the NABOR Relay for Life Committee with help from his mom, who is serving as co-chair.
Not surprisingly, Rodney also credits Eric with aiding his success. "I've taken his advice," he said.
Eric said his desire to help others started during childhood in Cincinnati, Ohio when he found joy helping neighbors and the elderly, shoveling snow from their driveway or mowing their lawn.
"It's my passion to help others," Eric said.
Santa Rosa County Commission Chairman Rob Williamson officiated the NABOR board installation at the Dec. 7 awards banquet, and Rhonda and Eric were both sworn in as directors of the organization. Rhonda will serve as NABOR Secretary in 2017.
"Eric is one of our impactful community leaders that helps make everyone around him better. Eric brings an unshakable optimism and can-do attitude to everything he does," Williamson said.