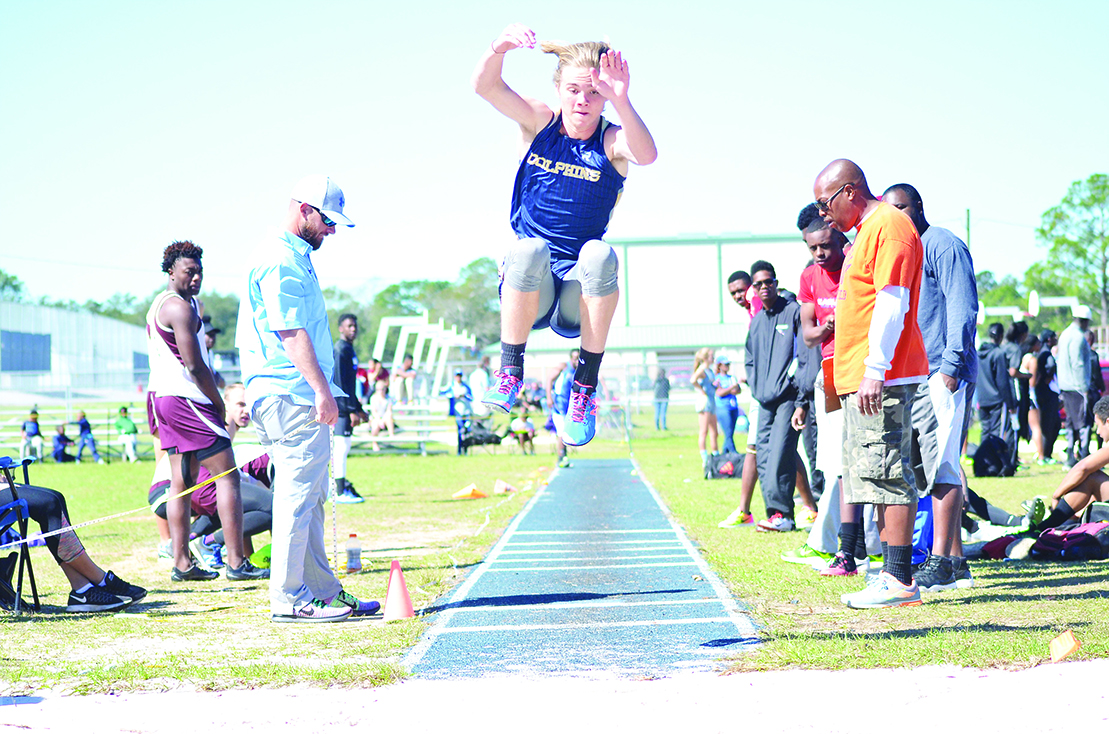 The Navarre High School boys track team has had a successful start to their season under first year head coach Joe Surratt, taking second place in the FCA Panhandle Championship at Booker T. Washington High School on Feb. 25 after it was initially reported that they had won the event.
After speaking to Surratt, he explained that some of the events were unable to be scored because of a variety of issues — including mishandling records as in the case of boys shot put where one of the stat sheets was lost. The other, more major reason the original verdict was reversed was a misunderstanding of how to score Ethan Fulk's events — the only adaptive track and field athlete competing in that meet.
Originally, the final tally gave the Raiders the slim victory over West Florida High School by a score of 124-121. However, FHSAA requirements mandate that adaptive track be counted as a separate division, so Fulk's 20 points were still given to Navarre, just not in the boys' team total for the meet — bumping the Jaguars into first place without an official score.
"Adaptive track has its own division, just like boys' track and field has its own division. You will have boys regular and also boys adaptive," Surratt said. "There are 3 categories [Wheelchair 200 meter race, Wheelchair 800 meter race and Wheel-chair Shot Put] it's very new here — never had it in Northwest Florida … there are only 16 kids that participate in adaptive sports in the state," he said.
The girls team finished in sixth place overall with a final total score of 55, far behind Pine Forest High School in first place with 144 points. Despite the loss, the girls' team put on a commanding performance in a variety of events — taking third place in the girls shot put, 4×100 meter relay and 100 meter dash. The girls' pole vault proved to be Navarre's strongest showing of the day, seeing all three of their competitors place in the top five. Khiara Newton took first place in the event, closely followed by Emory Burda in third and then Kimberly Smith in fifth place.
Going forward Surratt's major goal for his team is to win the district title and he believes that he has the talent to do that but recognizes the challenges ahead of him. He spoke about the larger programs in the area and listed the year-round playing style as something he would be interested in to keep his players conditioned — pointing out the fact he began earlier this season.
"Niceville is district champions year in, year out," Surratt said. "Also, Fort Walton Beach competes with them every year, so with two excellent track programs in our area it's tough when you talk about competing in that district."