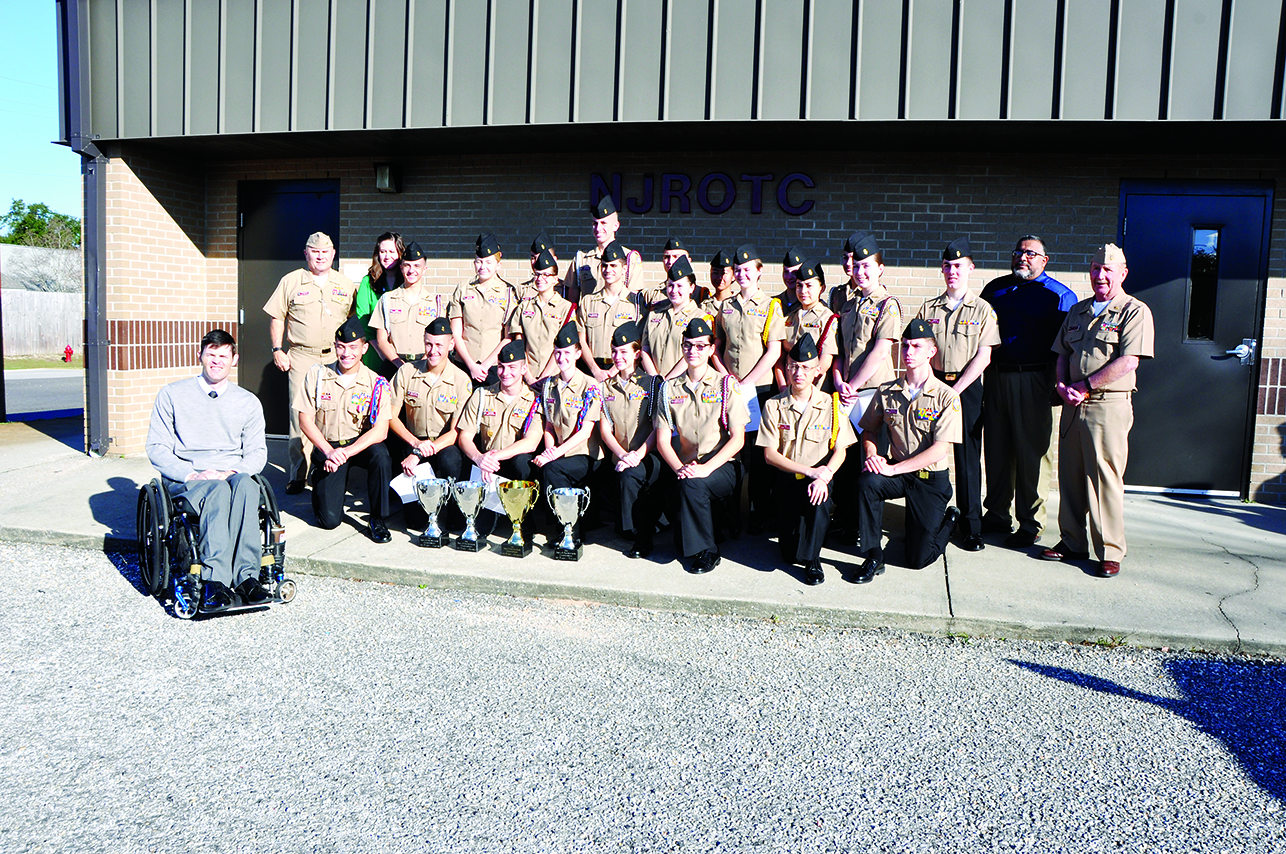 Leadership is earned, not given. And Navarre High School NJROTC Master Chief Jimmy Etheridge knows this. He, along with the rest of the NJROTC instructors at the school have helped push their academic and orienteering team to new heights over the 2016-17 school year.
Because of the academic team's recent haul-in at the Navy JROTC Area 8 Brain Brawl at Brother Martin High School in New Orleans last Saturday, and the orienteering team's accomplishments at a competition back in December, U.S. Congressman Matt Gaetz took time out of his busy schedule to congratulate the teams and their accomplishments.
The academic team competed at the Brain Brawl against over a dozen other teams and placed first and third respectively. The first place trophy earned them a trip to the national NJROTC academic competition in May.
Congressman Gaetz sent a representative from his office, Nathen Nelson, to Navarre High School Wednesday morning to hand out signed letters congratulating the teams on their recent accomplishments.
"(Congressman Gaetz) just said 'Hey I just want to recognize those guys,'" Ethridge said after his cadets received their letters of recognition. "That's really good to see this. It's something new and it's good for the kids to get letters like that."
Not only did his cadets receive an award, but the Master Chief himself earned himself a recognition from Gaetz as well for his leadership skills.
The NHS NJROTC program has been on a roll lately filling up their trophy case, according to Etheridge.
"The orienteering, that's running through the woods using maps and compasses. We just dominated that when we went to Oak Mountain right before Christmas. All of our teams won in that," he said.
The NJROTC cadets won overall at the orienteering competition. The win earned the cadets a trip to the Kennesaw Mountains in Georgia in February where they will compete in the national orienteering competition.
"I'm just proud of our kids," Etheridge said.