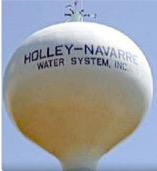 Discussions during the May 16 Holley-Navarre Water System board meeting became heated when elected directors argued over several issues, including how the utility discloses information.
During an open planning session prior to the meeting, HNWS Vice President James Calkins expressed frustration that he had not yet been provided a requested memo from HNWS Attorney Michael Tidwell.
According to HNWS General Manager Paul Gardner, two days earlier Calkins demanded the memo from staff, whom he said were not authorized to release the information.
HNWS President Bien May said he wanted to wait and present the memo for discussion during the board meeting. "He wanted it ahead of time," May said.
"Our employees are saying you're harassing them," May told Calkins, who continued to argue the matter after the floor had been given to HNWS Secretary Gaius Bruce.
When Calkins started to repeat that when he starts "digging" it's considered harassment, May interrupted.
"Shut your mouth," May said. It's a comment he now regrets.
"It was an overreaction to (Calkins) basically bullying his comments, and I did apologize to him in the meeting because it was inappropriate to say that. James wasn't allowing others to speak, and I was trying to let others have their say. Again, not the best way to handle that," May said.
The subject of the memo in question was Tidwell's opinion that actions taken during a specially called meeting had been valid — despite questions over whether or not the meeting had been properly noticed. HNWS Office Manager Barbara Carawan confirmed she distributed notice to board members 48 hours in advance.
The purpose of that special meeting had been to further discuss a previously successful motion by Calkins for the board to endorse proposed state legislation related to RESTORE Act funding and the reopening of Navarre Pass.
May accused Calkins of sending out a premature, "unauthorized press release" to the media, announcing the endorsements.
May said during the special meeting those endorsements were upheld but with the added stipulation that reopening Navarre Pass doesn't compromise military missions.
"When we have to deal with Eglin we've got to take into consideration how we put things out to the public so that we don't offend Eglin when we're going to have to work with them, so it's one of those cases when you did overstep your bounds as a member of the board," Bruce told Calkins.
Bruce also took issue with board member Ricki DeSantis, whom he said accused fellow boards of being "bad" in a statement to local media.
"(We're) volunteer, no payment, no compensation, and we're doing the best we can, and all of a sudden we're villains because we don't agree with your political aspirations. And that's not right," Bruce said.
Additionally, during public forum, Navarre resident Tamara Fountain encouraged the board to follow Florida Sunshine Law.
However, Tidwell stated the organization, a private, not-for-profit corporation, is not bound to the same open records disclosure as government entities.
May said the current process for obtaining information is for members to submit a written request to which the utility has 10 days to respond.