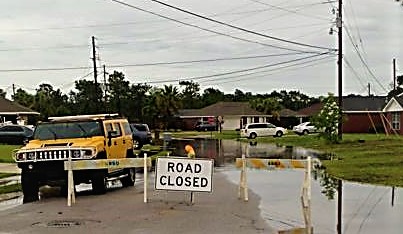 A 2013 photo shows Ortega Street closed due to stormwater drainage problems. Ortega Street over the years has been closed multiple times due to flooding, including last week when multiple cars became stalled in standing stormwater. South Santa Rosa News file photo.
Navarre residents' number one priority is infrastructure, according to a survey conducted by Preserve Navarre, a nonprofit organization aiming to get an incorporate vote on the November 22 ballot.
Wes Siler, who is leading a new effort to make Navarre a municipality, says a city government would more effectively address important area issues which Santa Rosa County so far has failed to do.
"The need has been particularly and painfully evident in the past few weeks with enormous flooding issues across our community," said Siler.
Santa Rosa County on September 16 issued notice that several roadways in Navarre were closed or flooded, including Avenida De Sol, Onich Drive, Ortega Street and High School Boulevard.
"We are making infrastructure the subject of our next meeting as we investigate the county's ongoing infrastructure projects," added Siler. "We will also look at what local cities are doing to confront infrastructure problems."
That meeting will take place from 1-3 p.m., Sunday, September 26 at St. Sylvester Church, located at 6464 Gulf Breeze Parkway. Featured speaker will be Jerry Couey, leader of an informal, countywide watershed protection committee.
Additionally, Preserve Navarre last Friday filed paperwork to officially create a political action committee. It's a formal step toward getting an incorporation vote on November 2022 ballot.
Siler said the group's survey, which has received responses from more than 3,000 Navarre residents, indicated residents do not want changes to fire control, alterations to law enforcement or reshaping of their lives. "They want an investment of a reasonable amount of funds into infrastructure to do what the county won't: invest in Navarre."
Preserve Navarre is currently working on a feasibility study and charter to fulfill additional requirements mandated by Florida's State Constitution.
Siler will also make a presentation during this week's Santa Rosa County Board of County Commission work session, which will take place at 8:30 a.m., Thursday, Sept. 23 at the County Administrative Complex, located at 6495 Caroline Street in Milton.
Questions regarding Preserve Navarre may be directed to Siler at 850-803-6424 or PreserveNavarre@gmail.com.