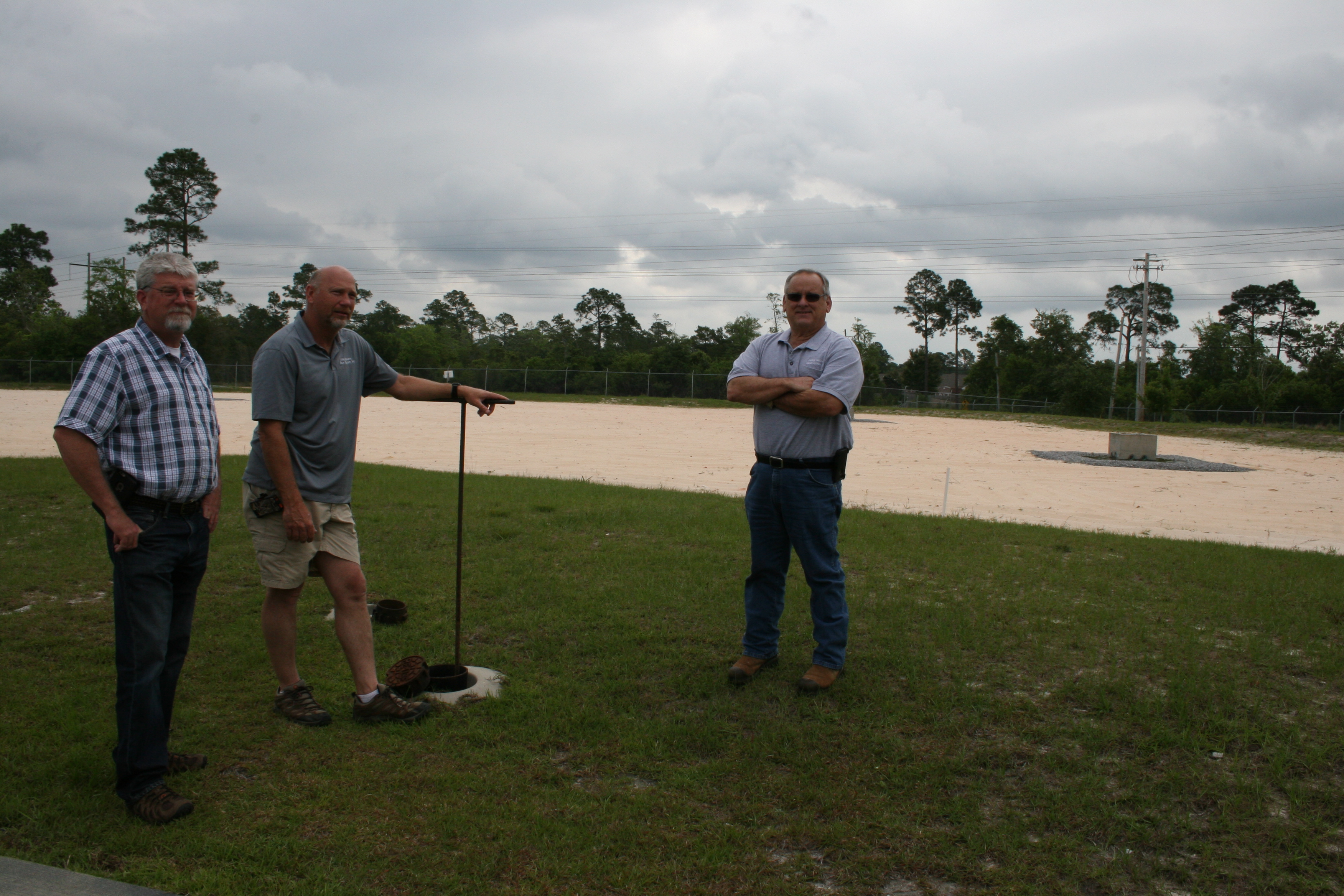 Photo caption: Phil Phillips, Clinton Wells and Paul Gardner with Holley-Navarre Water System pictured at an existing rapid infiltration basin system on Gordon Evans Road.
Santa Rosa County Commissioners on May 26 approved a controversial request by Holley-Navarre Water System to construct a $1 million treated wastewater facility near Williams Creek in Navarre.
A HNWS engineer promised the utility wouldn't discharge more than 250,000 gallons of effluent per day at the rapid infiltration basin system facility before commissioners voted on the development, which was previously approved by the Florida Department of Environmental Protection.
Engineer Phil Phillips also said the would not impact wetlands. "We need it now," he said, stressing how HNWS needs an urgent solution.
The utility is exceeding its permitted effluent discharge levels and could face a FDEP moratorium on adding new service connections.
HNWS President Bien May told the board the Williams Creek site one day will be a back-up facility after a planned future discharge site on Eglin Air Force Base property is constructed. But that long-term solution is still in discussions and has yet to be finalized.
Many members of the public spoke out about the issue. Amity Nowling, representing the Navarre Area Board of Realtors, asked commissioners to support the request. Linda Young, director of the Clean Water Network of Florida and numerous residents near the proposed development spoke out in opposition, expressing concerns about flooding and other issues.
Commissioner Bob Cole, participating via phone, urged the utility work "diligently" with the City of Gulf Breeze to pursue a joint effort to utilize a 34-acre spray field owned by the municipality off Bergren Road. But when it came time for the vote, Cole was no longer on the phone line.
Commission Chairman Lane Lynchard cast the only vote against the development near the waterway.
Commissioners Don Salter and Rob Williamson supported construction. Salter stated he was aware of a RIB system used by Pace Water District. Williamson stated he had not seen facts to support some of the opposition's concerns about flooding.
Commissioner Jayer Williamson was not present.