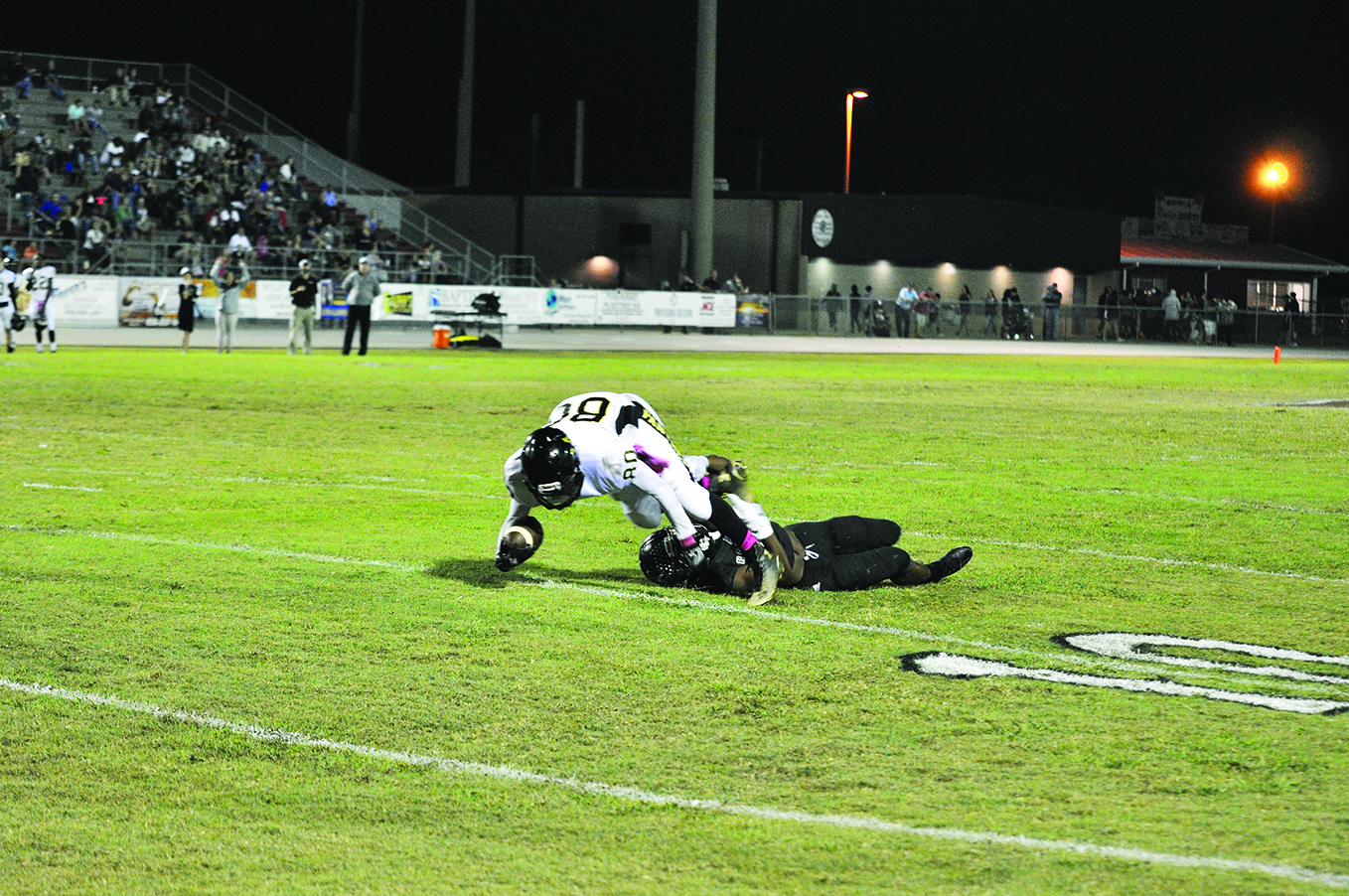 Last Friday night at Navarre High School, a Raider victory over the Milton Panthers made it apparent that both Gulf Breeze High School and the Raiders are going to have it out on Oct. 28 when they go head-to-head. That's because Navarre took home a 44-0 victory over the Panthers two weeks after the Dolphins dominated the same north end team, 36-3. A sign that both teams could play a close game next Friday.
The victory pushed Navarre to an 7-0 season while Gulf Breeze remains 6-1 overall this season.
After the victory against the Panthers, coach Jay Walls said he isn't looking ahead at that game just yet as they have one more game on their home turf before the big district rivalry game.
"We play American Heritage, Delray (tonight) for Homecoming, and we don't know too much about them," Walls said. "We don't look ahead, but we know after (tonight's game against Delray), we have a huge district game."
A game that Navarre has dominated the last 8 years where they've taken home the Publix Beach Bowl Cup year after year.
Just like the Dolphins, a majority of the points in the game against the Panthers came in the first half, starting with a touchdown from star tailback Michael Carter a little over 4 minutes into the first quarter.
After the punt return, Navarre quickly got the ball back after a interception by Raider Tyson Brown.
Navarre was able to push the ball back down the field, but Milton defense prevailed in the end, holding the team off at the Milton 9-yard line, forcing the Raiders to go for a field goal. The extra 3 points put the Raiders up 10-0 with 4:01 left in the first quarter.
Milton attempted to copy Navarre 4 minutes later when they went for a field goal at the Navarre 10-yard line. Instead of making the 3 point-goal, the ball fell short, keeping Milton scoreless at the start of the second quarter.
Carter eventually came back in the second with yet another touchdown, pushing the Raiders up 17-0 over Milton with 5:51 left in the first half.
With the half ticking down, Navarre was adamant to put another touchdown on the board.
They did that, and then some.
With 1:46 left in the half, Navarre quarterback Caine Adamson found himself at the Milton 14-yard line. Looking for an open Raider, Adamson decided to keep the ball himself and ran it into the endzone past Panther defense for a touchdown.
After the punt return, Navarre quickly got the leather back and found themselves at the Milton 36-yard line with less than two seconds remaining in the half. And those two seconds were all the Raiders needed to put another 6 on the board. Adamson made a quick pass to Donte Wright for a Raider touchdown as the clock buzzed to signal the end of the half. The touchdown was followed by a good point after putting the Raiders up 30-0 at the end of the first half.
In the second half, the Raiders slowed themselves down, but made sure to get two more touchdowns in. The first one was made less than 4 minutes into the third quarter. Adamson found Jordan Williams wandering in the endzone and made a quick pass to his fellow player for a touchdown. The point after put the Raiders up 37-0.
Six minutes later, the Raiders would seal the game with their final touchdown— this one, again, from Wright. The touchdown and point after sealed the game 44-0.
"We had a good night," Walls said. "We felt like we really had to play well and our shut out was impressive. We were able to run the football tonight. We were able to throw the football. We had some breaks and came up with some good plays. I'm just proud of our kids all week long. They prepare well. They know it's a tough game, and they came out to win."