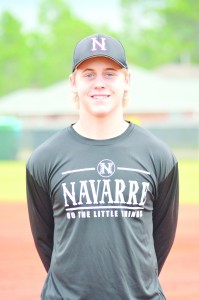 Grimes
Cyrus Grimes, 17, is a junior at Navarre High School and is set to begin his third season with the Raiders' baseball team. Grimes has been playing the game since he was just a kid, enjoying a successful career from an early age that has continued as he's matured.
His father, Greg Grimes, remembers his son's reaction when he was 7-years-old and playing in a coach-pitch tournament on a team coached by his dad. Greg explained that he started playing teeball when he was 6 but when he was 7 and 8 he played coach-pitch and ended up doing really well. The team Greg coached won the 7U and 8U state title, but that is not the story that sticks out in his memory.
"They're just kids man, they didn't know the difference, but I do remember when they were little they played a tournament when they were 7 and we came in second – that really blew everyone up. But I told them, 'I like your trophies, they're really cool,'" he said.
"Then he [Cyrus] was like, 'Really, second? That trophy is just first-place loser – we lost the tournament.' So all the kids were looking at one another like, 'Whoa that's right,' and it kind of clicked in their heads. Well they wanted to win from then on," he chuckled.
When asked how he got into baseball, Cyrus explained that he just always liked playing the game and it was something his father, brother and uncle had played. Although, he did say he felt encouraged to keep up with the sport initially when his dad became his coach at a young age, but stayed with it in the long run because of his love for the game.
Grimes did not play much recreational league ball past his 6th grade year. Instead, he started competing with local travel team the Navarre Raiders, which would eventually become coached by his father when he took over after the head coach moved.
This determination that Grimes' displayed at such an early age seems to have stuck with him, and helped him to not only excel on the baseball diamond, but in the classroom as well. Grimes has a 4.2 weighted GPA and harbors aspirations of playing college ball, while also taking on a pretty challenging major.
"I was thinking something along the lines of being an engineer," Grimes answered when asked if he had any idea what he wanted to study in college. "I am not really sure which part of that because there are different branches of engineering, but definitely something along those lines. But you never know, people always change their major multiple times; I like math and science and so that is a pretty good mixture of both," he said.
As far as on the field, Grimes is trying to further progress his career by attending showcases and competing in national tournaments. He recently gained a lot of recognition by tying for 6th place in overall outfield velocity after recording 92 MPH during the Perfect Game's 2015 National Academic Showcase earlier this year. He is currently in the 99th percentile for his class in outfield velocity, where the average player in the 2017 class throws the ball 79 MPH.
"We started off throwing in the outfield and that's when I hit 92, then we just went and took BP [batting practice] on the field and went and played games, it was a two day thing," Grimes said. "With Perfect Game they just have all the kids and split them up and put them into teams according to their position, it's not really like you pick your teams or anything, it is always different."
Perfect Game is a national organization that describes itself as the "…largest and most complete amateur baseball scouting service in the world…" Perfect Game hosts showcases and tournaments across the United States to the degree of more than 100 a year. These tournaments and showcases are regularly attended by college and professional scouts, and each player has detailed stats recorded. These stats are then used to compare each of the players in order to determine their overall ranking by class, position and overall score.
Grimes' is currently ranked 9th in the state of Florida in outfield players for the Class of 2017, and 68th in overall players for his class. In the national rankings, Grimes is 62nd for outfielders in his class and 340th when compared to every other position.
In addition to attending several competitions and his first showcase for Perfect Game, Grimes played with the Orlando Scorpions Prime out of Altamonte Springs, Fla. this fall. The team finished 2nd in the Perfect Game Underclass World Championships and 6th in the nation when they lost the championship game 3-2, after Grimes scored a run and put the team up 1-0 in the opening inning when a balk sent him walking across home plate.
The Orlando Scorpions is one of the most successful and well-respected travel programs in Florida and part of the Florida Scout Ball Association. The FSBA organizes tournaments all over the state of Florida and describes that the reason for its creation was to provide talented teams and players with opportunities to perform in front of college scouts and professional recruiters.
"Playing with the Scorpions this fall was amazing, it was a really good group of kids, we all meshed together well it wasn't a very 'cliquey' group," Grimes said. "We all worked well together, we all played well together and all the tournaments we went to were top-notch tournaments – they had the best teams in the nation there and we competed with them … it was great."
Grimes is looking forward to his junior-year with the Navarre High School Raiders and has high hopes for this season after the team was eliminated in the Regional Semifinals last season when they lost to Lawton M. Chiles High School 3-0.
Cyrus believes that they may not have been ready for the high-velocity pitching that Chiles displayed last year, but he thinks that the team will do better now that they know what to expect. The Raiders train in the off-season during 6th period baseball, where they lift weights and run, and then they go out on the open field and practice their hitting after school. Official practice for the upcoming season starts when the team gets back from Christmas Break on January 1.
"We definitely have goals to go to state this year, we have been working hard and we should have a really good season," Grimes said. "We didn't lose many players last year and everyone else is stepping back into their positions, so we have all been working really hard and we are going to make a statement this year."