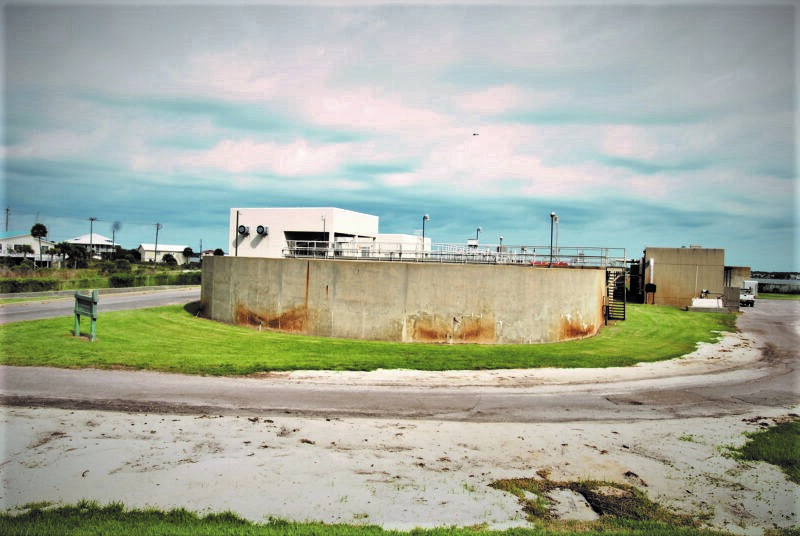 Currently around 1,200 taps on Santa Rosa Island are connected to the Navarre Beach Wastewater Treatment Plant, which discharges 200,000-600,000 gallons of treated effluent into Santa Rosa Sound each day. The money will help fund a plan which includes permanently ending that discharge into the Sound. (File photo).
Santa Rosa County on November 10 hosted a Wellfield Protection Workshop to review its wellfield protection ordinance. During that workshop it was announced that $10 million has been secured for the South Santa Rosa Reuse Initiative.
Outgoing District 4 Commissioner Dave Piech told fellow commissioners that Northwest Florida Water Management District (NWFWMD) recently secured $2.5 million dollars for each phase, totaling $10 million.
That four-phase initiative, officially called the Regional Reuse Beneficial Strategic Plan, is a joint effort by Holley-Navarre Water System (HNWS), Santa Rosa County (Navarre Beach Utilities) and the City of Gulf Breeze (South Santa Rosa Utility Service).
Phase I: construction of transmission lines from HNWS's Pepper Street Treatment Plant to the Eglin RIB site, where 7 cells will be constructed. Projected $10.6 million costs will be shared between local, state and federal agencies.

Phase II includes construction of transmission lines underneath Santa Rosa Sound, connecting the Navarre Beach plant to HNWS's Pepper Street Plant and also the addition of 5 cells to the Eglin RIB system. Estimated $13.3 million costs will shared and offset by an $8.7 allocation from RESTORE funding.

Phase III will connect HNWS's Pepper Street Plant to the City of Gulf Breeze Reclaim Transmission System, which will be expanded along U.S. 98. The City of Gulf Breeze plans to fund more than have of the nearly $5.2 million costs.

Phase IV will provide upgrades to the Navarre Beach plant, including improvements to the effluent pump station. Santa Rosa County will fund the roughly $3.7 million costs.
The first three phases are expected to be complete by 2024 with the final phase expected in 2026.
Goals of the initiative include infrastructure improvements benefits, including but not limited to: ending discharge into Santa Rosa Sound, increasing septic-to-sewer conversions and boosting wastewater reuse.
Additionally, another benefit of the reuse initiative is to lessen the demand on the aquifer in the county's Wellfield Protection Area (WPA), a roughly 51-square-mile area in East Milton in the vicinity of a dozen water wells used to provide potable water for around half of the county's population, including south Santa Rosa County.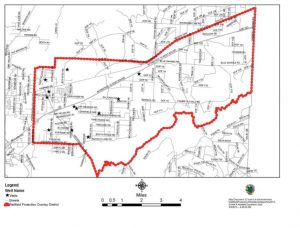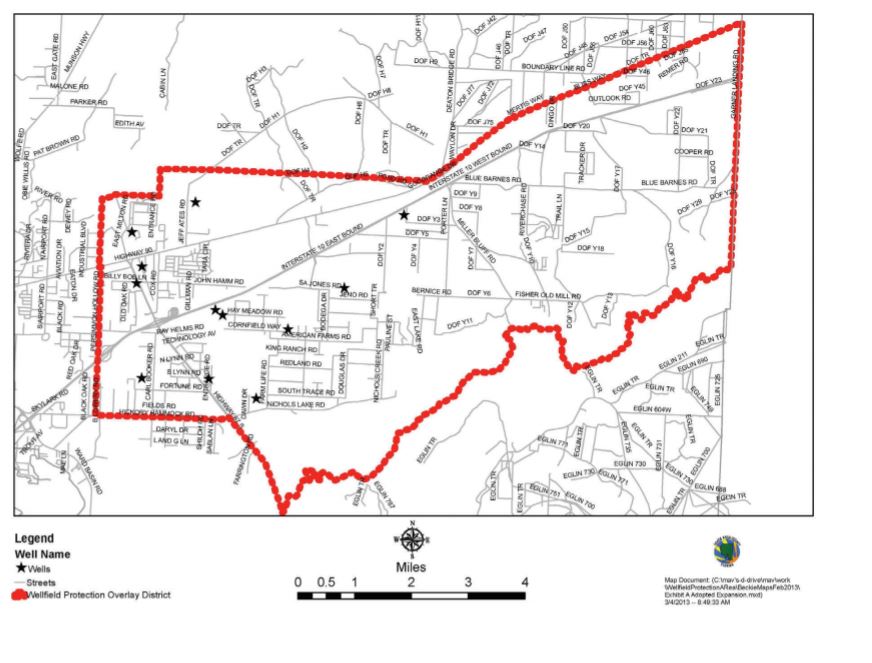 During the November 10 workshop, a panel of speakers discussed a variety of water supply topics, including how the WPA and related ordinance came to fruition and the importance of protecting the WPA and the Sand & Gravel and Floridan aquifers.
Gary Eichler, a water supply development consultant with Connect Consulting, Inc. made a presentation on behalf of Fairpoint Regional Utility System (FRUS), an entity created about 15 years ago to provide water service for the south end of Santa Rosa County on behalf of Midway Water System and Holley-Navarre Water System, Midway Water System and South Santa Rosa Utility System (City of Gulf Breeze).
Phil Phillips, an engineer who serves as president of Municipal Engineering Services, which is affiliated with FRUS/HNWS, provided an update on current and projected water supply usage for south Santa Rosa utilities. Per Phillips:
HNWS is currently authorized to take 2.75 MGD from FRUS (with no increases projected through 2032) and 1.3 MGD from aquifers;
Midway Water System takes just under 1 MGD from FRUS with a projected future increase to just over 1.5 MGD;
The City of Gulf Breeze's utility is reducing its usage from FRUS from 2.21 down to 2.1 MGD;
Navarre Beach Utilities is allowed 411,000 MGD from FRUS with a projected future increase to 584,000 per day.
"We're starting to see exponential growth in East Milton," said outgoing District 2 Commissioner Bob Cole, who has represented the East Milton area for two decades and called for the review, which he believes should take place annually.
Cole explained that companies such as CEFCO are looking to construct gas stations in East Milton.
"Doesn't take much from a leaky tank to contaminant a whole well field," said Eichler, who went on to describe a situation in Lake Mary, Florida in which a cleanup is expected to cost $20 million upfront plus monthly costs for around three decades.
At the close of the workshop, Brian Hoffman, representing an East Milton landowner, asked commissioners to reconsider allowing borrow pits within the WPA.
The board had previously voted December 10, 2020 to pursue a change in the county's comprehensive plan which would have allowed the expansion of borrow pits within the WPA; however, the board decided not to pursue the change after the utilities comprising FRUS started a campaign against it.
Eichler during his presentation also cautioned against borrow-pit mining within the WPA, explaining removal of the top 20 feet of soil, and possibly hardpan, could potentially allow for "instantenous" contamination. "You should take extraordinary measures to protect (the aquifers)."
HNWS Interim CEO Joe Campbell said FRUS utilities brought in Eichler for the workshop so that commissioners could hear an "expert" opinion.
Campbell said he believes FRUS utilities would again oppose revisiting an effort by commissioners to reduce restrictions within the WPA. "We oppose anything that could impact the water," he said.