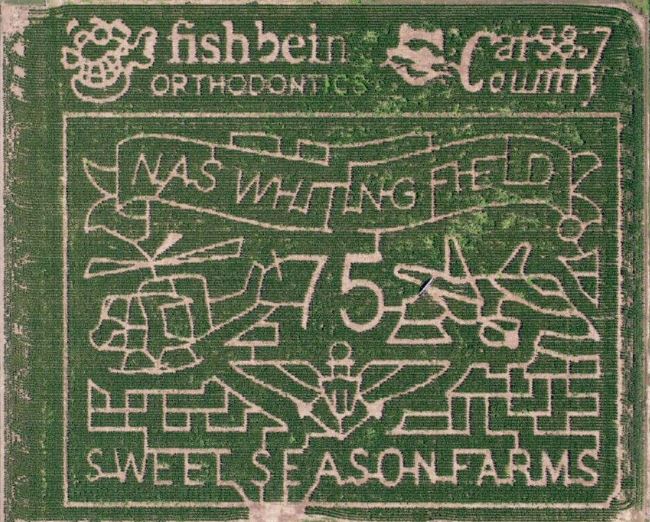 The 2018 Corn Maze at Sweet Season Farms features a tribute to the 75th Anniversary of NAS Whiting Field (photo courtesy Sweet Season Farms, LLC)
The Santa Rosa County Tourist Development Council in 2003 started the Beaches to Woodlands Tour in an effort to extend tourism season beyond its traditional ending on Labor Day, and 15 years later the effort is a success story which highlights fun fall venues taking place all over the county.
The Beaches to Woodlands Tour was started in 2003 to extend the county's tourism season past Labor Day. Former Santa Rosa County District 4 Commissioner Gordon Goodin brought back the idea of such an event from a scenic tour conducted in the Spoon River Valley area in his home state of Illinois.
County records show that October tourist tax collections have continued to grow in recent years — from $97,214.84 in 2014 up to $176,851.48 in 2017.
"Beaches to Woodlands has contributed to shoulder season growth with offering wonderful fall events to tourists that are coming on fall break or for just another end of season weekend vacation," Santa Rosa County Tourist Development Director Julie Morgan told South Santa Rosa News on Monday. "These events are family friendly and fun. We always want our tourists to feel a sense of place when they visit, this gives them a buy in to our destination and they will hopefully be repeat visitors for years to come."
Some of the venues on the tour, which kicks off Saturday, September 22, include: Sonshine Farms Corn Maze and Holland Farms and Pumpkin Patch.
Liz Horton, an appointed member of the county's tourist development council, said the event provide the opportunity for locals and visitors to not only explore the area's coastal areas but also visit venues in the central and north end of the county.
"It's a wonderful opportunity to showcase all Santa Rosa County has to offer, including arts and culture and historic hot spots like Milton and Bagdad," Horton said.
A full schedule of local events taking place through October can be viewed at www.beachestowoodlands.com