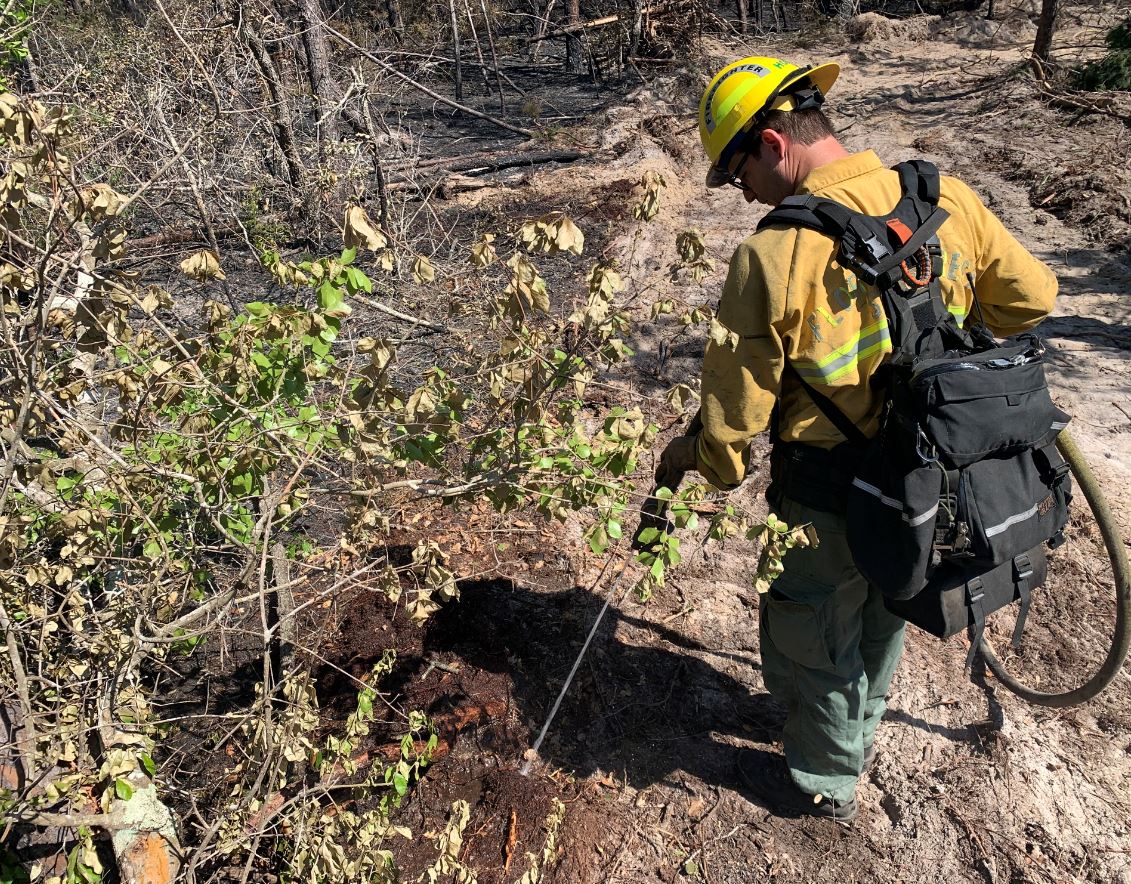 April 4-10 is Wildfire Awareness Week, and the Florida Forestry Service is using an example from a recent wildfire in South Santa Rosa County to show how effective wildfire mitigation can be.
Per FFS, fires need fuel to burn; it's part of the basics of firefighting known as the fire triangle. Fuel, heat and oxygen are all required to keep the reaction going. Remove one, and the fire goes out.
As part of the FFS's mission, removing fuel – overgrown vegetation in this case – is key to slowing or stopping the spread of wildfires before they impact populated areas in what is known as the Wildland Urban Interface. This action, known as wildfire mitigation, can be conducted by the Florida Forest Service on private, state, county or other municipally-owned property and generally is free of charge.
The Waterford Sound Fire in Santa Rosa County's Midway area was reported April 4.The fire attracted two tractor-plow units from the Blackwater Forestry Center as well as personnel and equipment from Midway and Holley-Navarre Fire departments.
Fire department resources were first to arrive and were able to knock down the leading edge of the fire with water.
The head of the fire had burned into the footprint of a prescribed burn conducted in spring of 2018 by Florida Forest Service personnel.
Reduced fuel loads in that area because of the burn made their job easier and allowed the tractor-plows to work on securing the perimeter of the 9.5-acre fire, said Joe Zwierzchowski, Wildfire Mitigation Specialist for Blackwater.
Because the fire was burning near the zoo, there was concern for public safety.
"The zoo was crowded, (it was a) holiday weekend, and while you can't speculate on the 'what ifs,' it certainly could've been a much different situation had it not hit the reduced fuels left behind by the prescribed burn we did," Zwierzchowski said.
The FFS at Blackwater takes on mitigation projects which can range from cutting breaks on smaller privately owned parcels to larger ventures involving other state agencies, counties or nearby cities.
"The size of the project, size of the property isn't what determines if it's viable," he said. "It's the values at risk – the homes in the area. If we can protect just one home from the potential impact of a wildfire, we're heading in the right direction. We've had projects that ranged from protecting 150 homes to as little as one; $49 million worth of structures to $100,000."
During the past five years, projects within Blackwater's three-county area of Escambia, Santa Rosa and Okaloosa counties have mowed almost 20 miles of line and protected 929 structures valued at $179.9 million.
For more information on wildfire mitigation, email Joe.Zwierzchowski@FDACS.gov or call (850) 983-5310.
The Florida Forest Service, a division of the Florida Department of Agriculture and Consumer Services, manages more than 1 million acres of state forests and provides forest management assistance on more than 17 million acres of private and community forests. The Florida Forest Service is also responsible for protecting homes, forestland and natural resources from the devastating effects wildfire on more than 26 million acres. Learn more at FDACS.gov/FLForestService.