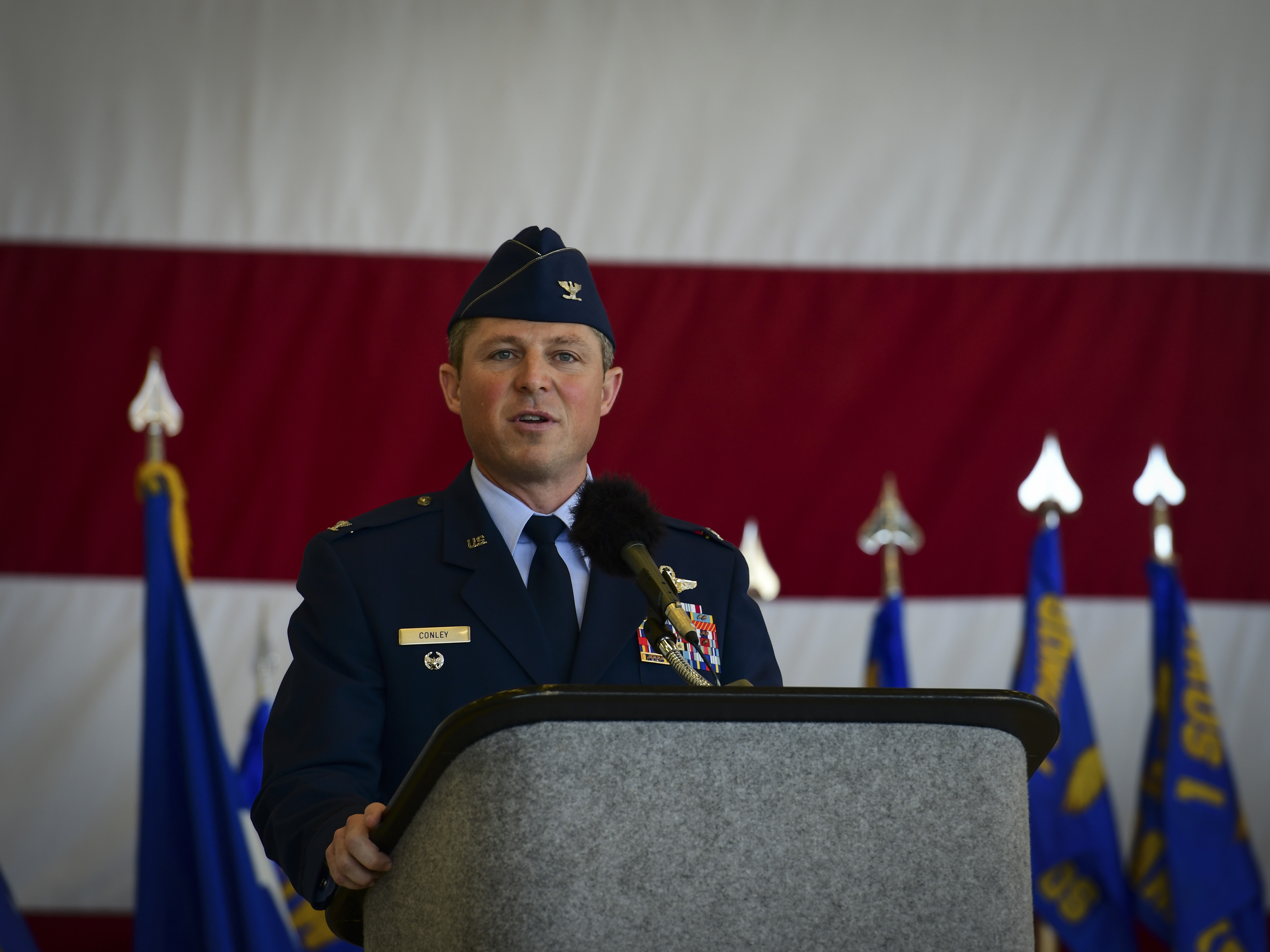 U.S. Air Force photo by Senior Airman Joseph Pick
Hundreds of Air Commandos welcomed a new commander to the 1st Special Operations Wing during a change of command ceremony, June 22.
Lt. Gen. Brad Webb, the commander of Air Force Special Operations Command, presided over the ceremony which introduced Col. Mike Conley as the new wing commander, the title formerly held by Col. Tom Palenske.
"You empowered the Air Commandos under your wing," Webb said to Palenske during the ceremony. "You pushed command decisions down to the squadron level. [Col. Palenske], you've exemplified leadership, AFSOC-style."
Along these things, Webb praised Palenske's humility and dedication to Air Commandos.
"Most infamously, you took Chief of Staff of the Air Force's guidance more directly to heart than any other wing commander in the Air Force," Webb said. "You reinvigorated the squadrons, attacked the culture of learned helplessness, cut unnecessary paperwork, reduced training times and so much more."
Palenske led the most deployed wing in the Air Force with more than 5,500 Air Commandos employed to perform 92,750 combat flight hours during his 22-month tenure. During Palenske's time at the 1st SOW, he led the processing, exploitation and dissemination of 74,000 hours of intelligence, surveillance and reconnaissance collection which helped eradicate 2,124 enemies from the battlefield.
Additionally, as installation commander, Palenske's leadership was instrumental to modernizing and improving Hurlburt Field's infrastructure.
These efforts, and more, drove the wing to earn five Air Force and 150 major command-level awards.
Before receiving his final salute as the commander, Palenske expressed appreciation to his family for their support during his command.
"Jeryn and Cathryn, and Christian and Kaetlynn who could not be here today, thank you for being the Air Force family a guy like me could only dream of being blessed with," Palenske said. "Jeryn, thank you for caring for our Airmen and families in your very special way. I love you guys more than words can describe."
Palenske left Air Commandos with parting words of gratitude before leaving the stage.
"Finally, to the men and women of America's most lethal wing – serving alongside you these past 3.5 years has been the greatest experience of Jeryn's and my life," said Palenske. "To recount your extraordinary accomplishments of that time is impossible. Know that you all taught and mentored me more than I could ever repay. You are the top one percent of Americans who volunteered to protect the other 99."
Palenske said Conley and his family were getting ready to embark on a great Air Force adventure and he couldn't hope for a better family to propel the 1st SOW to new heights.
"Conley has big shoes to fill, but we have just the man," said Webb. "I've known Col. Conley for over 15 years now – he has been a moonshot from day one."
Conley graduated from the U.S. Air Force Academy and completed pilot training in 1998. He has experience flying the UH-1N Huey and MH-53 Pave Low helicopters and the CV-22 Osprey tiltrotor aircraft, accruing more than 2,300 flight hours.
Webb assured the members of the 1st SOW that the command is in good hands.
"Folks, Air Commandos, we have a winner here," Webb said. "Col. Conley, you follow in the footsteps of legendary Air Commandos: Aderholt, Holland, Schwartz, Comer, Brozenick, Plehn, Lengyel and Slife. Even more legendary are the everyday Air Commandos in the flights, squadrons and groups of the 1st SOW."
Prior to arriving to the 1st SOW, Conley served as the special assistant to the chairman of the Joint Chiefs of Staff and deputy director of the chairman's action group. Along with these positions, Conley served as the commander of an operations support group at Kirtland Air Force Base, N.M., wing chief of safety and as an action officer on the joint staff and Secretary of the Air Force staff.
No stranger to AFSOC, Conley's most recent assignment was vice commander of the 27th SOW at Cannon AFB, N.M.
"Thank you for giving me the privilege to serve with these outstanding Americans," Conley said.
Conley thanked the 1st SOW for taking the time to welcome him to Hurlburt by holding the ceremony as he takes command of the wing.
"I stand before you honored and humbled, but I'm also prepared to work," Conley said. "Any time. Any place."