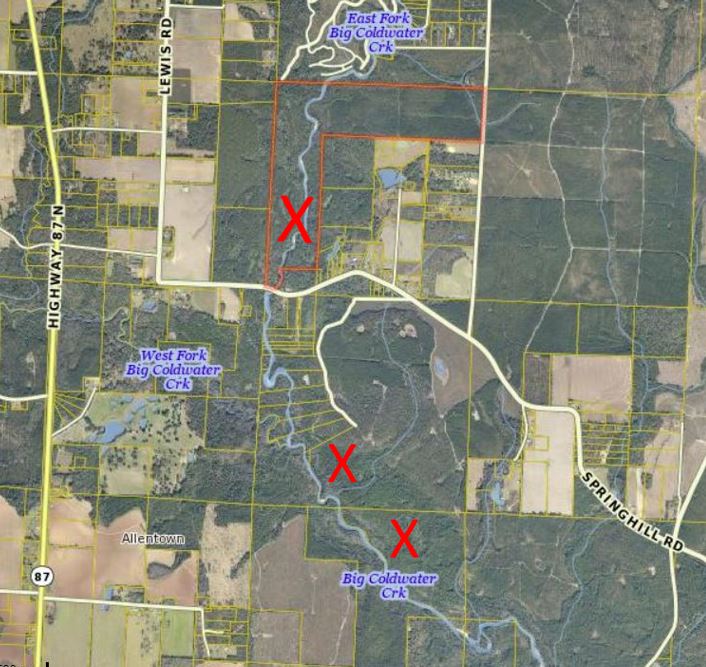 The Trust for Public Land last week announced that another 800 acres of forestland within the Florida Forever Project Wolfe Creek Forest has been acquired and added to the Blackwater River State Forest.
The acquired property includes frontage on Big Coldwater Creek, which is widely used for kayaking, tubing, and canoeing by community members and furthers a private-public effort to reestablish longleaf pine in its historic range. The Creek is a spring-fed state paddling trail beloved by area paddlers and birdwatchers.
This acquisition will also better naval air base operations, and protect water sources, public recreational activities, bird migration, and habitat for endangered species and other wildlife. The Trust for Public Land purchased the property on September 13th from ETO II TRS, LLC and sold it for $2.15 million to Santa Rosa County, Florida, which will in turn donate to the State of Florida.
"This acquisition protects over 2 miles of bluff river frontage on Big Coldwater Creek and will be added to the Blackwater River State Forest precluding, forever, incompatible development, promoting ecotourism and protecting the natural resources on the property. Our goal is to make sure this land remains a recreational hub and habitat center as part of the regional longleaf pine forest restoration for generations to come while investing in the future of Naval Air Station Whiting Field and its importance as an economic engine for Santa Rosa County," said The Trust for Public Land Senior Project Manager Doug Hattaway.
Funding for the acquisition came from the U.S. Forest Service through the Forest Legacy Program, which is administered through the Florida Forest Service, a division of the Florida Department of Agriculture and Consumer Services, and the U.S. Navy through the Readiness and Environmental Protection Integration (REPI) Program. The Forest Legacy Program aims to protect water quality and provide wildlife habitat, forest products, opportunities for recreation and other public benefits. The Forest Legacy Program is funded by the Land and Water Conservation Fund, a federal program that directs a portion of leases from offshore energy extraction to secure public lands and waters at no taxpayer expense. The REPI program increases military readiness on installations by preventing incompatible development that hinders trainings and operations. With the support of The Trust for Public Land, in December 2017 Congress permanently enabled REPI to be matched with other federal programs like Forest Legacy to maximize military readiness and conservation benefits.
Protecting the property ensures that land adjacent to Naval Air Station (NAS) Whiting Field will not be incompatibly developed in ways that may limit flight operations and vital military training. NAS Whiting is the busiest aviation complex in the world, accounting for nearly 1.1 million annual flight operations including primary flight training for more than 1,200 students. All Navy, Marine Corps and Coast Guard helicopter pilots are trained at NAS Whiting Field, and approximately 600 new helicopter pilots are winged annually. The base supports almost 16,000 local jobs and is a vital economic engine for the area with more than $1.43 billion in economic impact on the local economy.
"Naval Air Station Whiting Field enjoys a tremendous relationship with the State of Florida and its partners in encouraging compatible land development, conservation of public and private lands and encroachment partnering initiatives," NAS Whiting Field Commanding Officer Capt. Paul Bowdich stated. "These 800 plus acres are located underneath flight track training profiles and within a military airport influence area. The execution of this project provides a substantial buffer in sustaining our military mission as well as safeguarding valuable natural resources." The acquisition of Wolfe Creek aids in filling a strategic landscape-level gap of longleaf pine forest. The Florida Forest Service will manage the tract as part of the Blackwater River State Forest by applying sound forest management practices, including the use of prescribed fire. "Planting the right tree species on the appropriate site, such as longleaf pine, and the use of prescribed fire will greatly improve wildlife habitat, reduce wildfire threats and aid in water quality," said Jim Karels, State Forester and Director of the Florida Forest Service.
"We are very fortunate indeed to work with TPL, DoD and Santa Rosa county in acquiring the Wolfe Creek Forest property, which will enhance the protection of a variety of natural resources including Big Coldwater Creek, while balancing the public recreational and educational opportunities." said DEP Division of State Lands Director Callie DeHaven. "This property will also serve as a landscape linkage to other public land and provide an additional buffer to Naval Air Station Whiting Field operations."
"On behalf of the Santa Rosa County Board of County Commissioners and our citizens I wish to thank all the partners who made this project possible," said Santa Rosa County District Three Commissioner Don Salter, "The 800-acre acquisition combined with the current 6000 acres of buffered property will continue to enhance the mission of Naval Air Station Whiting Field as well as providing additional recreational land for the public and protect environmental sensitive land. The Wolfe Creek Project has been a top priority for the navy and our county for many years. Through the leadership of NAS Whiting Field, the Trust for Public Lands, Florida Forever and Santa Rosa County this helps illustrate our commitment to the military and the environment as well.
The Trust for Public Land will continue working with partners on conservation efforts as future acquisitions remain a top priority.