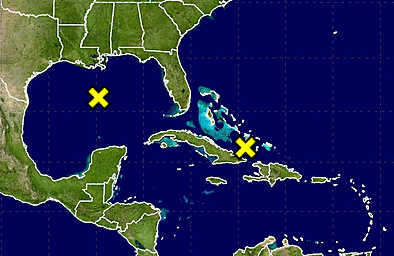 The National Hurricane Center's 8 a.m. updated reported the Air Force Reserve Hurricane Hunter aircraft scheduled this morning to investigate Tropical Disturbance 1 dubbed Invest 99L this system this morning has been
canceled.

However, the system will continue to be closely monitored as chances for development increase from 20 percent over the next 48 hours to 60 percent thereafter. 

"Interests elsewhere in Florida and the eastern Gulf of Mexico should continue to monitor the progress of this disturbance," stated the report.
There was no change this morning to the overnight forecast for Tropical Disturbance 2 located over the north-central Gulf of Mexico. "Surface pressures in this area are currently high,
and little to no development of this system is expected before it reaches the coast of Texas over the weekend," stated the report, which only indicated a 10 percent chance for the system to develop over the next five days.