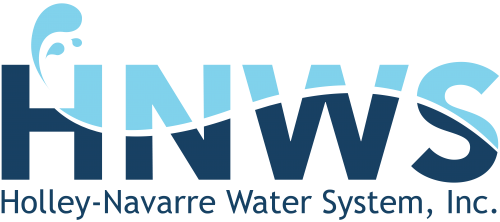 Holley Navarre Water System, Inc. will host its Annual Meeting, including the election of directors on January 18, 2022.
This year's candidates are Joseph Campbell, Doug Larson, Donald Linnell, and Daryl Lynchard and Michael Kennedy. Following are their submitted bios:
Joseph Campbell: A retired 26-year AF Chief living in Navarre since 2005. Degrees in Criminal Justice and Management with national-level awards as a Federal Agent. Newly elected to 2020 HNWS Board and voted to save members $6+ million in future costs. Business-focused Chairman of Eglin Regional Reuse and Capital Improvement committees concentrating on expanding wastewater capacity and updating infrastructure, a HNWS first. Champion for investment in new Holley sewer expansion. Golf Course Board of Managers where six months of hard, fact-based business decisions realized the first profit ever. New budget eliminates HNWS spray field costs saving members up to $220,00 annually.
Donald Linnell: Moved to Navarre FL, in November 2016. An Air Force veteran, he worked avionics on B-52 and A-10 aircraft. Don has spent his entire career in the aerospace and defense industries, working for companies such as GE Engines, BAE Systems, L-3 Communications and Leonardo DRS. His background includes software/systems engineering, program management, and business development. He currently has his own business as a business development consultant, primarily helping small companies, but also has agreements to provide services for larger consulting firms, such as Shipley Associates. His formal education includes a BS in Computer Science, and a MA in Business Management. Prior to moving to Navarre, Don was elected town councilor for the city of South Berwick, ME, from 1993 to 1996. After moving to Texas, Don volunteered with the Boy Scouts of America, first as a Cub Scout den leader, then several years as the outdoor chairman followed by committee chairman for Troop 18, Boerne, TX. Don and his wife, Terry, have two grown children and three grandchildren, all living in Texas. He is an avid golfer and fisherman.
Doug Larson: Graduated FWBHS in '82. Did some college courses at OWCC and PJC. I spent 25 years in the automotive collision industry. I retired from that in 2009 to open a local screen printing business in Navarre. I currently own a small retail shop and some rental properties. I've always tried to help out in local projects whether it is giving time or donations. I have lived in Navarre all my life. 18+ years at my current address. I married my best friend and love of my life last year and together we raise 4 beautiful girls.
Daryl Lynchard: Resident and business owner in Navarre since 1996.
Michael Kennedy: Business owner with 25 years of business and software consulting for Fortune 500 companies. Completed certified board training. Board Director for HNWS (2019-current), 2 years as President. Holley By the Sea HOA (2020-current), 1 year as President. Director for Fairpoint Regional Utility (2020-current), Director for The First Tee Gulf Coast Kids Golf (2019-2020). The HNWS board accomplishments for the last 3 years: hiring of HNWS's CEO, protecting drinking water sources, assisting HNWS's efforts to construct the Eglin Regional Reuse Project, and partnering with NWFWD and the DEP to attain $10M in grants for Eglin. Reduced the balance sheet liabilities by $6M, and improved business model at Hidden Creek Golf Course to become profitable. My commitment is to focus on premium water and wastewater services, protecting and securing our drinking water, developing, and funding infrastructure expansions, and planning for the future water needs for Navarre.
The Jan. 18 meeting will be called to order at 7 a.m., and voting will take place from 7:30 a.m. until 7 p.m. at The Club at Hidden Creek's event hall, located at 3070 PGA Blvd, Navarre.
Anyone needing additional information may contact Emerald McDaniel, Executive Assistant at Holley Navarre Water System, Inc or at election@hnws-fl.com.
Holley Navarre Water System, Inc is a member- owned, not-for-profit corporation that provides water and wastewater treatment services to member in the Holley- Navarre area, and includes The Club at Hidden Creek and Municipal Engineering Services, Inc.
Recently the utility made a presentation of its 2021 accomplishments, which included:
Overtime savings from 2020: $28,523.52
Health Care savings: $289,000
Pension Savings: $3.94 million with $2 million in future savings
According to the utility, year to date 137,541,700 gallons have been delivered via HNWS wells and – 1,898,388,121 gallons have been delivered with Fairpoint Regional Utility System wells. Additionally, YTD flow through the wastewater treatment plant is 523.74 million gallons.