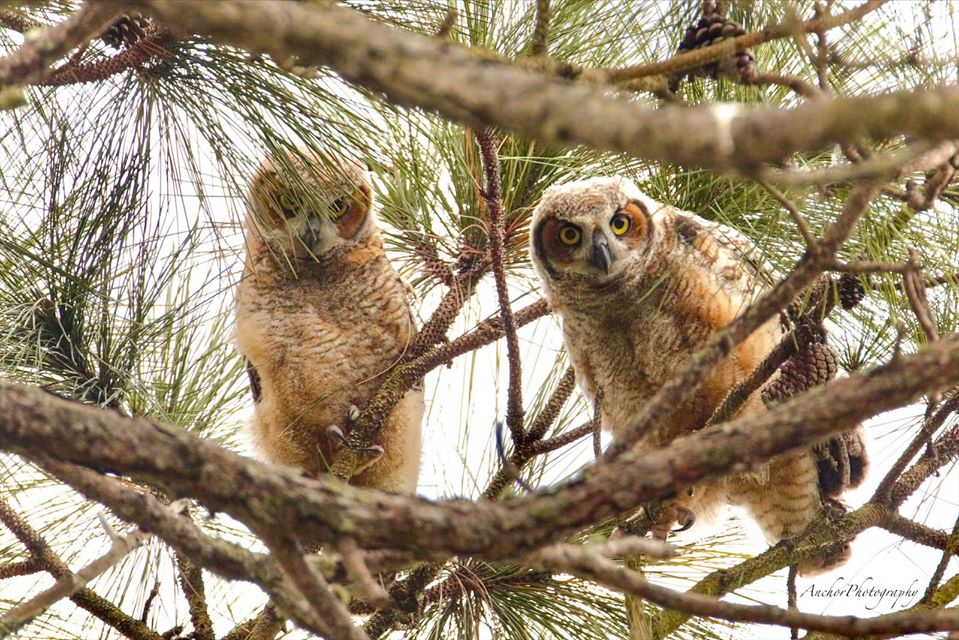 Baby owls spotted March 22 at Shoreline Park in Gulf Breeze (photo courtesy Navarre resident Linda Johnson)
Our native species and the communities that love them can inspire us during troubled, stressful times. Audubon Florida has collected five stories from the past year to add a bright spot to your day!
1) Successful summer nesting season leads to surge in Snowy Plover populations.
Few babies are as cute as Snowy Plover chicks. Puff balls with legs, the little guys hatch from scoop nests on the sand across Florida's coastlines. The 2019 summer nesting season saw major successes thanks to dedicated staff and volunteers who protected these vulnerable birds. In the Panhandle, almost 70 fledglings were counted, up from 12 the year before. While Hurricane Michael damaged homes, business, and forests in 2018, it created the habitat Snowy Plovers used to thrive last summer.
2) Flamingo returns to St. Marks National Wildlife Refuge.
Though American Flamingos are often associated with the Sunshine State, they are very difficult to see in the wild. This year, a flamingo has returned to the St. Marks National Wildlife Refuge on the Gulf coast for the second year in a row, foraging in areas open to the public. Thousands have seen this iconic bird.
3) Second-oldest Roseate Spoonbill spotted at the Alafia Bank Bird Sanctuary.
Speaking of pink birds, Sanctuary Director Mark Rachal photographed a Roseate Spoonbill banded in 2004, making it the second-oldest spoonbill ever recorded. "It's both astonishing and reassuring to know that at least one of the spoonbill chicks we banded in 2004 is alive and back at its natal colony site," says Marianne Korosy, Ph.D. Once part of that first banding team in Tampa Bay, she is now Audubon's Director of Bird Conservation.
4) It's baby owl season at the Audubon Center for Birds of Prey.
They are fluffy, they are feisty, they are baby owls! Each spring the Center for Birds of Prey cares for young owls that have been temporarily displaced until they can be returned to their nests, adopted by an education facility, or released back into the wild. The first Barred Owl at the clinic had a broken elbow and digestion issues, but recovered and has been eating voraciously! He will move to a new home at an education facility to inspire others to care for Florida's wild creatures.
5) Migration has begun.
Have you heard some new bird calls in your backyard? Migration has begun! Keep an eye out for colorful, neotropical warblers flying north as they move into summer breeding grounds. If you love color, listen for the buzzy call and watch for the dazzling plumage of the Northern Parula.