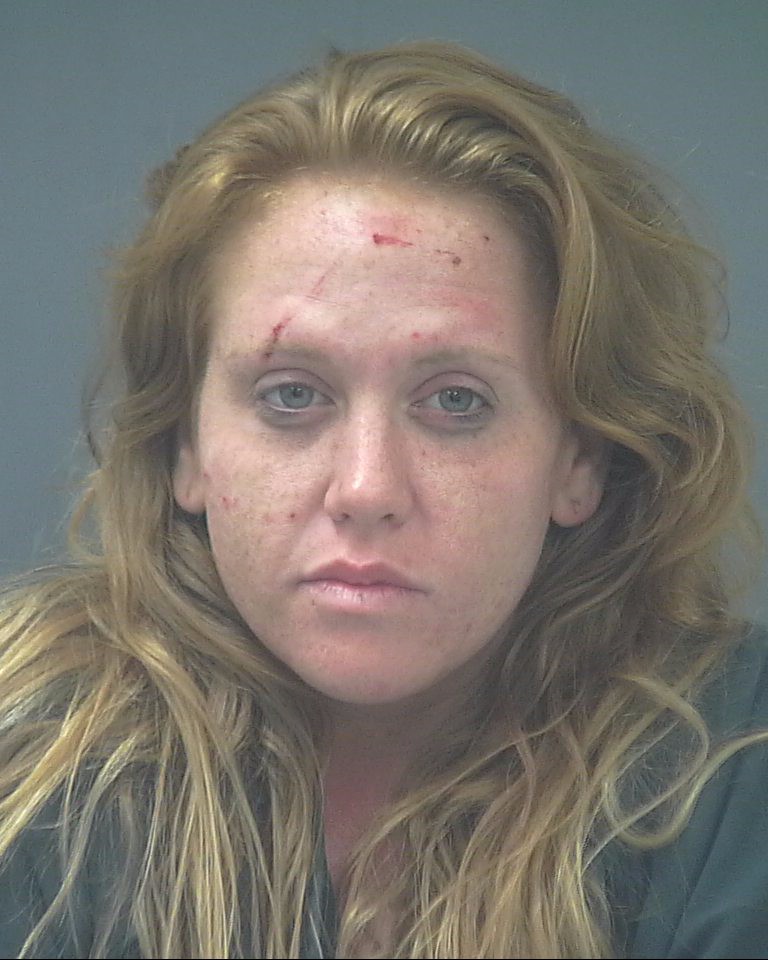 A 27-year-old woman with an active warrant lied to police about her identity yesterday. But eventually cops determined her true identity, and after a struggle she was taken to jail and also charged for drugs found in her purse.
During an August 15 traffic stop on Hwy. 87 S for an expired tag, an officer noticed a female passenger, later identified as Jessica Louise Olivier of Gulf Breeze, shaking and "acting very nervous."
According to the arrest report, when the officer asked for her identification, Olivier told him "I'm not part of this."
So the deputy asked for her identification a second time, and she replied "I told you I'm not (expletive) part of this" while reaching for the door handle.
The officer said he then directed her not to open the door and to stay seated but that Olivier opened the door and stepped out anyway.
"I walked around to the passenger side and ordered her to get back in the car," stated the deputy, who said she again said she wasn't part of it and was leaving. "I told her once again to get back in the car. Jessica finally sat back down in the car," he said.
The officer said Olivier then told him "You don't need to know my name, now leave me alone" before standing up in his face, grabbing her purse and telling him to move.
"I told her to put her purse down and to step on the sidewalk. Jessica sat her purse down in the passenger seat and attempted to walk around me," stated the officer, who grabbed her left wrist and told her to stop. "Jessica started pulling away from me, kicking, and screaming out loud. I placed my handcuffs on her left wrist as we rolled around to the trunk of the car."
Once at the trunk, the officer tried to place the handcuff on Olivier's right wrist but said she continued to struggle and yelled "I'll jump into the road and take you with me."
At that point, the officer took Olivier to the ground and placed her on her stomach. He then called dispatch for backup.
A second deputy arrived and helped escort Olivier to a patrol car. In the report it states Olivier continued to yell and struggle with the cuffs while inside the vehicle.
A Santa Rosa County Sheriff's Office sergeant arrived on scene and asked for an update on the matter while the second deputy to arrive worked to identify the female.
Olivier initially told police her name was Jessica Gillis, but cops were able to correctly identify her and discovered there was an active warrant for her arrest for felony violation of probation.
Cops searched Olivier's purse and found a small, gold-colored, metal container with four small plastic baggies inside. Three of the baggies contained powder residue, and one contained a clear crystal-like substance which field tested positive for methamphetamine.
While police were field testing the substance, Olivier was kicking the inside of my patrol car. A sergeant ordered her to stop kicking the inside of the vehicle.
After she refused to stop kicking, she was removed and placed into a hobble before being placed back into the patrol car.
"I advised Jessica that she was under arrest and transported her to the Santa Rosa County Jail without further incident. Once at the jail, I served her warrant for violation of probation," stated the arresting officer.
In addition to felony probation violation, Olivier was also charged with resisting an officer without violence, fraud – giving false information to law enforcement, possession of drug equipment and possession of a controlled substance without a prescription.
It's not the first time Olivier was charged with resisting an officer. She was arrested March 27, 2015 for possession of marijuana less than 20 grams, possession of a controlled substance without a prescription and resisting an officer with violence.
Although Olivier was issued an $11,500 bond for the current charges, she is being held in Santa Rosa County Jail for the probation violation.