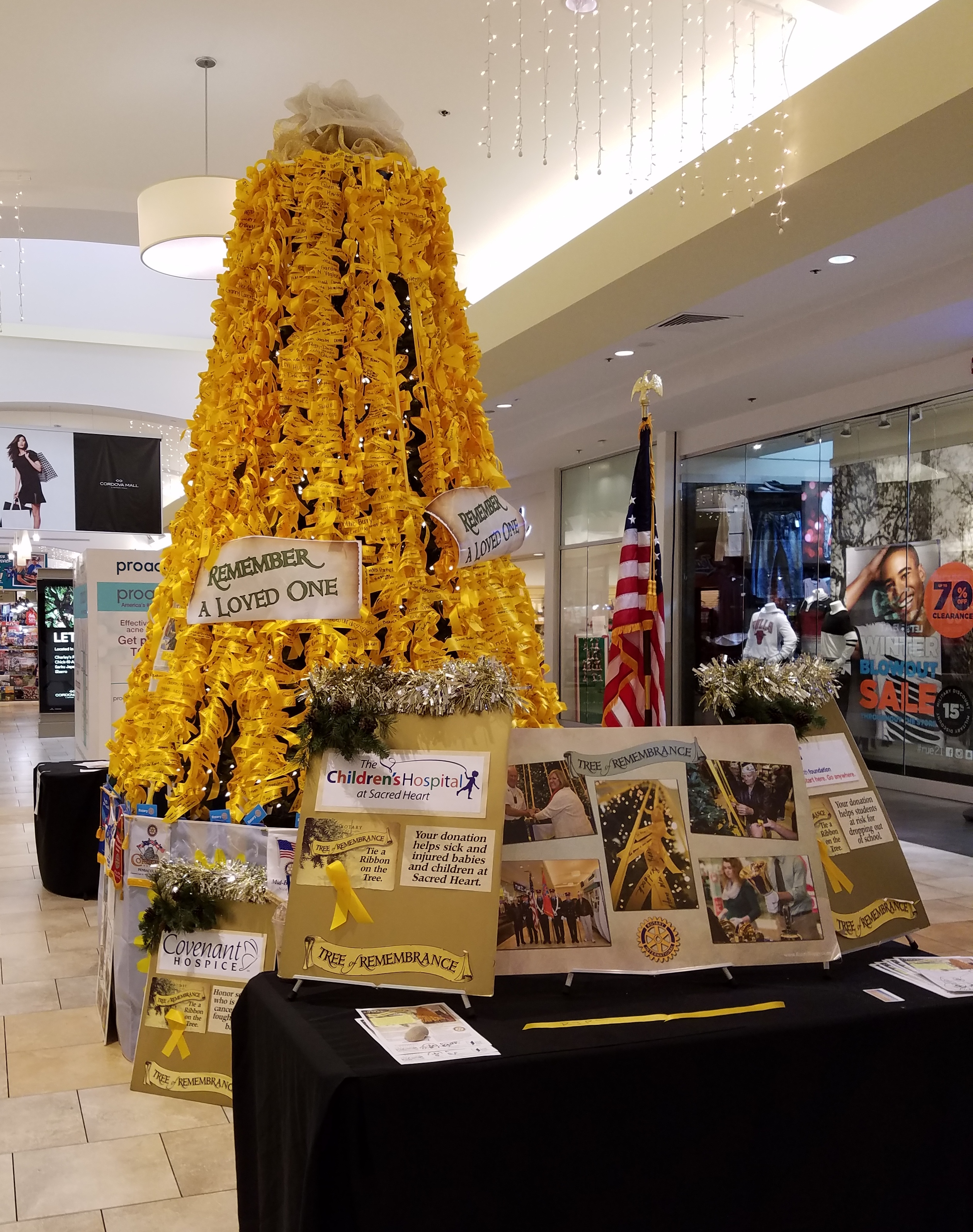 As the holiday shopping season kicks in, visitors to Pensacola's Cordova Mall will find the 5th Annual Rotary Tree of Remembrance. Benefitting several local charities, this fundraiser kicks off with an opening ceremony on Sunday, Dec. 3, at 3 p.m. in the mall's food court. The Tate High School choir will provide sounds of the season and honored guests will include our local Pearl Harbor Survivors.
This annual project invites the families of our community to place ribbons bearing the names of loved ones and special messages of love and hope on the Tree and to make a donation of their choice, which will support several local charities. Ribbons will be available from Dec. 3 through Dec. 24 at the Tree. Volunteers will be available at all times for assistance. Donations made at the tree will support The Studer Family Children's Hospital at Sacred Heart, Gulf Coast Kids' House, Covenant Hospice, Simon Youth Foundation, Reading is Fundamental and Rotary's Camp Florida.
Checks will be presented to representatives of the benefiting charities on Jan. 11 at 7 a.m. during the Cordova Rotary Club meeting at Gulf Coast Kid's House, 3401 N. 12th Ave. in Pensacola. Later, Boy Scouts of America will retire the ribbons at their annual U.S. Flag Retirement Ceremony at Veterans Memorial Park.
In 2013, over $3,000 was collected when the area's first Rotary Tree of Remembrance made its debut at Cordova Mall. In 2016, over $11,000 was collected with 1800 ribbons decorating the Tree during the holiday season.
This Rotary International community-service project is provided by the Rotary E-Club of South East USA and the Caribbean, Cordova Rotary Club and the combined Rotary Clubs of Pensacola (CROP).
For more information, visit www.facebook.com/RotaryTreeofRemembrancePensacola.