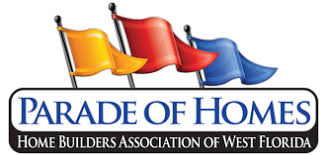 The 61st Annual Parade of Homes™, hosted by the Home Builders Association of West Florida, is an exciting event for thousands of attendees who look forward to touring new homes throughout Escambia and Santa Rosa Counties. The Parade of Homes, open to the public June 8 – 16, boasts 53 homes in all shapes, sizes, colors and prices ranges.
"The people of Northwest Florida look forward to the Parade of Homes every year, said HBA President Alton Lister of Lister Builders, LLC. "It's a positive sign that our economy is strong, and our home building professionals are meeting the demands of consumers who need new homes."
The ever-popular American Dream Home, which is a Pensacola Energy Natural Gas Advantage Elite Home, is in the beautiful community of Carrington, one of the most scenic communities in Northwest Florida.
Dream Home Builder, Thomas Henry of Thomas Home Corporation, is pleased with the overall design and functionality of the floor plan. "This home sets the standard for Carrington," said Henry, who has been building homes in Northwest Florida since 1990. "I believe the Dream Home captures the essence of being with family and friends and living comfortably whether you're entertaining inside or outside. It has been an exciting project and I'm thankful for all the people who played key roles in making this home a reality."
The Dream Home is a spacious, two story, 3,364 square-foot, four bedrooms and 3 1/2 bathrooms including an oversized master bath, and a sizeable multi-purpose great room. The home, designed for family needs and gracious entertaining, features 10-foot ceiling throughout the downstairs and 9-foot ceilings upstairs with a 12-foot architectural ceiling with decorative beams in the great room. Designer and recessed lighting accentuates multiple areas showcasing its beautiful flooring.
During the Parade of Homes, attendees view the latest trends and speak directly to the area's top builders, all during this unique, free event that showcases the best in new home building.
"It is the only event that allows attendees to explore and visualize all of the options in new home construction and speak directly with builder representatives who are on hand to answer questions at each entered home during event hours. It is a great way to find the builder, neighborhood and home that best suits your lifestyle," said Lister.
The Official Parade of Homes Guide can be found at locations across the Pensacola. The Guide contains home descriptions and floor plan information, along with a map to all the home sites. New this year is a Parade of Homes app that can be found at the App Store or Google Play by entering West Florida POH. The app has everything included in the printed tour guide, including floor plans, elevations, and builder information.
Additional builder locations and event details are available online at www.ParadeofHomesPensacola.com.