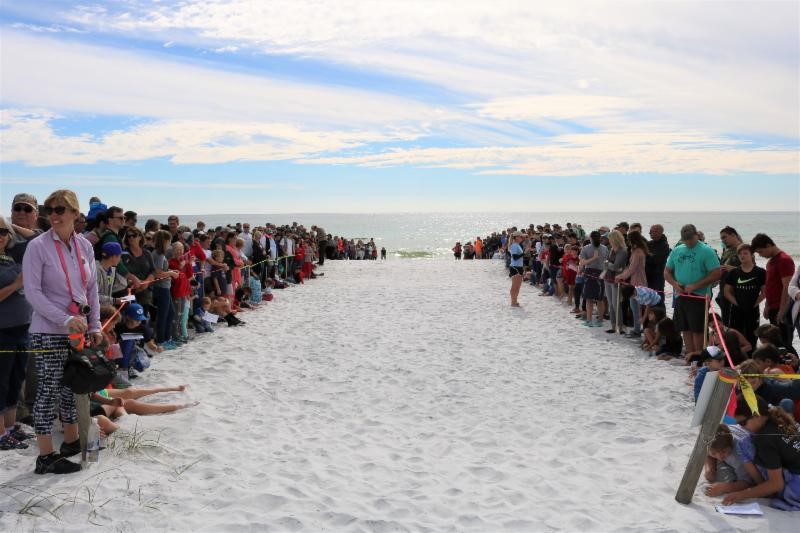 The Gulfarium's C.A.R.E. Center released three rehabilitated sea turtles on Monday afternoon at Topsail Preserve State Park in Santa Rosa Beach, FL, with over 700 people in attendance.
The three turtles included Kudzu, a juvenile Green sea turtle, arrived to the C.A.R.E. Center on August 21, 2017 in need of help. Kudzu weighs just over 31 pounds, and was observed not using its front right flipper at Navarre Beach Artificial Reef. The right front flipper was severely swollen at the joint, and Kudzu had very limited range of motion. The diagnosis was a bone infection in the joint on its right front flipper with an old dislocation of the digit bones in the same flipper. Kudzu received laser therapy treatment for the chronic inflammation at the joint. Antibiotics, fluids, and anti-inflammatory pain medication was administered. The flipper healing was monitored using radiographs. Remnants of a hook were removed from the left corner of Kudzu's jaw as well. The swelling reduced, and range of motion improved. The infection resolved, and accordingly, Kudzu was cleared for release.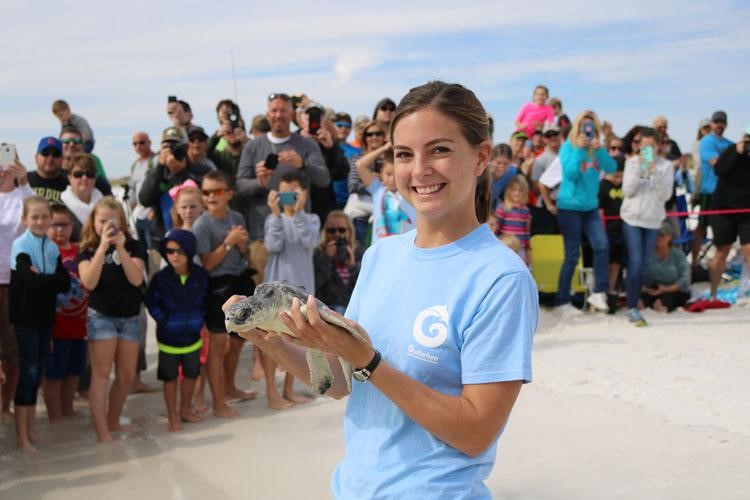 C.A.R.E. Center staff member, Caitlin Marsh, walks Peanut, a juvenile Kemp's ridley, into the water for release after rehabilitation at Gulfarium.
Peanut, a juvenile Kemp's ridley, arrived to the C.A.R.E. Center on November 7, 2017. Peanut was found at St. George Island in Franklin County, and was transported to Gulf World Marine Institute where X-rays showed two large hooks embedded in its esophagus. Peanut was transported to the Gulfarium in the chance that surgery and anesthesia would be needed to remove the hooks. Thankfully, the hooks were successfully removed.
O'Giblet, a juvenile Green sea turtle, arrived to the C.A.R.E. Center on November 16, 2017. This young sea turtle was caught by a fisherman at the Okaloosa Island Fishing Pier. O'Giblet was safely pulled up with the use of a drop net provided by the Responsible Pier Initiative. The C.A.R.E. team examined the young turtle. No issues were found, and O'Giblet was deemed healthy and ready for a speedy release. "This is the perfect example of what to do when a sea turtle is unintentionally hooked at the fishing pier," says Will Merrill, President of the Gulfarium. "We are pleased to know our message and partnership with the Responsible Pier Initiative and the Okaloosa Island Fishing Pier is working."
The Gulfarium CARE Foundation, a 501(c)(3) non-profit, is proud to act as a beacon for coastal conservation through marine animal rescue and rehabilitation. Donations are tax-deductible and can be made online on the C.A.R.E. Center's page. Additionally, the C.A.R.E. Center recently launched a limited edition apparel fundraising campaign as a way to get the community more involved with helping sea turtles. Visit www.bonfire.com/icare before November 29th for more details.