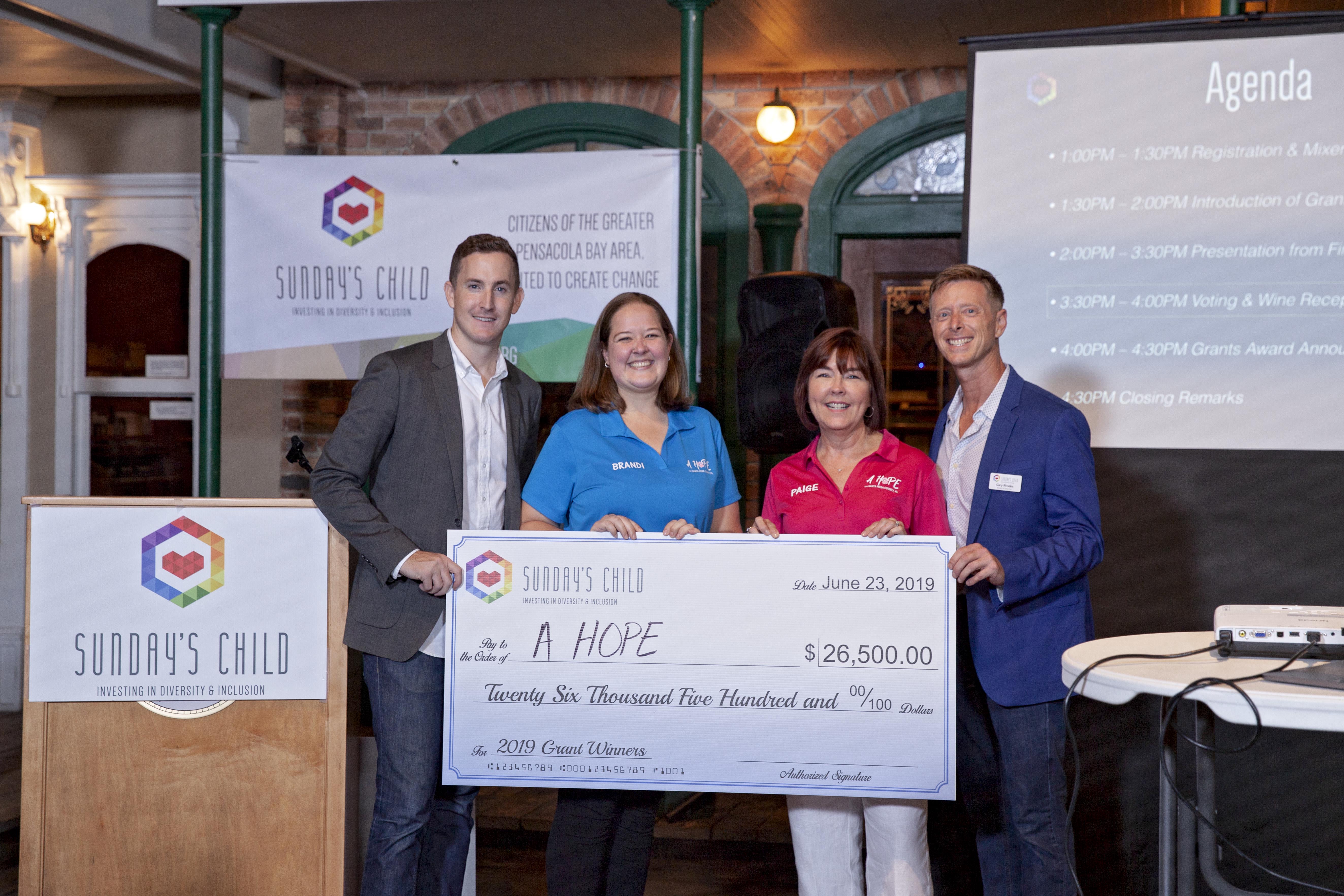 Four charities across the Pensacola Bay Area received grants from Sunday's Child, an LGBTQ-focused philanthropic non-profit, to fund initiatives and projects that promote diversity of the LGBTQ community and inspire inclusion throughout Escambia and Santa Rosa counties.
The awards were announced after a live vote at Sunday's Child's 5th annual membership meeting held Sunday at the Museum of Commerce in downtown Pensacola. Projects and initiatives submitted by the Pensacola Opera, Manna Food Pantries, Golden Elite Track and Field Club, and A HOPE for Santa Rosa County were selected for funding by the 186 members of Sunday's Child.
Each of the four organizations will receive $26,500 to fund their projects:
A HOPE for Santa Rosa County is a not-for-profit with the mission of providing low-cost spay/neuter/vaccines/micro chipping services, rescue support, and community outreach programs, leading to the prevention of unnecessary euthanasia of companion animals in Santa Rosa County, Florida. Their "Fix and Chip" project will provide funding to spay/neuter, vaccinate against rabies, and microchip 300 indoor cats and 100 dogs that are owned by residents of Santa Rosa County.
The Pensacola Opera will present three performances of the one act opera titled "As One," which follows Hannah, a transgender woman, through her discovery of her gender identity and learning how to love herself in a world in which she is not accepted.
Golden Elite Track and Field Club will focus their funding on the purchase of a large passenger van to help transport its athletes to and from practices and competitions, and to carry equipment for outdoor competitions. The club is committed to providing transportation to children of diverse ethnicities with social-economic challenges who are unable to participate in organized sports.
Manna Food Pantries plans to purchase and install new warehouse equipment and signage, providing more efficient, effective and safe operations at their new facility on E Street in Pensacola to help prepare for their November 2019 food drive. The funding will have an operation-wide effect, touching more than 10,000 citizens that rely on their services and more than 5,000 volunteers in just the first year alone.
"We are proud of the work and accomplishments these organizations have already achieved," said Drew Buchanan, outgoing President of Sunday's Child. "We are thrilled to see these grants go towards initiatives and projects that further our mission of equality and inclusion."
Launched in 2014, Sunday's Child is made up of members that donate funds annually. 100 percent of funds donated go towards grant awards, which are determined by the votes of members annually in June. Sunday's Child has awarded more than $436,000 to Pensacola Bay Area charitable organizations since 2015.
To learn more about Sunday's Child, make a donation, or to apply for a grant, visit www.sundayschild.org.