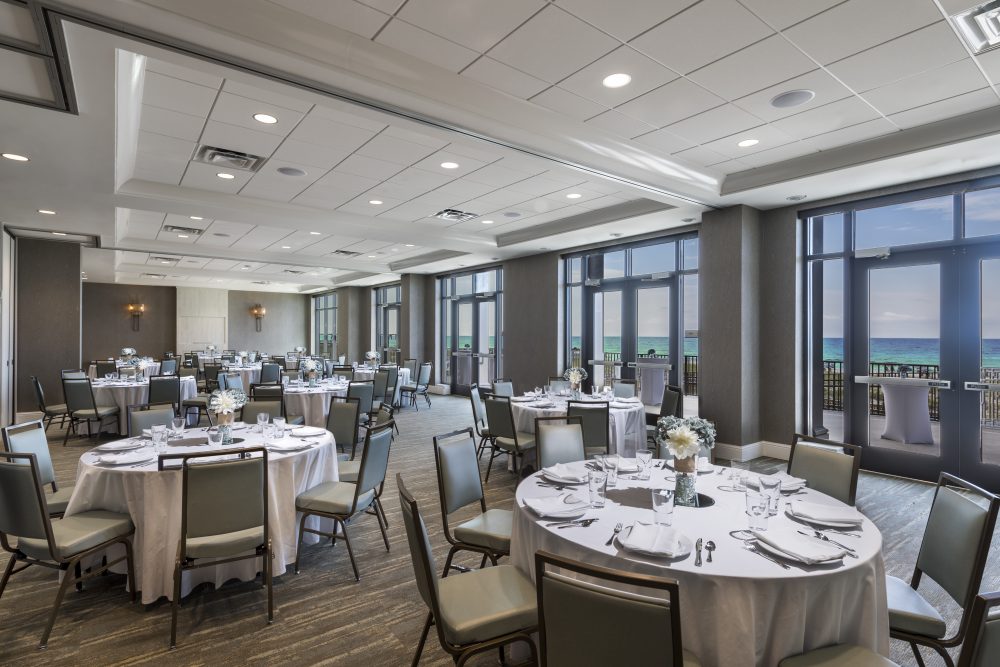 There's nothing more magical than a wedding and being witness to two special people who have fallen in love and chosen to make a new life together. From the couple's first kiss, to the proposal and ultimately the wedding, these are all memories that will be treasured for a lifetime.
Planning the "Big Day" is a monumental decision. What type of ceremony and setting will best fit the personality of the bride and groom and leave a lasting impression on friends and family? There are endless possibilities these days, but one of the most inspirational and breath-taking settings is definitely a beachside event.
There's nothing like saying your "I Do's" on a beautiful day surrounded by crystal white sand, a cool gulf breeze and waves sparkling like diamonds. It's the perfect romantic escape and as far as relaxing goes, Navarre just happens to be the ultimate location. As far as the venue itself, SpringHill Suites by Marriott® is the premier destination wedding location for the Emerald Coast.
"Our guests love our Navarre Beach setting for their special day for so many reasons," SpringHill Suites by Marriott® Director of Sales Gail Smith explained. "Not only are they drawn by the beauty of our area and friendly folks, we also don't deal with traffic or construction issues. As far as the venue itself, we are very flexible and our beaches are public so we can set up right outside of our hotel."
SpringHill Suites by Marriott® has expert staff on hand to help you fine tune all the details.
"Our gorgeous Ocean Ballroom has floor to ceiling windows with views of the Gulf of Mexico," Smith explained. "Our locally-sourced catering options are amazing, and we include discounted group room blocks for our wedding guests. We currently have a list of preferred vendors that we share with our brides and grooms and are in the process of hiring a dedicated wedding planner. We can accommodate both the rehearsal dinner and wedding reception under one roof! We have a wonderful patio area that overlooks the water and direct access to the pristine white sand beaches complete with a striking walkway to the ceremony arbor."
SpringHill Suites by Marriott® can accommodate up to an 80 seating setup with dance floor or 100 guests for a cocktail style set up. The hotel also has 161 sleeping rooms. Each wedding is customized as if it were the only event!
SpringHill Suites by Marriott® is pleased to be the wedding venue destination for both locals and out of town guests. They are on track to do one wedding a week in 2020, so it is recommended that you book at least one year out, especially if you have a specific date in mind. Prices vary depending on the season.
Recent guest Crystal Estep can't say enough about her experience at SpringHill Suites by Marriott®.
"We thoroughly enjoyed working with Gail to plan our wedding. The food was amazing! Everything went off without a hitch! Thank you so much from all of us for going above and beyond. We truly loved spending time at the hotel and we are so grateful for all of your hard work and kindness."
To learn more about planning your ultimate beach wedding experience contact: Gail Smith – Director of Sales at (850) 939-0010. SpringHill Suites by Marriott® Navarre Beach is located at: 8375 Gulf Blvd., Navarre Beach. For more information visit: www.marriott.com/vpssh