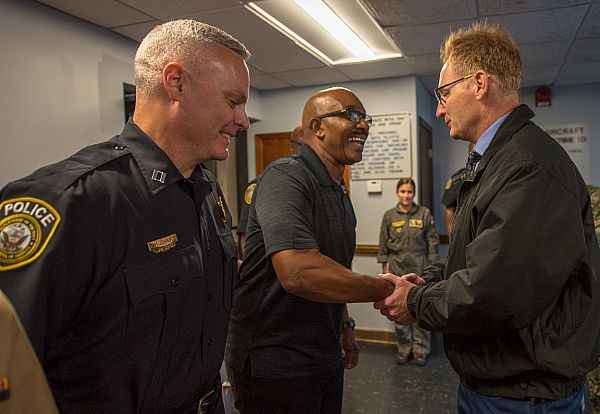 Acting Secretary of the Navy (SECNAV) Thomas B. Modly, right, speaks with first responders to the active shooter incident December 6. U.S. Navy photo.
Acting Secretary of the Navy, Thomas B. Modly, and Master Chief Petty Officer of the Navy Russell Smith visited Naval Air Station Pensacola December 10, following the active shooter incident December 6.
During the visit, Modly and Smith praised first responders from the base and the surrounding community for their response to the situation and the care they're providing for all who are affected by this incident.
"I want to extend a heartfelt thank you to the brave men and women for what we ask you to do every day," said Modly. "Your immense bravery in the line of fire undoubtedly saved the lives of many. Today, as a Navy we grieve for those who were lost and we continue to stand by those who were wounded."Department of the Navy patrol officers and master-at-arms with the Naval Security Force were the first responders on the scene and confronted the shooter. NSF was joined by officers from the Escambia County Sherriff's Office who assisted with the eventual takedown of the shooter. In the end, three Sailors and the shooter were killed and eight individuals were injured.
"Our Security Force responded immediately and their quick reaction prevented the situation from being far worse," said Lt. Steve Pakola, security officer, NAS Pensacola. "We train for these types of situations and their performance was exceptional. They displayed unbelievable bravery when confronted with the shooter, but they performed their job without thought of the risk they faced."
Following a short tour of the base, the pair joined members of the Federal Bureau of Investigation (FBI), Escambia County Sheriff's Office, Naval Criminal Investigative Service, and Naval Air Station Pensacola for a leadership brief. The brief is meant to increase interagency communication, coordination, and support for one another.
For more information, visit www.navy.mil, www.facebook.com/usnavy, or www.twitter.com/usnavy.