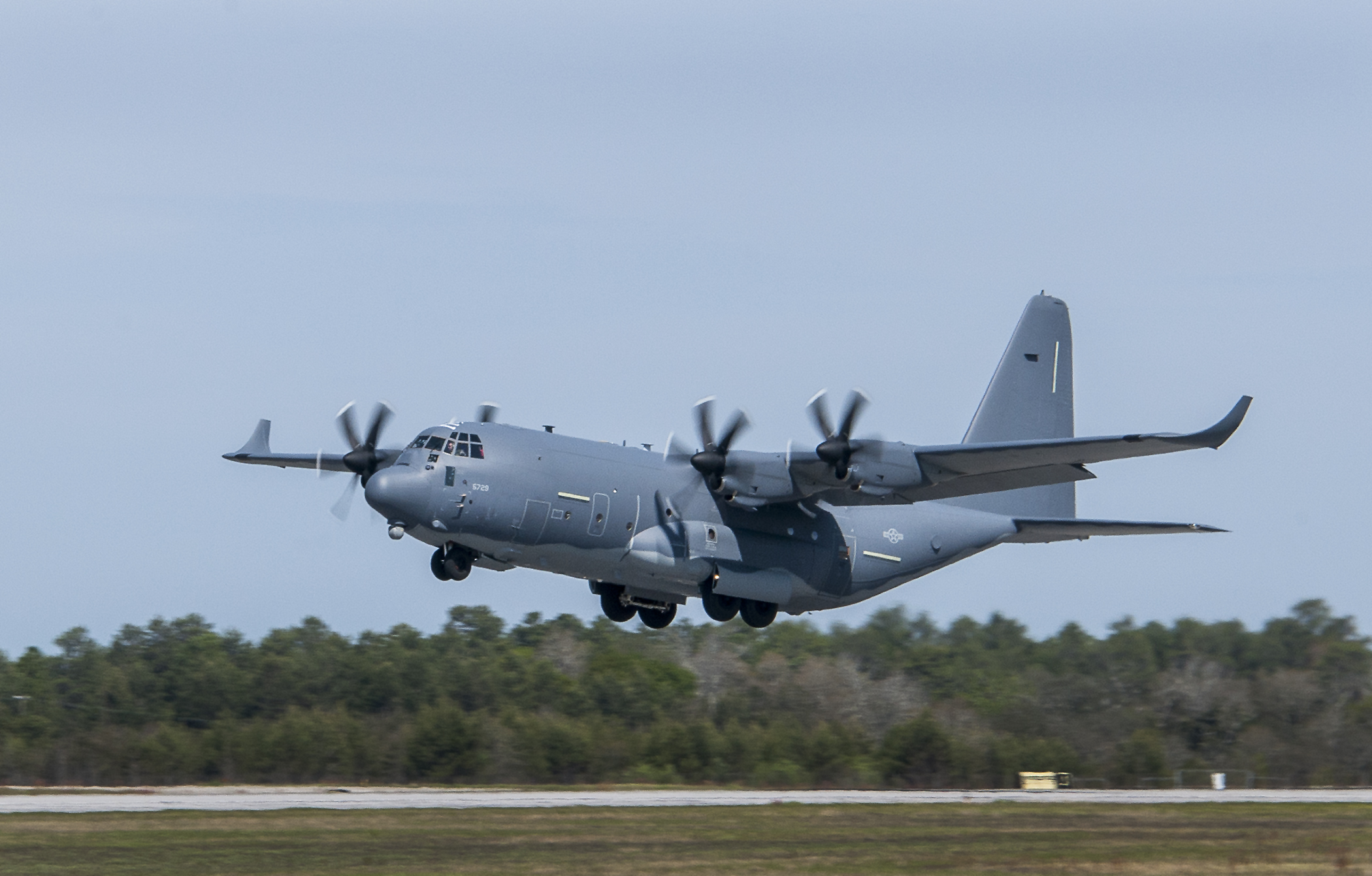 A modified MC-130J lifts off from Eglin Air Force Base, Fla., for a test mission. The 96th Test Wing's C-130 testing unit became a detachment Sept. 10. The new 96th Operations Group Detachment 1 is responsible for all C-130 acquisition developmental testing. (U.S. Air Force photo/Samuel King Jr.)
The 413th Flight Test Squadron's C-130 Combined Test Force became its own entity Sept. 10 when it was officially designated as a detachment, encapsulating more than a decade's worth of specialized developmental tests on the Hercules.
As the Air Force's hub for all C-130 acquisition developmental testing, the newly minted 96th Operations Group Detachment 1 performs testing of everything from small aircraft parts and software to major weapons system acquisitions – nose to tail.
"The C-130 has been in production since 1954 and along with that, modified countless ways since then," said Lt. Col. Brian Taylor, 96th OG Det. 1 commander. "The amount of expertise needed to fly these different variants is vast and we have it – we're the face of C-130 developmental testing."
The unit's specialization of C-130 testing been sought after and growing for some time.
"A year and a half ago, we were maybe running three C-130 flights a week," said Lt. Col. William Booth, the detachment's first commander and unit transition lead. "Just three weeks ago, we flew three flights in one day."
In that day alone, Det. 1 had nearly 35 personnel in the air accomplishing test on three different aircraft. Unlike a traditional flying unit, the make-up of those individuals included aircrew, maintainers, test engineers, and contractors from multiple organizations and installations.
"We're in this utilitarian minivan of an organization, but we're driving it like a sports car – not an easy task," said Booth. "We get [test] done, not to see what we can do, but because there's a need downrange, [and] there's no shortage of testing right now."
Booth served as the newly formed detachment's commander a little more than two weeks before turning the reins over to Taylor Sept. 25. Booth took command in recognition of his two-year journey to make Det. 1 a reality. He retired Sept. 28.
As Taylor takes command of the detachment, there are 21 C-130 programs in consideration for future developmental testing. These programs, anticipated to be in testing until fiscal year 2025 and beyond, will further enhance the capabilities of C-130 airlift and special missions aircraft, according to Col. Devin Traynor, 96th Operations Group commander.
Future testing includes an overhaul of the AC-130J Mission Operator Pallet, two onboard stations outfitted with video screens and controls that allow the crew to target and fire weapons. Another opportunity will be to test new technologies in the development of a high-energy laser to be deployed from the aircraft in flight.
The unit, originally formed in 1996, performed developmental test and evaluation for Air Force Special Operations Command aircraft and the Air Force's rotary wing aircraft. It was designated as the 413th Flight Test Squadron in 2005.
The squadron performed successful modernization and sustainment tests over the next several years before moving to new aircraft acquisition developmental testing. In 2013, the 413th FLTS added mobility C-130 testing to its repertoire. This included testing of the AC-130J Gunship, a modified C-130J with advanced features enabling close air support, air interdiction and armed reconnaissance downrange.
With an increase in J-model tests, the unit was redesignated the AC-J Combined Test Force in 2015. The 413th FLTS partnered with AFSOC, Air Force Material Command and U.S. Special Operations Command to advance AC-130J testing. It grew to incorporate all AC-130 testing. In 2017, AC-J CTF added the MC-130J Terrain Following Program to its mission set, all the while continuing to support AC-130 initiatives.
As the need for C-130 tests grew, 96th Test Wing leadership began trying to construct the division as its own organization. In 2017, the C-130 CTF was established under the 413th FLTS to handle the squadron's entire fixed wing tests.
This year, the CTF's customer base grew so quickly, it was formally redesignated as 96th OG Det. 1 with the goal of becoming a squadron – a designation befitting of its growth, according to detachment leadership.
"Today 70 countries operate more than 70 different [C-130] variants – a testament to the aircraft's flexibility and unique ability to excel at a wide range of mission sets," said Traynor. "With the uncertain global environment we're dealing with, our Air Force is pushing the bounds of that flexibility, which means the work of the men and women of Det. 1 has taken on has even greater significance."