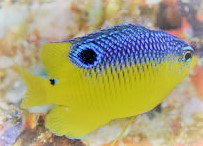 In preparation for the opening of the new Emerald Coast Visitor's Center at the Destin-Fort Walton Beach Airport later this week, Alex Fogg, Okaloosa County's Marine Resource Coordinator made his final dive for native fish to put into the aquarium which will have a place of prominence in the facility.
Fogg says it was important to have native species of fish in the aquarium at the airport which greets more than one million visitors to the Emerald Coast every year.
"The fish species we have here are really surprising," Fogg said "So I want to give visitors an idea of what they would see if they took a diving trip themselves to one of our brand new artificial reefs we are installing around our waters."
The dive netted several native species of fish; including angelfish, damselfish, and invasive lionfish which will cohabitate the 210 gallon aquarium. All told, the aquarium will have a total of 30-40 native species for visitors and locals alike to gaze upon when they enter the gateway to the Emerald Coast.
Until the official ribbon cutting on Thursday at 9 AM, which the media is invited to attend, the marine life acquired during today's exercise will be housed at the Bluewater Zoo in Fort Walton Beach.