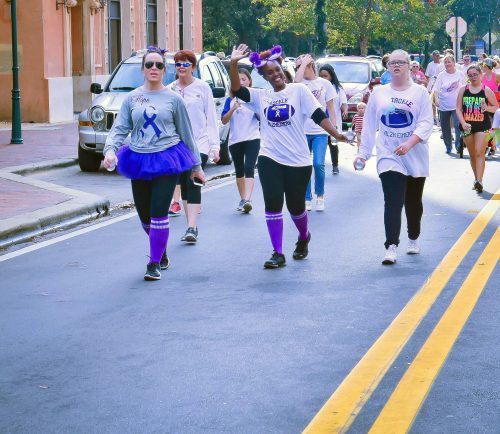 Organizers are gearing up for the 13th Annual Covenant Care Alzheimer's Walk & Block Party, the principal fundraiser for Covenant Care's Memory Care.
This year's free event will take place on September 7, starting and ending at Seville Square in Downtown Pensacola.
The three-mile, pet friendly walk will be followed by a four-hour block party in Seville Square with food, drinks, children's activities and music.
Those who register and donate at least $20 to Alzheimer's receive a free T-shirt, and the first 100 dog walkers get a free bandana for furry friends.
According to Covenant Care Marketing Director Jeff Rogers, 85 percent of Covenant Care's Alzheimer's and dementia programs are free — thanks to the generosity of the community. These programs include Caregiver support groups, Respite care and Project Lifesaver.
Rogers says the event is a fun way to raise awareness. "Alzheimer's disease is the sixth leading cause of death in the United States and affects one in nine people over 65.
Same-day registration starts at 10 a.m. To register early visit: Alzheimer's Walk online registration.