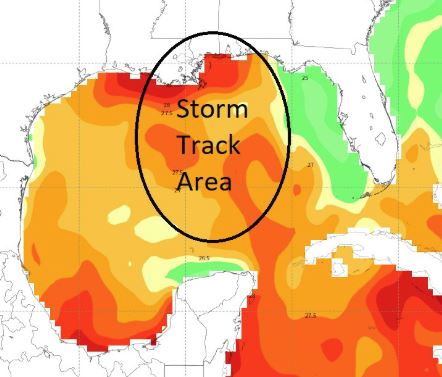 Graphic by weathermodels.com
The National Hurricane Center's latest update on Invest 90-L still shows a 90 percent chance of development over the next five days, prompting flash flood warning for the Gulf Coast.
The 6:25 p.m. CST NHC update states that early next week the northern Gulf Coast faces locally heavy rainfall from the disturbance.
The National Weather Service is currently predicting 6-12 inches of rain with possible localized amounts of 12-15 inches.
"Tropical disturbance heading over anomalously warm water of the central and northern Gulf often location of the Loop Current. It has been really hot in Louisiana, and the ridge of high pressure has allowed the ocean to warm quickly. Now (82.4° + F) along coast," said Meteorologist Dr. Ryan Maue, chief operating officer of weather.us.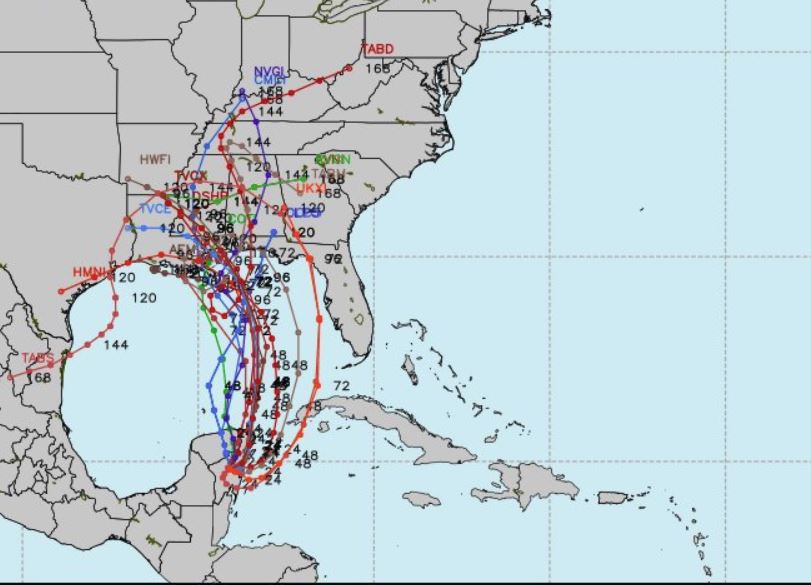 Tropical model output for 90L
"Heaviest rain will be along and east of the circulation center," stated Meterologist James Spann.
Following is the 6:14 p.m. advisory from Santa Rosa County Emergency Management:
Due to a developing area of low pressure over the central Gulf of Mexico, heavy rains and widespread flooding can be expected Saturday continuing into early next week. Damaging straight-line winds and isolated tornadoes will also be possible with the stronger thunderstorms.
Hurricane season starts June 1.
This event is a good opportunity for you to find your flood zone (
www.santarosa.fl.gov/knowyourzone
), review your disaster plan, check your supplies (
the first 72 are on you!
), and to make sure you have a safe place to go in the event of a tornado warning.
Current Situation
The Santa Rosa County Emergency Management staff are currently monitoring the situation along with the National Weather Service in Mobile, Alabama.
Scattered to numerous thunderstorms can be expected today and tonight.
Gusty winds, frequent cloud-to-ground lightning and periods of very heavy rain can be expected with the stronger thunderstorms through early tonight.
Some minor flooding, mostly local, will be possible with some of the stronger storms through early tonight.
Wind and waves will be higher in scattered to numerous showers and thunderstorms today and tonight.
On the coast, frequent lightning and isolated waterspouts will also be possible.
Current Weather Watches and Advisories
A high surf advisory is in effect from Saturday afternoon to Tuesday night.
A coastal flood watch is in effect from Saturday afternoon to Tuesday night.
A flash flood watch is in effect from Saturday evening through Tuesday evening.
Rip Currents
A moderate risk for rip currents will continue through tonight. A high risk of rip currents begins Friday and lasts through the start of next week. Rip currents are our number one danger. Follow the beach flag warning system and obey lifeguard direction. High surf with waves of five feet and higher can be expected.
Graduation Ceremonies
Based on the current situation, the Santa Rosa School Board graduation ceremonies for Gulf Breeze, Pace and Navarre high schools are still scheduled on May 26 as planned. Any updates will be sent from the school board directly to families of graduates.
Memorial Day Ceremonies
The Veterans Memorial Plaza's annual Memorial Day ceremony has been cancelled due to weather.
In the south end of the county, a decision has not yet been made for the Memorial Day ceremony in Navarre Park. Cancellation of this event will be determined at a later date. For more information, contact Joseph Louder, josephlouder@gmail.com.
Sand Bags
Those living in low-lying and flood-prone areas should pay special attention and make preparations now. The county's public works department has sand available on a first-come, first-serve basis at the following locations:
Leisure Street in Holley by the Sea
Tiger Point Park in Gulf Breeze
Pace Fire-Rescue in Pace
The corner of Pine Forest Road and Carroll Road in Milton
Bring your own sandbags and shovel. Bags can be purchased for less than 50 cents each at local hardware stores, including Hall's Hardware in Milton and Lowe's in Pace/Pea Ridge. For more information on how to make and use sandbags, visit the Federal Alliance for Safe Homes (
www.flash.org
).
Roads and Bridges
Bridges are closed only when sustained winds of 39mph or greater are detected onsite. No roads or bridges are closed in advance. Santa Rosa County road closures are posted at
www.santarosa.fl.gov
. State and interstate road and bridge closures (highways 87, 89, 90, 98, I-10, and Garcon Point Bridge) are posted at
www.fl511.com
.