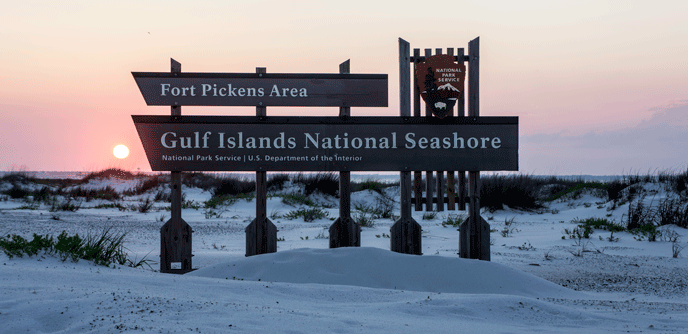 Gulf Islands National Seashore officials announce changes to entrance and Fort Pickens Campground fees will begin January 1, 2018.
Private Vehicle $20
Individual (on foot, bicycle, or in large non-commercial vehicle) $10
Motorcycle $15
Annual Pass $40
Fort Pickens Campground Loops A, C, & E (power & water) $40; Loops B & D (tent only) $26
The National Park Service established a new nationwide entrance fee rate structure in 2014, with a goal for all parks to implement the new rates by 2017. The standardized rate structure grouped similar parks into one of four different tiers. Gulf Islands National Seashore was placed with other national seashores in Group 2, with a seven day pass of $20 and an annual pass of $40. Gulf Islands began phasing in this new rate in 2015 by implementing Group 1 rates. National seashore fees will not be affected by the proposed "peak season" fee increase at 17 national parks.
Entrance passes are valid for seven days and provide access to all areas within the National Seashore including Fort Pickens, Johnson Beach, Opal Beach, Fort Barrancas, and Okaloosa. Entrance fees are not charged to persons under 16 years of age or to holders of the Senior Pass (age 62 or older), Active Duty Military Pass (free annually), Access Pass (permanently disabled), and America the Beautiful – National Parks and Federal Recreational Lands Pass.
The seashore will also establish a tent-only section in the Fort Pickens Campground. Nightly fees for this section will remain at the current rate of $26 per night. RV campsites with hookups at the Fort Pickens Campground will increase to $40 per night. Senior and Access Pass holders receive a 50% discount on camping fees. The proposed new rate would make the camping fees more comparable with those of other RV camping facilities in the area to avoid unfair competition, and to offset increased utility costs for hookups.
These increases were proposed by the national seashore in June 2017 and submitted for public comment. Based on the mostly positive public response the proposal was approved by the agency. "We are committed to keeping the park affordable," says Superintendent Dan Brown, "but also want to provide visitors with the best possible experience." Most of the money from entrance and camping fees is retained by the national seashore and used to help repair, improve, or replace visitor facilities.
Recent projects have included installing new restrooms with hot water showers in all loops of the Fort Pickens Campground, and the restoration of the historic mine storeroom building. Planned projects include construction of new handicap accessible campsites at the campground, a new free shuttle service within the Fort Pickens Area, the repair and opening of the historic Battery 234 Observation Tower, and replacing the picnic pavilion and restrooms at Battery Worth.