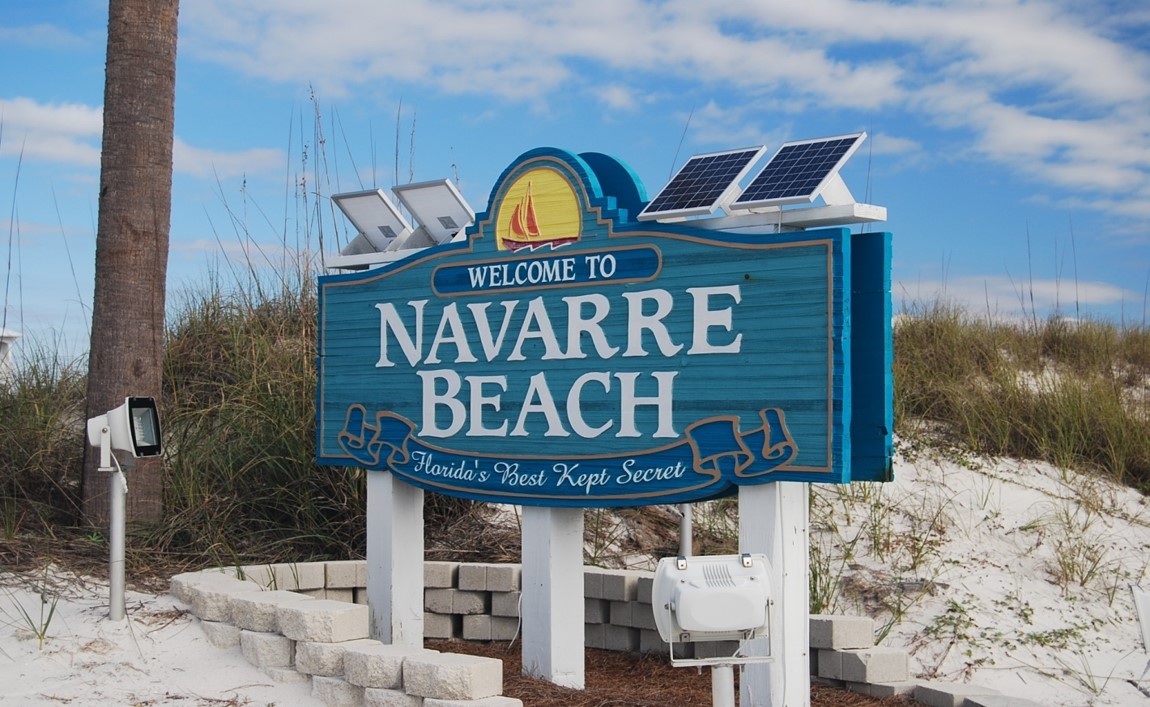 Photo caption: The committee erected a solar-powered welcome sign at the west entrance to Navarre Beach on Gulf Boulevard.
Members of the Navarre Beach Beautification Committee made a presentation to Santa Rosa County Commissioners at Monday's board meeting. And they're ready to toss in the towel.
John Lewis, chairman of the committee, outlined more than a decade worth of projects the group has completed to improve the beach, including planting more than 200 palm trees. Lewis told commissioners volunteers water plants in areas where no irrigation is provided.
The group has also provided trash cans along the Gulf Boulevard multiuse path, providing 60,000 bags annually for dog owners to clean up after their pets.
Additionally, volunteers also decorate the beach welcome sign on U.S. 98 for holidays, including Christmas and Fourth of July. The sign itself was the first project the committee completed.
Part of the presentation included information about possible future committee projects, including better lighting at crosswalks and in dark areas.
But those projects are in jeopardy.
Committee members have expressed frustration that Santa Rosa County has posted more than 400 signs on the four-mile beach, pushing for consolidated signage to reduce the amount of "sign pollution."
Larry Sims, a member of the committee, said he's asked code enforcement to help address a damaged home in a high-profile location. "That's the first thing they see coming out of Pensacola Beach and the last thing they see when they leave," Sims said.
Lewis said the committee is ready to turn all the efforts over to the county because of the ongoing issues, including a lack of irrigation along Gulf Boulevard.
Over the years volunteers have raised $157,000 for projects, and the county has chipped in roughly $250,000.
District 4 Commissioner Rob Williamson said he called a meeting with the group last week to discuss the group's efforts. "I hope that you'll reconsider your decision to ride off into the sunset," he told committee members at the Feb. 22 meeting.
"Navarre Beach is better because of your efforts, and Santa Rosa County is better because of your efforts," Williamson said.
Tony Gomillion, county administrator, said he'd like for the board to consider taking over a maintenance agreement the committee presently manages through a vendor.
"I respectfully disagree with our county administrator on this issue," Williamson said, stating the agreement for current services should be brought under and administered through Santa Rosa County.
Williamson said he would like to see a "proper" procurement process and thoroughly vet the matter, suspending current and future beautification efforts until then.
According to committee members, Williamson and volunteers had a lengthy meeting last week and the commissioner expressed concerns such as volunteers performing services which should be done by county staff, landscaping being installed on county property without prior approval and contracts being paid for by county tax dollars but administered through individuals instead of the county.
Commissioners decided to table the issue for further discussion at their March 7 meeting.
"We  just can't imagine what it's going to be like if they're not there," Gary Buroker, president of the Navarre Beach Leaseholders and Residents Association said, pointing out some of the volunteer efforts would be replaced by taxpayer funding.