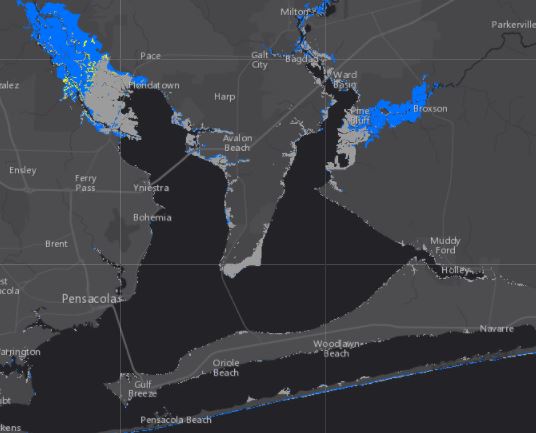 Forecasted storm surge map for Hurricane Nate
Hurricane Nate is slowing down its forward speed but maintaining 90 mph sustained winds, per the National Hurricane Center's 4 p.m., CDT advisory. The storm has slowed its NNW course from 26 to 23 mph.
A turn toward the north and a slight decrease in forward speed are expected during the
next several hours, followed by a turn toward the north-northeast
later tonight. A motion toward the northeast is expected on
Sunday. On the forecast track, the center of Nate will pass near or
over the mouth of the Mississippi River during the next few hours,
then make landfall along the coasts of southeastern Louisiana or
Mississippi tonight. After landfall, the center of Nate is expected
to pass over portions of Mississippi, Alabama, and Tennessee late
tonight through Sunday night.
Maximum sustained winds are near 90 mph (150 km/h) with higher
gusts. Some strengthening is possible before landfall, and Nate
could still become a category 2 hurricane on the Saffir-Simpson
Hurricane Wind Scale this evening. Rapid weakening is expected
after landfall.
Hurricane-force winds extend outward up to 40 miles (65 km) from the
center, and tropical-storm-force winds extend outward up to 125
miles (205 km) mainly to the east of the center. The NOAA automated
station at Southwest Pass, Louisiana, recent reported sustained
winds of 48 mph (78 km/h) and a wind gust of 60 mph (96 km/h) at an
elevation of 125 feet.
The estimated minimum central pressure is 981 mb (28.97 inches).
HAZARDS AFFECTING LAND
———————-
WIND: Along the northern Gulf Coast, hurricane conditions are
expected in the hurricane warning area in the next few hours, with
tropical storm conditions currently spreading onshore. Tropical
storm conditions are expected in the tropical storm warning area
tonight and Sunday morning. Hurricane conditions are possible in
the hurricane watch area tonight.
STORM SURGE: The combination of a dangerous storm surge and the tide
will cause normally dry areas near the coast to be flooded by rising
waters moving inland from the shoreline. The water is expected to
reach the following heights above ground if the peak surge occurs at
the time of high tide…
Mouth of the Mississippi River to the Mississippi/Alabama border…7
to 11 ft
Mississippi/Alabama border to the Alabama/Florida border, including
Mobile Bay…6 to 9 ft
Alabama/Florida border to the Okaloosa/Walton County Line…4 to 6
ft
Grand Isle, Louisiana to the mouth of the Mississippi River…2 to
4 ft
Okaloosa/Walton County Line to Indian Pass, Florida…2 to 3 ft
Indian Pass to Crystal River, Florida…1 to 3 ft
Morgan City, Louisiana to Grand Isle…1 to 2 ft
The deepest water will occur along the immediate coast near and to
the east of the landfall location, where the surge will be
accompanied by large and destructive waves. Surge-related
flooding depends on the relative timing of the surge and the tidal
cycle, and can vary greatly over short distances. For information
specific to your area, please see products issued by your local
National Weather Service forecast office.
LOCAL IMPACTS
Winds will increase today as feeder bands approach, bringing heavy rain of 3-6 inches with a maximum of 10 inches in some areas. A tropical storm warning and hurricane watch remains in effect for Santa Rosa County. A flash flood watch is also in effect.
Additionally, a storm surge warning is in place. "The combination of a dangerous storm surge and the tide will cause normally dry areas near the coast to be flooded by rising waters moving inland from the shoreline," stated the National Weather Service.
NWS also warns of the high risk of "dangerous" rip currents through Sunday night — surf heights will increase to 6-10 feet. "Rip currents are life-threatening to anyone entering the Gulf,' stated NWS.
LOCAL ACTIONS
Gulf Power advises customers to "prepare to be without power for extended periods of time" if tropical storm or hurricane-force winds and storm surge occur as predicted. "Gulf Power knows when your power is out. However, you can call 1-800-487-6937 if you have any questions," stated the utility in a press release.
Santa Rosa County Schools Superintendent Tim Wyrosdick cancelled school activities for Saturday evening and will announce by 6 p.m. this evening whether or not public schools will be in session on Monday.
Santa Rosa County Sheriff's Office is expected to close Navarre Beach Bridge when sustained winds reach 39 mph.
Due to a predicted storm surge of 4-6 feet, Santa Rosa County Emergency Management is recommending evacuation by 3 p.m. today for those within Evacuation Zone A (Navarre Beach and low-lying areas along bays and rivers). It may be unsafe to leave after that time. To check your location visit www.santarosa.fl.gov/knowyourzone. Pensacola Beach is under evacuation orders.
Additionally, both Pensacola and Navarre Beaches were closed to the public this morning. Navarre Beach Fire Rescue Chief Mike Howard asks citizens to respect the flag warning system because the fire department will not enter the water for rescues when double red flags are flying.
A pet-friendly emergency shelter will open at 8 a.m. today at the Milton Community Center, located at 5629 Byrom Street in Milton. Photo identification and personal/pet/medical supplies should be brought. Those with special needs must pre-register by calling (850) 983-5360. Transportation assistance to the emergency shelter is available by calling (850) 983-4636.
Here are some quick pre-storm tips from Gulf Power:
Turn your air conditioning down to cool down your house. If you keep the doors and windows closed after the storm you can keep your house relatively cool for about 48 hours after the storm.
Charge up your cell phone before the storm — and anything else that needs to be charged up.
Keep freezer doors closed and sealed. Well-filled freezers keep most foods frozen two to three days if the door is kept closed. Turn your refrigerator and freezer to the coldest settings and pack your freezer with as many food items as possible.
Be prepared to disconnect or shut off any appliances that will turn on automatically when power is restored, including electric space heaters and stoves, washers, dryers, TV's, microwave ovens, computers, refrigerators and freezers. If not, when power is restored, several appliances may come back on at the same time and overload your circuits, or hot appliances may come on while you're away or asleep, posing a fire hazard.
Unplug electronics in your home and place them on sturdy surfaces or relocate them to the highest floor.
When traveling before or after a storm, be aware of electrical crews working and the potential for down power lines or power poles.
If someone in your home is dependent on electric-powered, life-sustaining medical equipment, review your family emergency plan for backup power or make arrangements to relocate when a storm warning is issued.
If you plan to use a ladder while preparing your home for a storm, note the locations of power lines before you begin. Be sure that ladders or scaffold are far enough away so that you – and the ends of the tools you're using – stay at least 10 feet away from the power lines. Before lowering a TV antenna or satellite dish, make sure to turn off and unplug the TV.
Most counties will suspend trash and debris pickup before a storm. Please do not trim trees now, as high winds can turn cut branches into dangerous, flying debris. However, if you already have trimmed trees, please help to prevent outages by tying down or securing loose branches and other debris.
See more preparation and safety tips here.