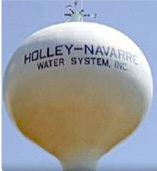 Holley-Navarre Water System Attorney Keith Kilpatrick yesterday shot down allegations by five Navarre residents who accused two candidates for the utility's board of directors of election fraud and called for their disqualification.
Carmen Reynolds, former editor of Navarre Press, and four other Navarre residents submitted a December 21 letter to the HNWS board of directors, making the accusations.
"We are writing to inform you of what appears to be evidence of election fraud by candidates Doug Larson and Jennifer Jones," stated the letter, which was also signed by David Barker, Anna Hackney, Linda Young and Debbie Gunnoe, who was removed last year as a HNWS director, following actions taken by her and others which resulted in a costly legal settlement for the utility.
The group's letter claimed their "investigation" revealed current HNWS board member Doug Larson, who is seeking re-election, had transferred his membership in the utility to his live-in girlfriend, Jennifer Jones, who is also running for the HNWS board.
Their letter quoted Article VI, section 3 of HNWS bylaws which states: "All transfers of membership certificates shall be made upon the books of the corporation upon surrender of the certificates covering the same by the holders there of or by their legal representatives but only with the approval of the Board of Directors and only to persons eligible to become members and only when the transferring member is free from indebtedness to the corporation."
Kilpatrick, in his January 2 response, stated that Larson was free from indebtedness at the time he transferred his (membership) certificate to Jones and that she was eligible to become a member.
"I have concluded that Director Larson and Ms. Jones have not committed fraud and have not misrepresented any material fact to Holley-Navarre Water System. Moreover, I have concluded that both Director Larson and Ms. Jones are eligible to run for the Board of Directors of Holley-Navarre Water System," stated Kilpatrick.
The group also made an allegation of homestead exemption fraud against the couple.
"I have declined to address Director Larson's homestead exemption as this is irrelevant to the issue at hand. Our bylaws do not require a member to have their property homesteaded to receive benefits," Kilpatrick stated.