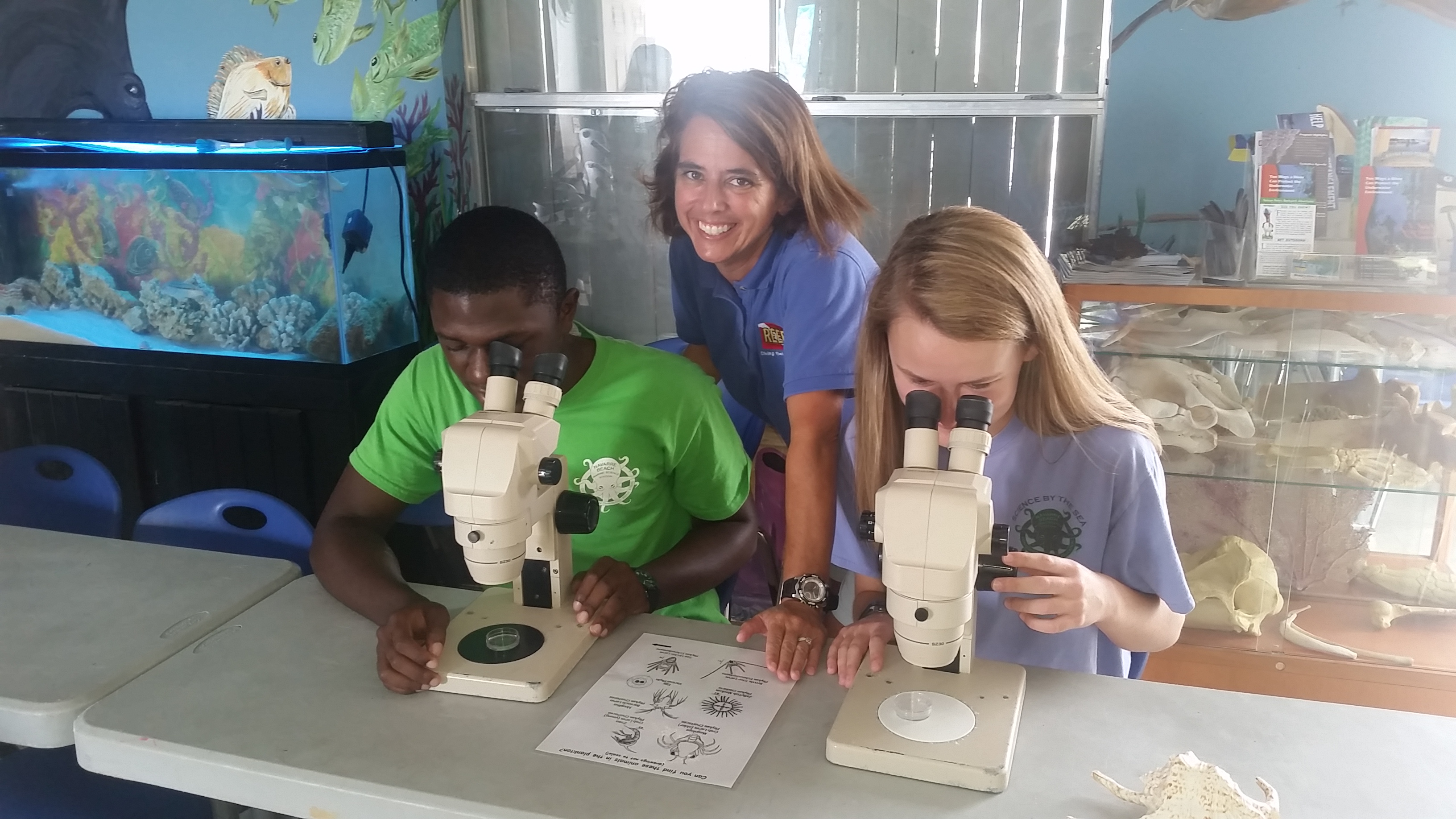 A 17-year veteran Raider educator is taking her love for marine science education and animal care to the next level after she was selected to play host to a special assignment slot with the Santa Rosa County School District as a Science Specialist.
Charlene Mauro, who has had over 24 years of experience in marine science education, started her new role this school year as a Teacher on Special Assignment where she assists district school teachers by integrating and developing science activities into their curriculum.
"I spend time traveling to various schools within the district to see teachers needs and then developing professional development sessions for the teachers," Mauro said. "Most of my ideas and connections are from being involved in several organizations and attending conferences and workshops."
In addition to teaching four periods a day of Dual Enrollment OCB2000 Marine Biology (through Pensacola State College) at the Navarre Beach Marine Science Station, Mauro runs (and founded) the NBMSS and serves as the Executive Director of the supporting non-profit for the NBMSS, Northwest Florida Marine EDGE.
Mauro's credits her love for marine life back to a time when she was in high school.
"In 10th grade I did a report on what I wanted to do when I grow up and that was be an aquarium curator. The NBMSS may not be an aquarium, but I stayed on that path majoring in Marine Biology," Mauro said. "Like many of my students, I got SCUBA certified in high school and discovered the underwater world. After my first time seeing a manatee, I wanted to work with them."
The educator spent many years working with manatees and rehabilitating dolphins. Her first job after graduating from the University of Central Florida was working at Sea World.
"After my first time seeing a manatee, I wanted to work with them. Most people have the dream of working with dolphins but not me. I love manatees," she said.
At Sea World, Mauro worked in the Animal Care Department. Mauro later returned to the Gulf Coast to teach at NHS.
Years into her teaching career, she was approached by the district about the special assignment, and she gladly accepted it.
"The school district combined the Math and Science coordinator position about 10 years ago. Since then, there has not been a person in that position with a science background," Mauro said.
"Although the current Science/Math coordinator, Jeff Baugus, has a math background, he is a go-getter and thinks outside the box. My role as TSA is to bring (science) to the forefront."
A project Mauro is currently working to initiate within the district is "Science ROCKS!" (Reaching Our Community and Kids through STEAM). The idea aims to inspire children to consider a career in science, technology, engineering or math (STEM). The project will also introduce the A in STEAM to show how art can be a valuable tool in teaching STEM concepts, according to Mauro.
The goal of the project is to engage with children in K-12 through interactive science shows, community centered family STEAM nights, and materials for teachers to implement STEAM concepts in their classrooms.
"I am currently working on an easy read correlation chart/resource guide that gives each grade level specific subject area, standards and learning goals for science and how they are related to other learning goals within a grade levels reading and math blocks," Mauro said. "In other words, a time saver, teacher friendly resource that will help teachers know how/when our science goals can be easily implemented along with the scope and sequence of whole group basal reading lessons."
Even though the job was just created this year, Mauro said she plans to continue being a TSA down the road.
"I will continue to be a TSA. I can honestly say that I look forward to my job every day," she said.
The White House Council on Environmental Quality and the U.S. Environmental Protection Agency selected Charlene as a Presidential Innovation Award for Environmental Educators (PIAEE) winner for 2014. Mauro has also earned the honor of National Marine Educator of the Year, Outstanding Florida High School Science Teacher of the Year, University of Florida Distinguished Educator, Navarre area Citizen of the Year, University of West Florida Outstanding Young Alumnus, and was a finalist for Florida Teacher of the Year.