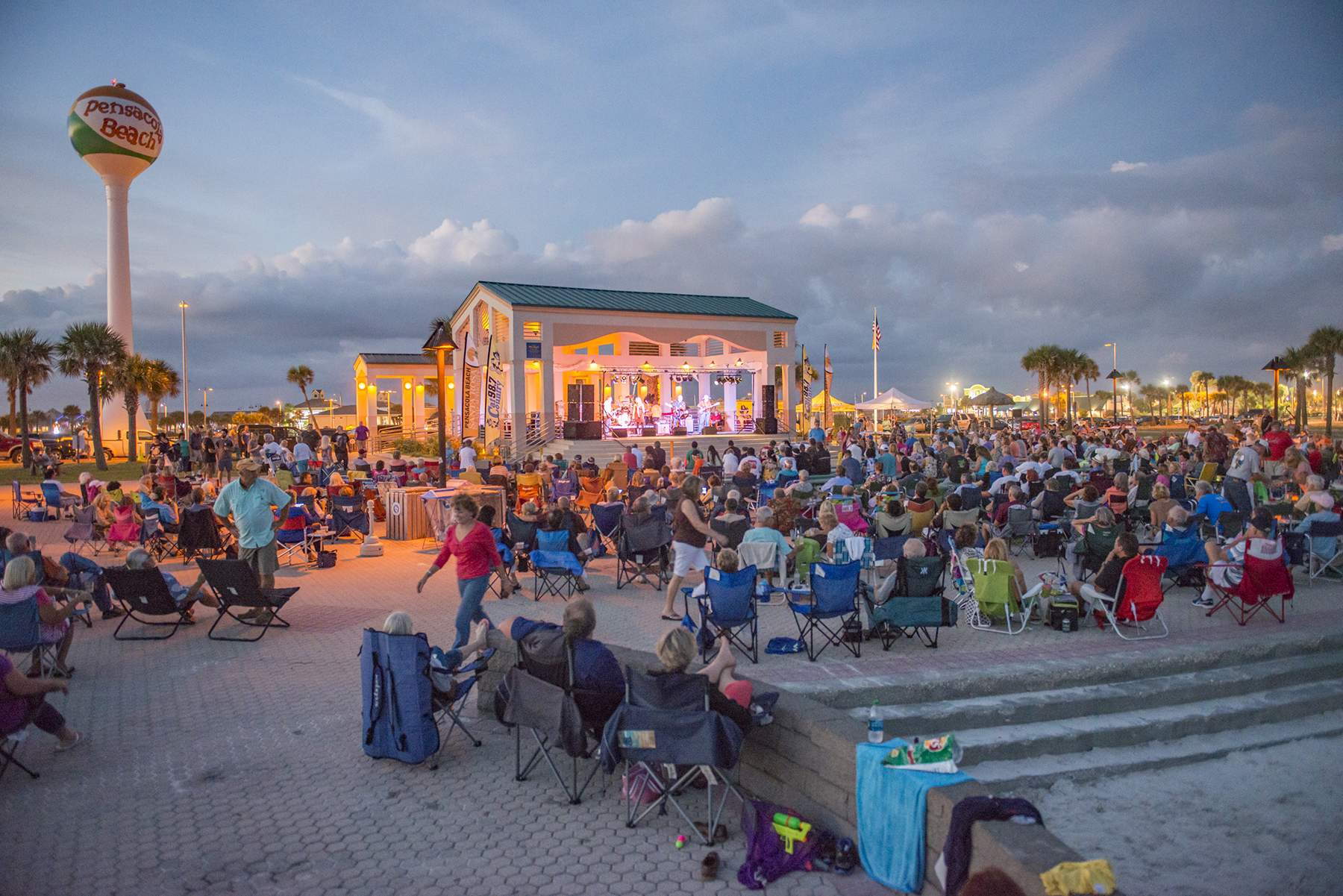 The Pensacola Bay Area is teeming with events, activities and more for residents and visitors alike to enjoy. Here's a roundup of everything happening in April.
Bands on the Beach Returns
Everyone's favorite outdoor beach concert series returns Tuesday, April 2. Set on the white sands of Pensacola Beach, Bands on the Beach features local tunes with a gulf front view every Tuesday at 7 p.m.
Blue Angels Practice Returns
There's nothing quite like watching the Blue Angels, even in practice flights. The skill and courage required to perform aerial maneuvers in tight formations at 400 to 700 mph, all while maintaining as little as 18 inches of separation, is awe-inspiring! Most Tuesdays and Wednesday from April through September, the Blue Angels take to the skies over Pensacola and you can see them up close and personal. The flight line aboard NAS Pensacola is open to the public for viewing and some days they even have autograph signings in the National Naval Aviation Museum afterwards.
BarleyBrine – April 4-6
BarleyBrine is a celebration of all things stout and briny – of strong backs, stiff drinks and salty lounges. Above all, it's a celebration of panhandle people, our way of like and this beautiful place we call home. BarleyBrine will feature a variety of oyster and craft beer tastings and special events, spread over three days in downtown Pensacola.
Pensacola Food Truck Festival – April 5-6
Pensacola Habitat for Humanity welcomes families, foodies, and Pensacola Habitat supporters to its annual Food Truck Festival in celebration of the community we serve. The event will start on Friday evening, an "appetizer" to the main event, and feature several food trucks and a band. Saturday will be a foodies' paradise as you wind your way around dozens of food trucks and listen to live music.
Pensacola Jazz Festival – April 6-7
Sprawling live oaks and downtown Pensacola are the backdrop for another year of Pensacola JazzFest. Pensacola JazzFest is a family-oriented festival that celebrates all types of music that includes a variety of national, local and regional jazz artists. Bring a cooler and a lawn chair and prepare to get down for a good time.
Sports Bounty Offer Play for All
April is officially the month to play all day in Pensacola. The Pensacola Blue Wahoos, the AA affiliate of the Minnesota Twins, will open the season at home on Wednesday, April 10. For the runners in the group, the Mullet Man Triathlon will take place on Saturday April 13, and the Pensacola Triathlon on Sunday, April 28. For anyone looking to lift heaving things, the Pensacola Beach Firefighter Challenge will take place on Saturday, April 13 and the inaugural DeLuna's Beach games will take place on Saturday, April 27.
Throw a Good Time at Flora-Bama Interstate Mullet Toss – April 26-28
Perhaps the most unique Pensacola event of the year happens at the end of April, when we gather on the beautiful shores of Perdido Key to throw dead fish at our neighbors in Alabama.
The Flora-Bama Interstate Mullet Toss is really an excuse for a truly epic beach party on the sugar-white sands of Perdido Key, directly behind the iconic Flora-Bama Lounge, a legendary roadhouse immortalized in song by Kenny Chesney, who memorably played his only 2014 concert on those same shores. Come have an icy bushwacker and enjoy the party all weekend long!
Dig Into Mudbugs at the Pensacola Crawfish Festival
Prepare for messy fingers and burning lips as you peel your way through boxes of boiled crawfish at the Fiesta of Five Flags Crawfish Festival. Set to take place at Community Maritime Park this year, The open-air, waterfront event also serves up other traditional fares and features live entertainment and a kid-zone that the whole family can enjoy.
Meet the Artist with Lyn Gentry
Tuesday, April 2, 2019, Perdido Key Visitor Information Center
Every first Tuesday of the month, artist Lyn Gentry showcases her work at the Perdido Key Visitor Information Center. Lyn studied with the renowned glass artist and designer, Narcissus Quagliata, whose works are in the permanent collections of the Metropolitan Museum, Corning Museum of Glass, and Renwick Gallery, with installations at the Charles Schwab Building in San Francisco and the Franz Mayer Museum in Mexico City, to name a few. It was Quagliata who developed the concept of using glass as a method to manipulate light to enrich a living environment and to use glass rather than canvas to express the nature of light within a design.