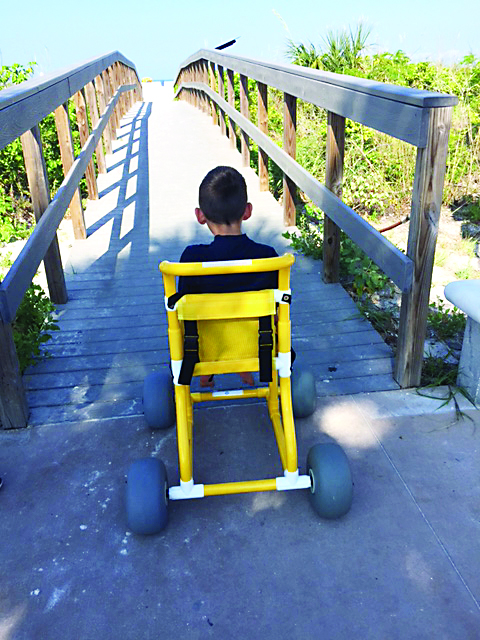 For the past year, anytime Kaden Grizzard wanted to go out to the beach, his mother, Leah Cortello, took him to Navarre Pier where he was able to glance down onto the white sands below him to see children building sand castles and couples watching the sunset.
The only time his mother was actually able to take her 6-year-old out onto the white sands of Navarre Beach, it was a struggle.
"It was impossible," Leah said. "We walk the (Navarre) Pier quite a bit. But we've only been out on the beach once."
That's because Kaden suffers from Cerebral Palsy and Dandy Walker Syndrome and is wheelchair bound. Since Leah and her three sons moved to Navarre a year ago, the family has not been able to enjoy a day on the beach together. Until Wednesday.
Last week, Leah received a package in the mail from Stepping Stones for Stella, a nonprofit organization that donates beach wheelchairs to children with disabilities.
"We tried to take him to the beach once in his wheelchair and we got all the way down the ramp. But the sand here is too fine, so it's hard to push him in it," Leah said. "But we walk the (Navarre) Pier quite a bit. They don't charge people who are wheelchair bound, and he enjoys that quite a bit."
But what the mother of three really wanted was for her family to enjoy a day out on the sand together.
Almost a year ago, Leah started looking into beach accessible wheelchairs for her son, who attends West Navarre Primary School and is going into to second grade this next school year.
Eventually, she came across a post in a Facebook group she likes that mentioned an organization, Stepping Stones for Stella, that donates those specific type of chairs to children who have disabilities.
So Leah took the time to fill out an application on the Stepping Stones for Stella website, and several months later, she found out she was approved to get the chair for her son at no cost.
"I love the beach. I'm an avid beach goer. But taking him in a wheelchair is impossible. The sand here is different, unlike in Central Florida, where I used to live. There you could ride your bike on it, and it was easy to pull a wagon over it," Leah said. "The sand here is fine. It's beautiful, but it makes it hard to push anything on it."
Ecstatic about her package, Leah posted the good news to the Facebook group Concerned Citizens of Navarre last week . The post garnered a lot of positive attention.
Last weekend, the mother put the chair together for her son and took it out for a test drive Wednesday.
"We had issues going to the beach as a family before because we had a hard time getting him out there and back. So this makes it so much easier and will allow us to spend time together on the beach as a family," Leah said.
The mother is part of a local Facebook group called "Super Moms", which is comprised of local moms who have children with special needs. She shared the information on the beach wheelchair to the group, and it got a lot of attention by the local parents.
"There is a child in Kaden's class at school who is also getting one soon," Leah said. "It's free. You just have to fill out an application to see if you can get approved. And that's the nice thing about it. A lot of the equipment we need for our kids, if we can't cover it with insurance, it's very expensive."
Leah said although the Navarre Beach Marine Science Station has a wheelchair that's beach accessible, it's much too big for her son, who is turning 7 years old next week.
"It is a nice gesture that they have that, but he's too small for it. If we took him out in that one, we'd have to hold him up. So this one fits his needs for now," Leah said.
Once Kaden grows out of the wheelchair, Leah said she plans to give back to the local community.
"I plan to donate this when he outgrows it to some type of organization in this area so other people can use it. I wish our community had something like this. So that's why I want to donate it after he outgrows it," Leah said. "There are so many people that visit the area and it would be nice to have this available to them to use."v