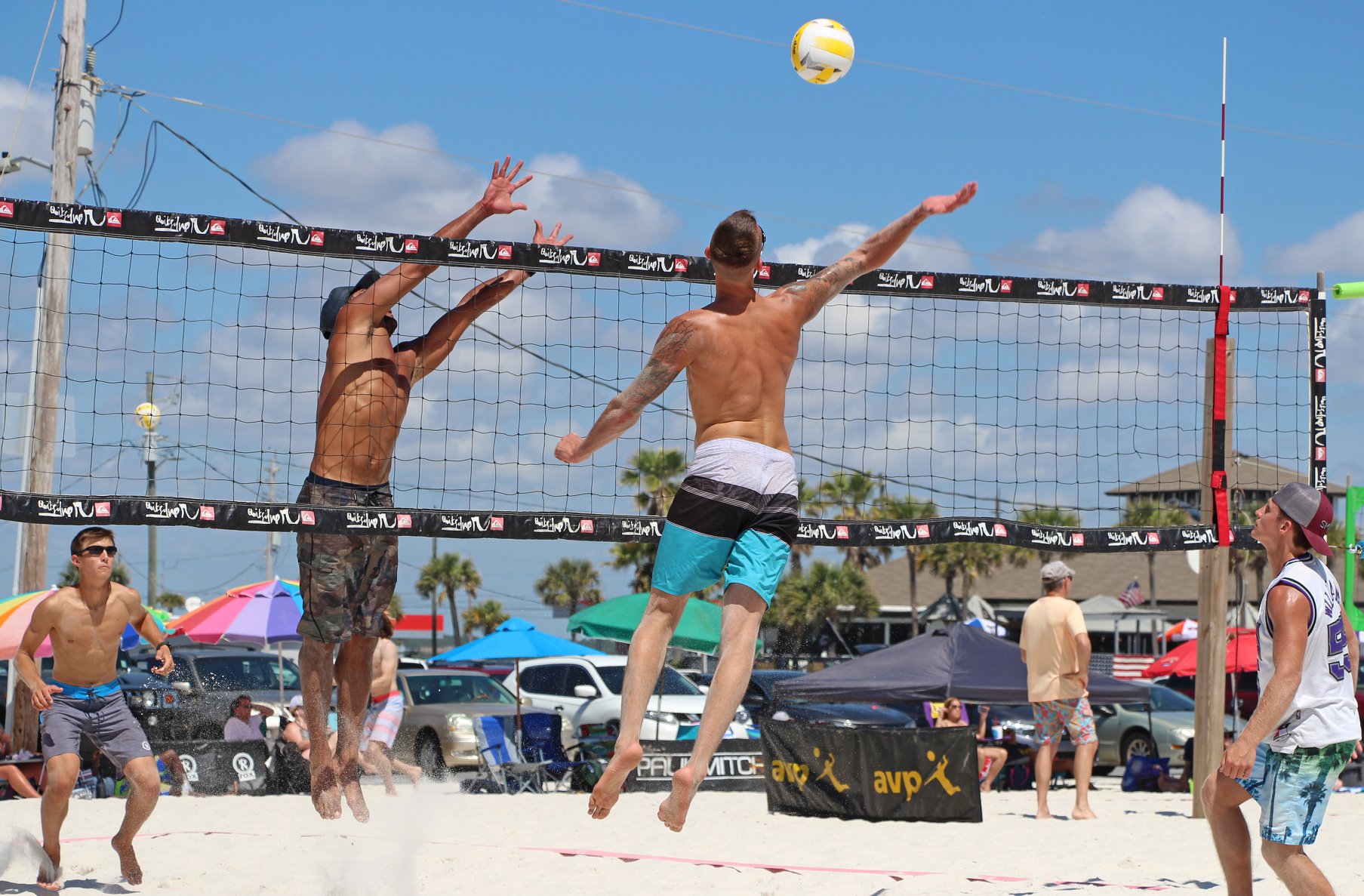 Photo courtesy Navarre Beach Sports and Recreation, LLC
Beach volleyball at Navarre Beach has taken off in recent years due to the dedicated efforts of Judd Smith, a former professional volleyball player who has worked with county tourism staff to recruit AVP events to Navarre Beach. Now the Santa Rosa County Tourist Development Council is recommending $15,000 in funding to help Smith build to a new volleyball complex on the island.
About four years ago Smith started a volleyball program from scratch, hosting volleyball clinics and leagues for all ages and skill levels at Navarre Beach Fishing Pier. He also worked with county tourism staff to attract AVP (Association of Volleyball Professionals) events to that site, luring international players and hundreds of spectators to events and boosting local tourism revenue.
Smith's girlfriend, Kim Larson, works with him and appeared before the TDC on Thursday, seeking financial assistance to help their business, Navarre Beach Sports and Recreation, LLC, expand the volleyball program by relocating from seven existing courts at the pier to Springhill Suites hotel, which will house up to 15 brand new courts.
Smith told South Santa Rosa News that he has been working to get permitting and raking the sand in preparation for installing the courts. He's also consulted with county staff, County Commissioner Rob Williamson and Hotelier Marilyn Hess, who owns the Marriott brand hotel on Navarre Beach, to bring the new volleball complex to fruition.
"We are partnering with Marilyn Hess in effort to grow sports and recreation for our community and tourists. Out goal is to be the premier event locale on the Gulf Coast. We feel with strong partnerships we can achieve this. We have strong relationships with AVP and are committed to this sport," Larson stated on the TDC funding application. "We have been hosting tournaments and clinics for four years and have developed a following locally, regionally and out of state as well and have hosted players from out of the country. We want to partner with the (TDC and its marketing agency) and be a part of building your brand."
Per Larson the funding would be used to purchase volleyball net systems. "We intend to bring in a professional volleyball tour and reach out to the collegiate volleyball teams as well," she said. "We will keep a record of the people who attend, where they are from and where they stay." Springhill Suites will be a lodging partner for the events.
According to Morgan, there is roughly $93,000 currently available in TDC contingency funds, and District 1 Commissioner Sam Parker, who represents the Board of County Commissioners on the TDC, made a successful motion to recommend the $15,000 allocation, which must be approved by the BOCC.
Organizers say public beach accesses located on both sides of the hotel can be utilized for additional parking, and Smith plans to work with the county to provide opportunities for vendors during the events.