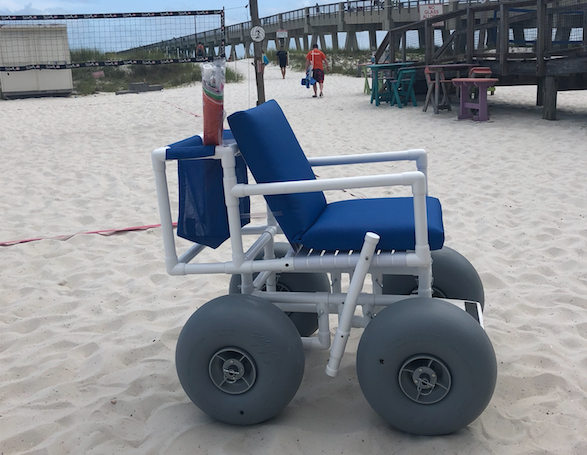 As the first official day of summer rapidly approaches, Navarre Beach is sporting safety and accessibility improvements to better serve beachgoers. Santa Rosa County's Tourism Development Office recently purchased two beach-friendly wheelchairs so persons of all abilities can reach the beach. The cushioned chairs feature balloon-like wheels designed to roll over sand and include an umbrella and attached mesh beach bag. Chairs can be checked out through Windjammers on the Pier at no cost to the user.
A fifth lifeguard tower was installed on the beach at Public Access #39 C, just west of 8477 Gulf Blvd. (in front of the Caribbean Resort Condominium). The stands are better positioned for lifeguards to observe swimmers on the beach and the addition of the fifth tower helped to improve the roving patrol's coverage frequency along the beach. Additionally, lifeguards adjusted their shifts one hour to offer better coverage for swimmers in summer's longer days, staffing the beach from 10 a.m. to 6 p.m., seven days a week.
Finally, Navarre Beach's ADA-accessible rollout pathway, the Mobi-Mat Recpath AFX Blue Jay, is being relocated to a more ADA-friendly location at Public Access #40B, just east of the pier. The Mobi-Mat, which makes traversing the sand more sturdy for people using wheelchairs, walkers and strollers, is 100 ft. long by five ft. wide and extends 16.5 ft. to the east and west.