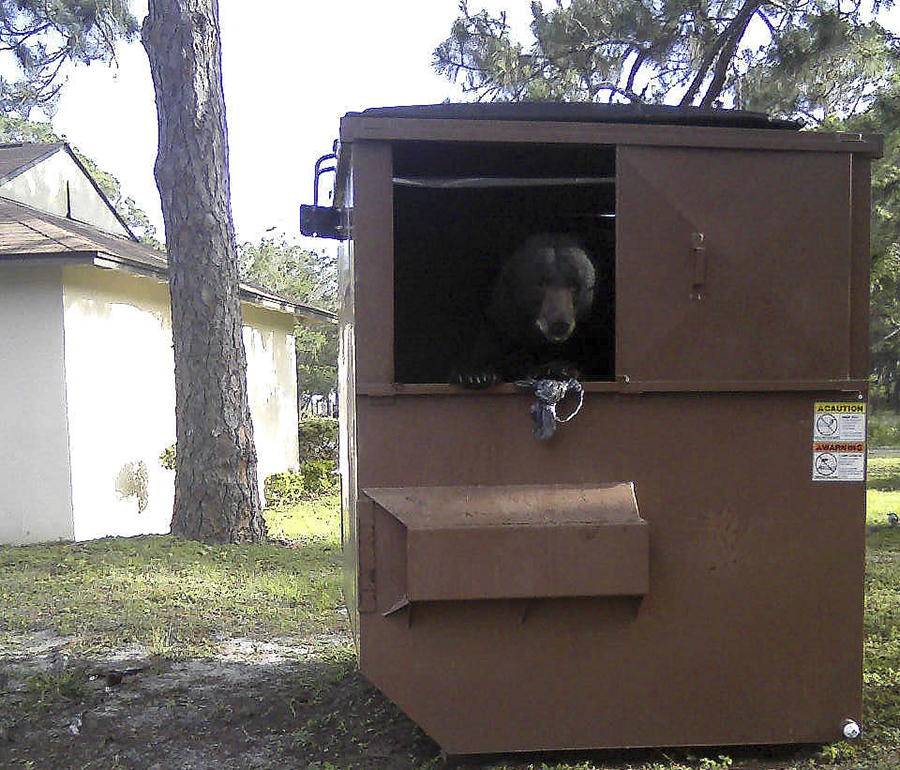 Florida Black Bears are growing in population and base wildlife managers need Eglin personnel's help to keep them, as well as the mission, safe.
Recent bear sightings on and around the flightline and active runways generated concern among Eglin's Natural Resources Management section, also known as Jackson Guard.
"Bears have been seen crossing Runway 01/19 at least three times during daylight hours in the past month or so," said Jeremy Preston, wildlife biologist at Jackson Guard.
The bears access nearby dumpsters for food, which prompted base officials to place latches on many of the dumpsters surrounding the flightline. The issue, according to Preston, is latches only work if people use them.
"Florida black bear are notoriously lazy, and when they find an easy food source like a dumpster, they'll just keep returning as long they keep finding food in the cans," he said.
Jackson Guard needs base personnel's help in latching the dumpsters closed each time it is used to help eliminate that food source and force the bears to find food naturally in the forest.
Last month, a bear cub got stuck in a dumpster near the end of runway 19 twice. This adds more concern of a bear-human encounter.
While bears are no stranger to Eglin's family housing areas, wandering onto the flightline raises aircraft safety issues, which could lead to dire consequences for the base bear population.
"Bears are a serious concern with regards to flight saftety, as well as public health and safety. said Lucas Bridges, a U.S. Department of Agriculture wildlife biologist who manages Eglin's Bird Aircraft Strike Hazard program responsible for wildlife around Eglin's various airfields.
As a result of this threat, Jackson Guard biologists will ensure more base dumpsters have doors equipped with "bear proof" latches to help deter the leftover thieves from around the flightline.
"The latches are proven to be very effective keeping the bears out the trash, but we need everyone to use the latches properly," said Preston.
Brochures are available in the Jackson Guard lobby or for download to help bring awareness to the Eglin black bear population, which is estimated to be approximately 120 bears.