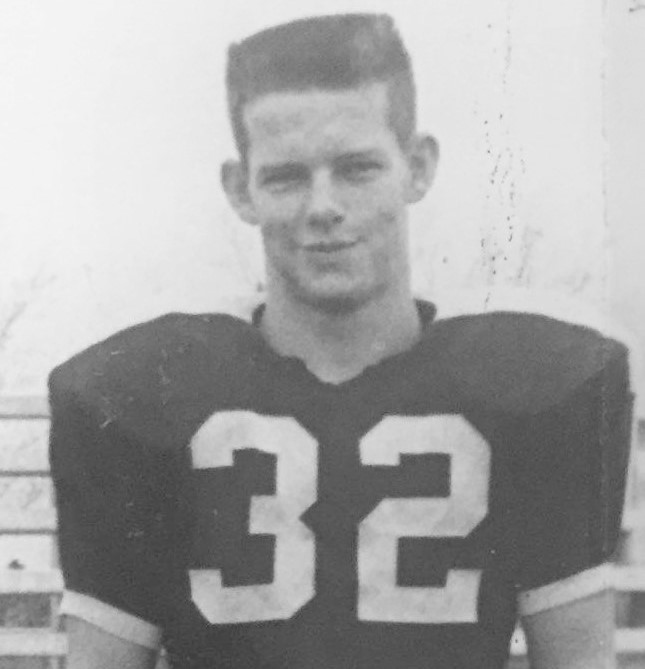 This local history story is brought to you by Navarre Lumber. Owner Bobby Killingsworth specifically requested for this story to be done. Stop by and take a look at their display of historic photos of the area, and tell him thanks!
Before he was 'Boss'
Holley resident Mickey Broxson, better known by the nickname "Boss," has spent many hours traveling Hwy. 87 S. And a lot of those times were on foot.
When he was a teenager, there wasn't a high school in Navarre. So to play sports, Broxson had to hitchhike home after football and baseball practice at Milton High School.
"I could usually get a ride from Milton out to where Hwy. 90 and 87 meet," he said.
But then he was often the lone soul walking the dark, deserted road from East Milton to Holley.
Broxson would put his ear to the road to listen for cars. Sometimes there were none, and he wouldn't make it home until midnight.
"I thought about quitting a lot," he said. But he never did.
"He had every excuse to quit and no one would have blamed him," said Broxson's son, James. "I can't imagine having to go through what he did just to be able to play sports. I always kept that in mind when I was playing football and baseball."
After the untimely death of his father, Faircloth Broxson, when Mickey was 10, his mom, Lillie Mae (Tolbert) Broxson, had to work two jobs to provide for their large family. So money was tight.
After Faircloth's brothers heard about Mickey's dedication to playing sports, they chipped in and gave him money to buy a car.
"Uncle Hob called me over one day and said, here, we heard what you're doing, and we're proud of you. Go buy yourself a car."
"I felt like a million dollars driving home after that," he said, explaining that before it had taken a bit of time just to get from power pole to power pole, but afterwards he would soar past them.
"But I never speeded," he said, pointing out how he deeply valued the gift and took great car of the car.
Broxson said he used the longing he felt for his father to motivate him to be the best player he could be.
James said his dad was known to hit baseballs on to the top of the high school gym using a wooden bat. "I haven't ever seen anyone do that, even with the new aluminum bats."
During his junior year, the Philadephia Phillies organization recruited Mickey but asked him not to risk injury by playing football his senior year. But he wanted to play ball.
"He was a real good football player," said Broxson's former football coach, Carl Madison, "I enjoyed working with him and wish I had more like him."
After exceling at high school sports Broxson filled his time hunting, fishing and working for the Holley-Navarre Water System, retiring in 2014.
Broxson transitioned from playing ball to watching his son play.
"His dad wasn't there to watch him play and that had a lasting impression on him. He always told me that when he was growing up that he would tell himself that 'if I ever have a son, I will always be there to watch him play.' He NEVER missed a game even when I was in college and had games in south Florida. He's the best," James said, adding, "He's a tough individual, and he was hard on me growing up, but there isn't one day that I'm not thankful for that man."
Now Mickey spends a lot of time watching his grandsons enjoy the sport.
"He continues his legacy and love for the game with his grandsons, coaching from the fence," Broxson's daughter, Jolie Hatcher, said.
Jolie's son, Hunter, and James' son, Michael, also play baseball.
"It truly is amazing to hear the many stories of my Grandpa playing baseball and football. He serves as an inspiration for me to be a better ball player and better person. He's always there for me, teaching me on and off the field," said Hunter.
SUBMITTED PHOTO
Mickey got the nickname "Boss" after Boss Hogg from the Dukes of Hazzard show because local hunters use radio names for one another. "He's the Godfather of Holley," said his daughter, Jolie Hatcher.