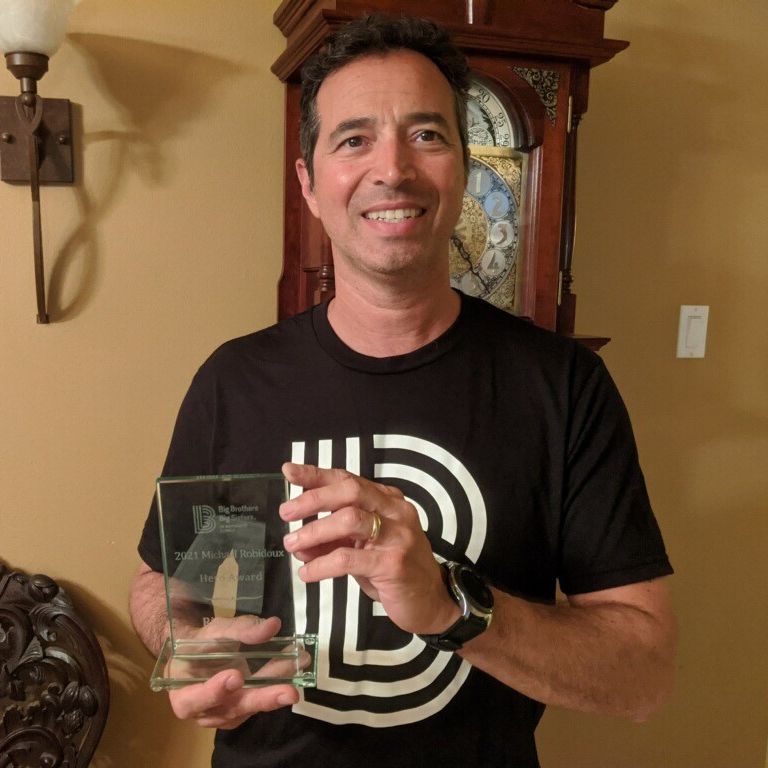 Big Brothers Big Sisters of Northwest Florida (BBBSNWFL) on May 27 surprised dedicated Big Brother and Board Member, Rique Gwin, at The Block in Fort Walton Beach with the 2021 Michael Robidoux Hero Award. Rique is a veteran who served in the United States Air Force for roughly 25 years.
Big Brothers Big Sisters wanted to honor the legacy of Michael Robidoux by establishing the Michael Robidoux Hero Award. Robidoux was a Big Brother who was matched with his Little Brother Deontrez for over three years. On Sunday, March 25, 2018, Michael passed away after saving two young children from dangerous surf at Navarre Beach. As of 2019, Big Brothers Big Sisters decided each year they would award a Big who exemplifies the passion for serving others as Michael did.
"I am humbled by this honor," says Rique. "I have always had great respect for the Big Brothers Big Sisters organization so this recognition is particularly special to me. One of the best things we can all do for our society is to influence young men and women during these critical times of their lives. I can't say enough how important I think [BBBSNWFL's] work is for our community in general and these kids."
As a child, Rique was enrolled into his local Big Brothers Big Sisters program and became a Little Brother. This experience made a positive, life-long impression on him. Rique did not grow up with a father figure, so having a Big Brother helped him grow and develop into the man he is today. To pay it forward, he decided to become a Big and help a young man develop into a strong citizen. He became a Big Brother while living in Tuscaloosa, Ala., and when Rique was stationed at Hurlburt Field in 2017, he decided to continue with the program at the BBBSNWFL agency. Today, Rique has dedicated his time to two Littles, Christian, and Jaylan.
Rique is a dedicated BBBSNWFL volunteer, as he is always looking for ways to help the agency. During the holidays, Rique and his wife go above and beyond to gather presents for children in need. Earlier this year, he was instrumental in establishing a BBBSNWFL community board to serve Okaloosa and Walton counties. The community board is currently composed of six local volunteers who are already hard at work making connections with local officials, law enforcement, and organizations to help spread the mission of BBBSNWFL.
BBBSNWFL thanks Rique for all that he has done for his Littles, the Fort Walton Beach community, and for the BBBSNWFL agency. To learn more about how to get involved with BBBSNWFL, visit
www.bbbsnwfl.org/get-involved/.