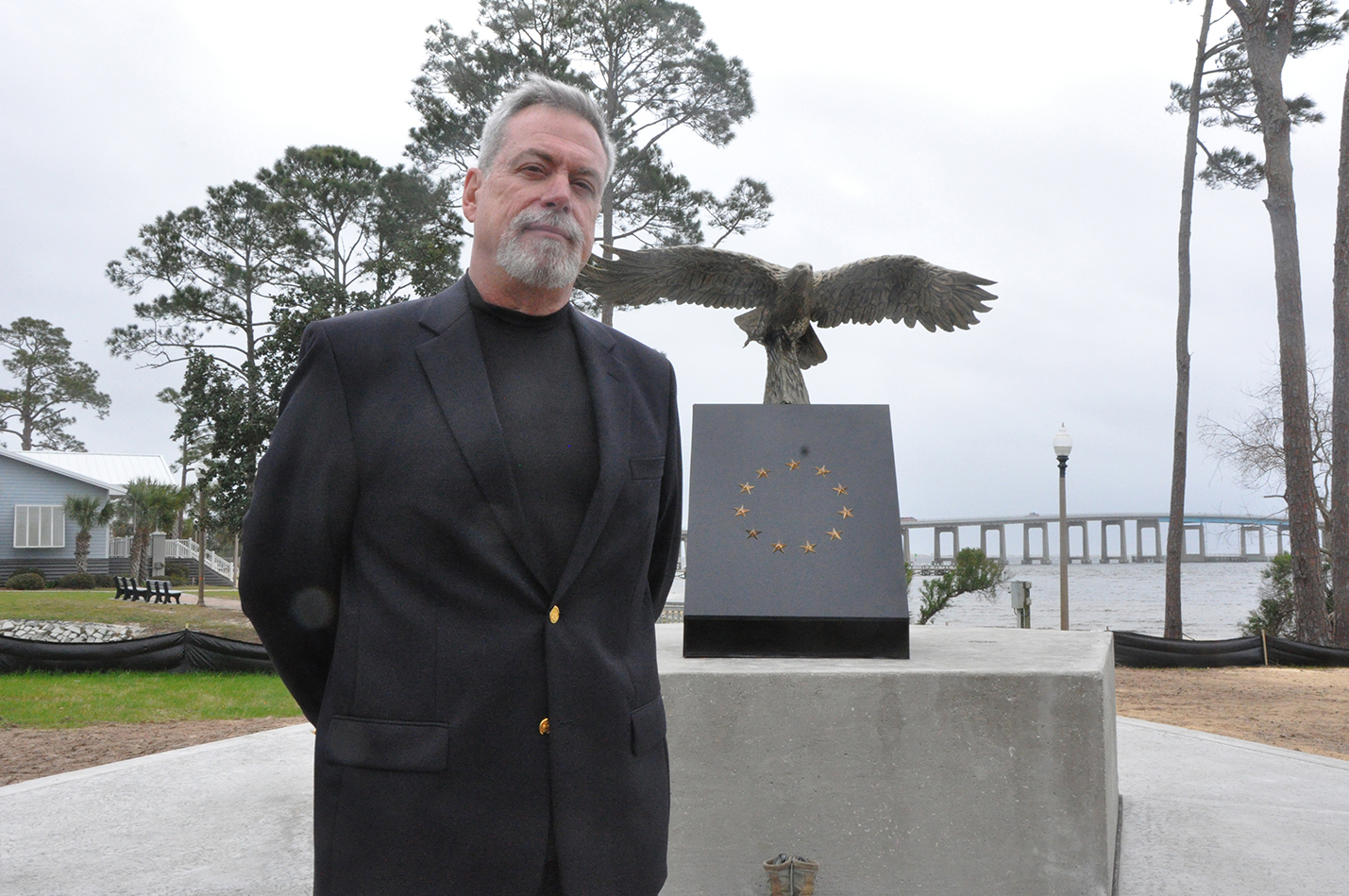 It was about 8 a.m. when S.S. Dixon Intermediate School art teacher Randy New made his appearance in Navarre Park last Friday.
New's hands had been buried in clay and sweat over the last several months.
He was selected as the artist responsible for handcrafting a memorial paying tribute to the 11 servicemen who were killed in a Blackhawk Helicopter Training crash in the sound last March.
Although he looked bright eyed and bushy tailed, New had been working extra hard to get a temporary memorial set up in Navarre Park for the Gold Star family members who were in town last week paying tribute to their fallen family members.
"We got out here early this morning and we put this up," New said. "It almost looks good the way it is."
The clay rendering of an eagle sat atop a block with 11 stars encompassing the base.
Those 11 stars were handcrafted and gifted to the Gold Star family members before their departure form Navarre last week.
The stars were presented to the family members at the Leadership Santa Rosa Class 29 presentation at Navarre Park last Friday.
"They're removable," New said pointing to them. "And it's something they can take home with them."
New made a formal announcement at the memorial ceremony last Friday morning that he plans to finish construction of the memorial within the next two months and expects to have a public unveiling of the memorial on—of all days—Memorial Day.
"The statue itself is going to be double the size of what is out here right now," New said. "The base is going to have 11 stars (representing the fallen servicemen), and they will light up at night."
One more star will be stained into the concrete at the foot of the memorial that will overlook Santa Rosa Sound.
"That star will represent all members of the armed forces," New said.
A pole will stick out of the memorial once it's finished. Attached to the flag pole will be an eagle, which New has given the public a glance of over the past several months on his Facebook page.
"He'll be holding onto the pole," New said. "It's really going to serve as a good memorial."
Before heading out on their 770-mile journey to Camp Lejeune, N.C., the Marine Raider Memorial March participants did 25 pushups on the temporary memorial paying tribute to their fallen comrades.