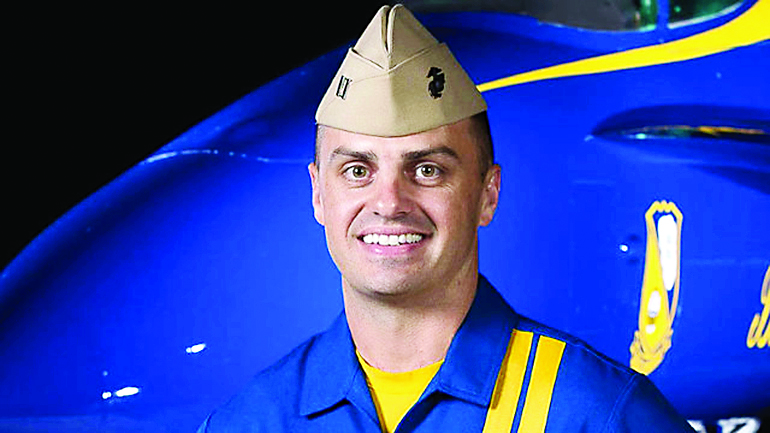 The nation mourned the death of a decorated Blue Angels pilot who was involved in a fiery plane crash outside of Nashville, Tenn. last Thursday.
Captain Jeff Kuss, 32, was flying an F/A-18 aircraft assigned to the Navy's Flight Demonstration squad during a practice show when it went down shortly after takeoff.
Kuss, a Marine, leaves behind a wife and two children.
The crash occurred 2 miles outside of Smyrna Airport in Smyrna, Tenn. at around 3 p.m. Kuss and his crewmembers had just taken off from the airport shortly before the crash.
The Blues were practicing that day ahead of The Great Tennessee Airshow, which was scheduled for last weekend.
After the crash, the Blue Angels canceled the weekend air show.
It is unknown at this time whether the Blue Angels will cancel the upcoming Pensacola Beach show. The team has already canceled a number of their upcoming shows due to Kuss' passing.
The other five Blue Angel jets that took off with Kuss were not involved in the incident and landed safely moments later.
The Navy has opened up an investigation to determine the cause of the crash.
Kuss served as the #6 opposing solo pilot. This was his second year on the Blue Angels team and his first year as a demonstration pilot.
During a news conference Friday afternoon in Durango, Colorado, Blue Angels Flight Leader Cmdr. Ryan Bernacchi said the crash has left many in shock.
"The nation has lost an incredible husband, father, son, Marine and teammate. Truly one of the absolute finest Americans this country can produce," Bernacchi said.
The Blue Angels spokesman said that since the crash, there has been an outpouring of support for Kuss, his family, and his work family.
"We've been overwhelmed by the outpouring of support and love this nation has shown for the Blue Angels,"
Bernacchi said. "We lost an aviator that believed so deeply in the Blue Angels' mission of inspiring others and representing the Navy and Marine Corps, our citizens and our great country. In doing so, he embodied and inspired in all of us an incredible spirit of compassion, courage, and resiliency. Those characteristic are what those Blue Angels will harness as we move forward."
To pay their respects to Kuss, the Escambia County Sheriff's Office put yellow #6 emblems on the back window of their patrol vehicles following the news of the crash.
Also following news of Kuss' death, State Senator Greg Evers asked the community to stand behind the Blue Angels and pray.
"We are not unfamiliar with the loss of military lives here in the Panhandle of Florida, we take each one personally, like a member of our family has been lost," Evers said. "As home to the Blue Angels, the news of Cptn. Jeff Kuss's death is a stark reminder to us that military aviation is a very dangerous business. Please join me in praying for Captain Kuss's family and friends. Please join me in rallying around all of our service members and their families at this difficult time.
"I am reminded of how strong our community is, the support that we need to show the members and families that keep our country strong."