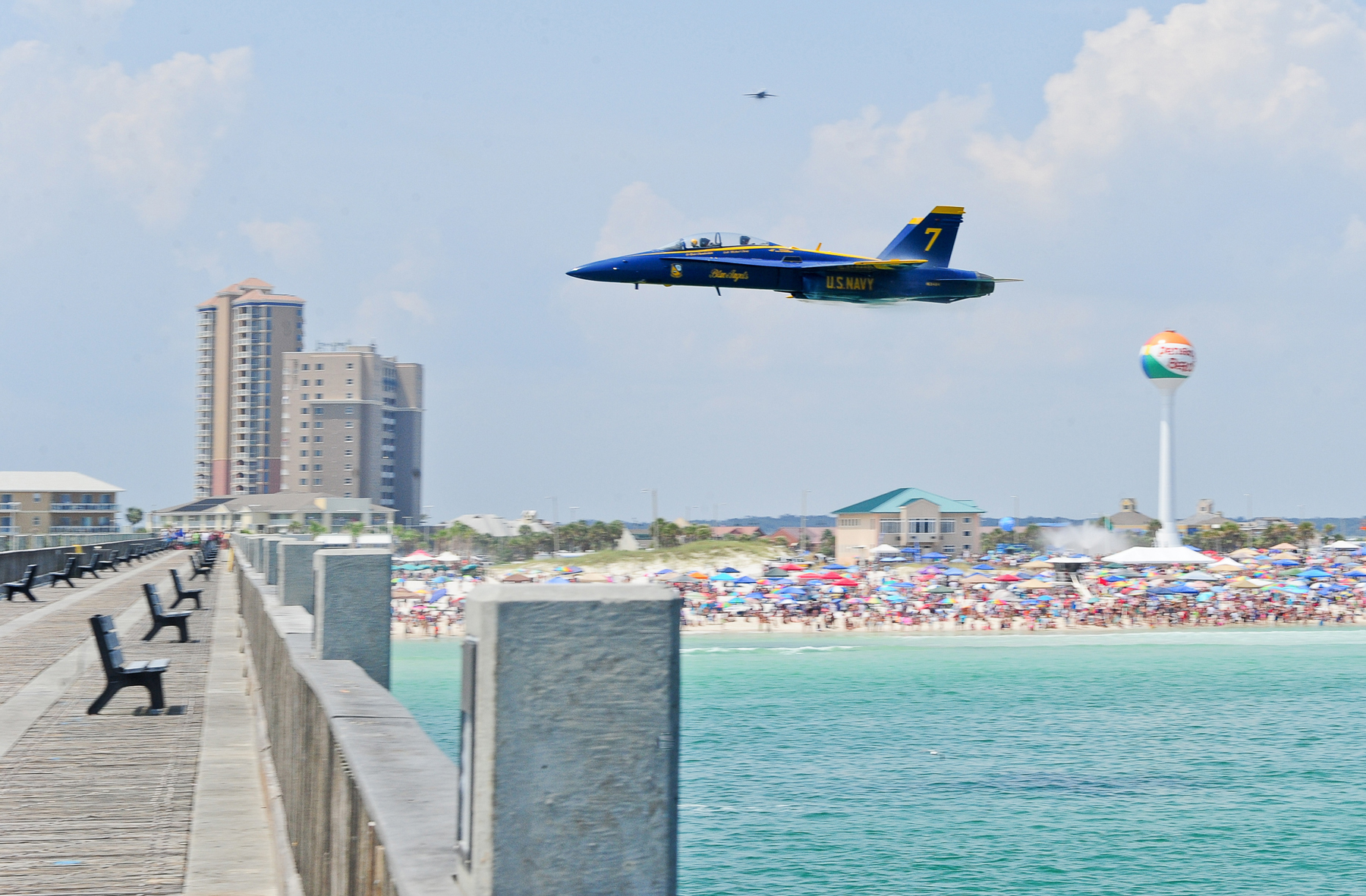 If you're going to the Blue Angels Air Show on Pensacola Beach, go early. That's rule number one most locals know.
But the Santa Rosa Island Authority "hopes to alleviate traffic congestion," announcing last week there will be increased transportation service for the July 8 Pensacola Beach Air Show, beginning at 6 a.m.
No additional transportation will be provided for Friday's practice show, which starts with civilian acts at 12 noon and the Blue Angels at 2 p.m.
The Island Authorities' three open-air trolleys will begin service at 9 a.m. Friday, transporting riders back and forth between "center stage" at Casino Beach beside Pensacola Beach Gulf Pier and two parking lots on the east and west end of Pensacola Beach.
Park East (lot 29.5) is roughly 1.5 miles east of the Portofino Resort towers, and Park West (lot 21N) is on Fort Pickens Road at the entrance to Gulf Islands National Seashore's Fort Pickens Area. Both lots usually fill up before 9 a.m.
According to the Authority, beach trolleys will resume normal operations from 5 p.m. until midnight Friday, servicing regular designated trolley stops.
Then on Saturday, extended service will begin again at 6 a.m. and run through 6 p.m. An additional 10 buses will be brought in for Saturday's performance, helping trolleys provide free transportation to and from the extra parking areas.
Regular service to designated trolley stops will again resume from 5 p.m. until midnight on Saturday.
Tens of thousands of spectators cause "gridlocked" traffic following the event, so the Island Authority issued the following statement about leaving the event.
"Passengers who wish to get back to their vehicles as soon as the air show ends need to be on the first fleet of buses leaving Casino Beach post show, or should expect to wait as long as 90 minutes for the trolleys or buses to return," stated the press release.
Instead of leaving right after the show, some area residents choose to hang out at the beach, taking extra food and drinks in coolers or walking around to the many beach bars and eateries.
Safety officials also advise spectators to bring sunscreen and water.
SHOW LINE UP
Saturday's official show starts at 12 noon with civilian demonstrations, including the Veterans Flight crew, flying their WWII era Stearmans; Julian MacQueen, flying his Grunman Widgeon G-44 amphibious plane; the U.S. Navy Seal LEAP Frogs; the Redline Sports Team, flying RV-8 speed demons; Gary Ward, flying the MX2, an unlimited aerobatic aircraft that spins and rotates at high speeds; Kevin Coleman, flying a one-of-a-kind Extra 300SHP; and Skip Stewart, flying Prometheus, a biplane that roars and races.
Fat Albert, a C-130 Hercules which provides support for the Blue Angels, at 2 p.m. will kick off the exhibition of the U.S. Navy's elite flight demonstration team, which is based out of Naval Air Station Pensacola.
BLUE ANGELS FUN FACTS
An estimated 12 million spectators view the squadron during air shows each year.
The highest maneuver performed in the air show is the vertical rolls maneuver, performed by the Opposing Solo at up to 15,000 feet. The lowest maneuver performed in the air show is the Sneak Pass, performed by the Lead Solo at 50 feet.
The fastest speed flown during an air show is about 700 mph (just under Mach 1; Sneak Pass) and the slowest is about 120 mph (Section High Alpha).
The closest distance the jets will fly to each other is 18 inches, during the Diamond 360 maneuver.
The basic acquisition price of a single F/A-18 Hornet is approximately $21 million.
The F/A-18 can reach an approximate speed of Mach 1.8, almost twice the speed of sound or about 1,400 mph.
An F/A-18 weighs about 24,500 pounds empty of all ordnance and aircrew.
The smoke is produced by pumping biodegradable, paraffin-based oil directly into the exhaust nozzles of the aircraft where the oil is instantly vaporized into smoke. It provides a traceable path for spectators to follow and enhances the safety of flight by providing a means by which solo pilots can see each other during opposing maneuvers. It poses no hazard to the environment.
Fat Albert holds 46,000 pounds of fuel.
Fat Albert's cruising speed is 375 miles per hour and shaft horsepower is about 4,500 per engine.
The maximum takeoff weight of Fat Albert is 155,000 pounds.
Eight Marines are assigned to operate Fat Albert: three pilots, two flight engineers, a navigator, a flight mechanic and a loadmaster.