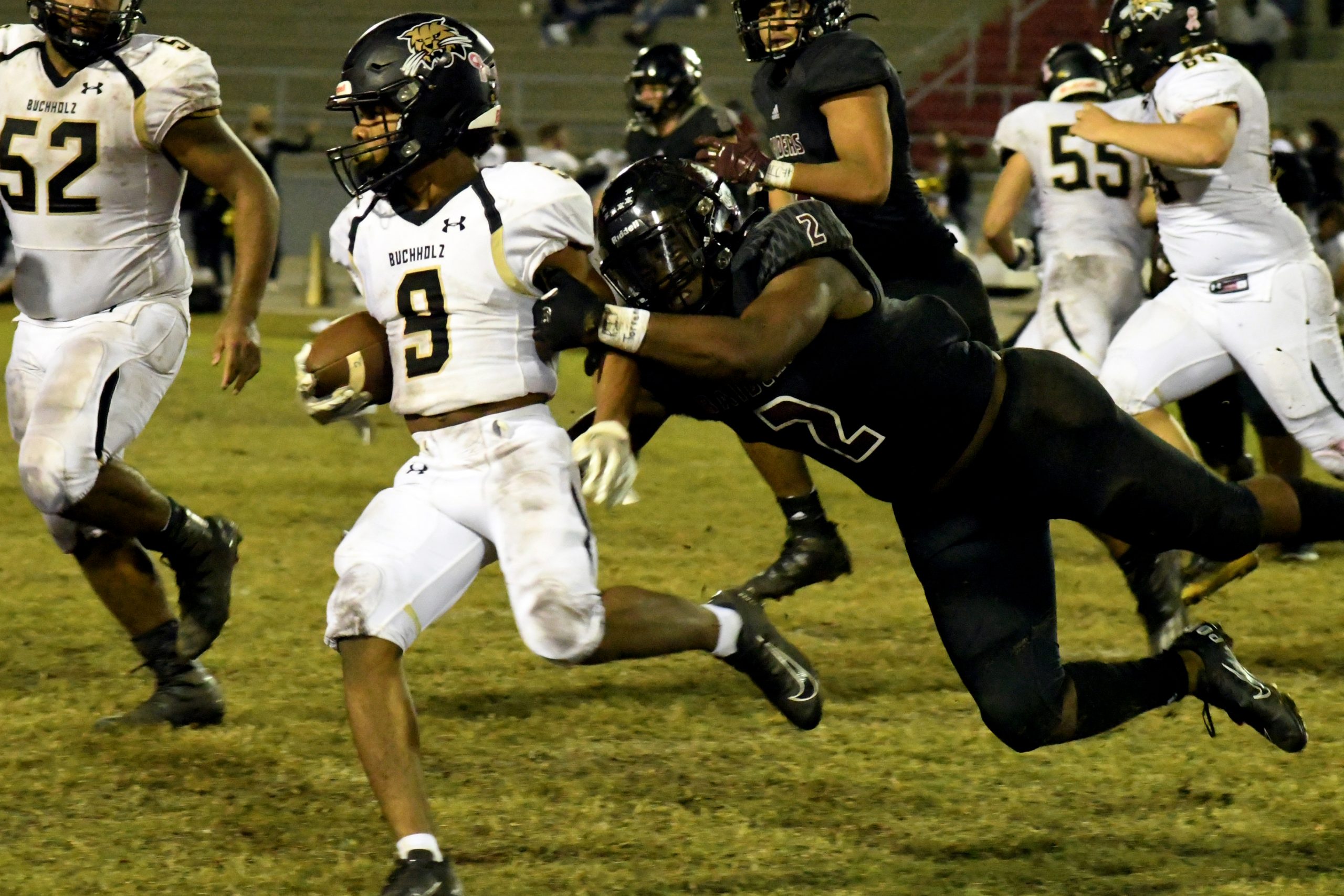 Jaden Jones was just a half-step late on dropping Buchholz running back E.J. Gadson for a loss. (Photo by Stuart Camp)
Except for one 68-yard dash by quarterback Zach Marquis, the Buchholz Bobcats stuffed, stymied, and derailed the Raider running attack. The result: a 35-21 loss Friday, ending Navarre's 2020 football season.
The Raiders finished with a 6-1 record, but they stalled in the second round of 7A playoffs. The Bobcats (8-1) punched their ticket to meet Niceville next week. The Eagles remained undefeated Friday by slashing the Leon Lions, 42-0.
Buchholz balanced their offense and scoring with a ground and air strategy, and they pulled the momentum away immediately. Their first possession lasted just under two minutes, ending with a short pass to the right sideline going for 78-yard touchdown. Later, Quandarius Smith broke through the heart of the Raiders defense for a 65-yard touchdown and a 14-0 first-quarter lead.
"We made some mistakes in the first half," head coach Jay Walls said. "Good teams are going to jump on it, and that's what they did."
Buchholz built a 21-0 advantage before Navarre broke through with a 54-yard bomb to Jebari Mitchell.
Navarre's offense kept running into a brick wall, almost literally, against Buchholz. Running back Jaden Rivera rarely saw daylight when he got the ball. The Bobcats also collected two key interceptions.
"Their guys came out and they executed," said Raider quarterback Jason Deal. "We tried our best to keep doing what we were doing. They just had the better team tonight."
Bobcat quarterback Creed Whittemore connected with Quan Lee, who snared the toss between two Raider defenders – for the game-winning, 50-yard touchdown.
Team speed manufactured opportunities, according to Bobcat head coach Mark Whittemore.
"We played like our hair is on fire," he said. "We were trying to utilize our speed on the edge. They (Navarre) are very big and talented up front and great linebacker skill. We knew we were going to throw the football; we just didn't know it would be that successful."
Navarre scrapped its way into a two-touchdown deficit inspired by the defense. Grady Kelly invaded the Bobcat backfield twice for ground-losing tackles, which eventually led to Marquis' long, third-quarter scoring run. With a little over eight minutes remaining, Deal hit Trent Hall in the end zone for a 23-yard touchdown.
But the momentum swing was brief.
"Our kids did not quit," Walls said. "We were in the ball game. We had some opportunities. In the first half, we didn't execute very well. We were just beating ourselves."