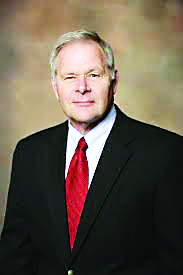 The Santa Rosa County Board of County Commissioners is only days away from selecting a candidate to fill a seat that has been occupied by Hunter Walker over the last 20 years.
Walker, who will be retiring in December, is the county administrator who overlooks day-to-day government operations within the county.
On Wednesday, the county commission interviewed three potential candidates for the position. A group that was narrowed down from over a dozen applicants.
Current Santa Rosa County Public Services Director Tony Gomillion was one of the three candidates interviewed by commissioners on Wednesday.
Jackson County administrator Ted Lakey and Barrow County, Ga. Administrator Randall Dowling were the other two candidates interviewed by commissioners.
The interviews were streamed live on the county's website, and the questions for the candidates focused primarily on the county's growth, the courthouse and opinions on a local option sales tax.
Commissioners first interviewed Randall Dowling, whose answers focused mostly on his ability to lead major projects like local sales tax referendums and his part in helping construct two judicial centers.
"I've had deep experience in referendums for local sales taxes. I've never lost one, and I don't intend to," Dowling said.
The candidate said he assisted in two projects, both costing between $30 million and $40 million.
"The biggest problem I see as needing improvement (here), is the needing of infrastructure and the lack of long term planning…and the courthouse replacement," Dowling said. "It's old, antiquated, outdated and out of space. Your growth is increasing 9 percent every five years…the new administrator has to be prepared for that new growth, the need for infrastructure….we can do that by reducing expenses and diversifying revenue."
Lakey told commissioners that building a new courthouse is what he saw as one of the most pressing issues facing the county right now. "You have some issues that need to be faced, for example your courthouse. I'd like to see a resolution on the courthouse and see where the board is heading with the local option sales tax," Lakey said.
The last candidate to be interviewed was Gomillion, who has been the county's Public Works Director for the last 12 years. Gomillion has been working for Santa Rosa County in various capacities for three decades.
Many of Gomillion's questions focused around what he could bring to the table to help keep county employees and county residents happy.
Gomillion spoke about the potential for a Pay for Performance pay raise system. Earlier this year county employees scolded county commissioners for their inadequate pay and how their paychecks weren't adding up to the high cost of living. Many approached the board earlier this year and said they had to work another job just to make ends meet.
"I've always liked and wished we had a system that was a pay for performance type system. I've also seen some pitfalls in that type of system," Gomillion said. One of those pitfalls being the additional time and money it takes to evaluate each county employee to determine what raise they qualify for, he said.
The Florida Association of County Managers Santa Rosa County Administrator Search Committee reviewed the applications that originally came in for the position and made recommendations to commissioners on who they thought would make a good candidate.
The county commission will make the final decision on who will fill Walker's seat at their committee meeting at 9 a.m. Monday at the County Administrative Complex. Residents can speak out about the matter at that meeting or email commissioners at bocc@santarosa.fl.gov.