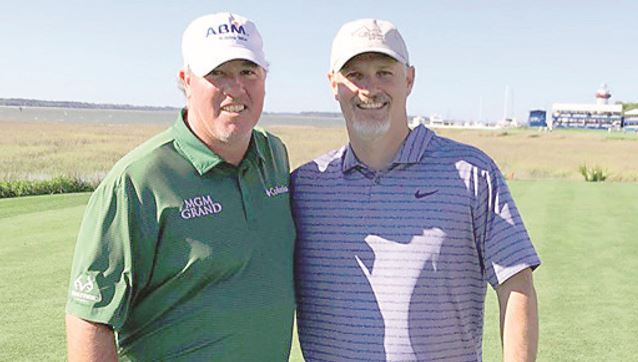 Santa Rosa Native and professional golfer Boo Weekley pictured during the recent 2019 RBC Heritage tournament in Hilton Head, South Carolina with friend Trey Brock of Milton, ABM senior vice president of education.
Professional golfer Boo Weekley, who grew up playing golf at Tanglewood Golf Course in Milton, is battling his way back after successful removal of a cancerous cyst from his left shoulder last summer.
Weekley earned past-champion status for back-toback wins in 2007 and 2008 at the RBC Heritage, formerly Verizon Heritage, in Hilton Head, South Carolina and winning the 2013 Crowne Plaza Invitational, which is now the Charles Schwab Challenge.
He also won the 2009 ADT Skills Challenge with Brandt Snedeker and was a member of the 2007 World Cup national team. Additionally, he was a member of the 2008 U.S. Ryder Cup team, delighting the crowd with a Happy Gilmore impression off the tee box.
During the course of his career he's had 31 Top 10 finishes during 306 events played, per the PGA Tour.
So far this year he's played at the Puerto Rico Open, RBC Heritage and Zurich Classic of New Orleans. Last week he was on the course at Colonial Country Club in Fort Worth, Texas for 2019 Charles Schwab Challenge, although he ultimately didn't' make the cut after shooting 4-over 74 in round two.
But count on him to keep coming back. Weekley has made it clear he will play as much as possible, and friends and family know he has grit and a passion that defies the odds and is hard to stop – even by cancer.
"ABM has partnered with Santa Rosa County Schools for 16 years and Boo is a product of the district. Boo is a close friend and we saw an opportunity to get brand exposure and to support Boo's comeback," said Trey Brock, ABM senior vice president of education.
Weekley resides in Jay, north of Milton, with his sons, Aiden and Parker. He also owns a condo on Navarre Beach and in his spare time enjoys hunting and fishing.